Student Employees Balance Academics and Work
As the bell rings loudly, she quickly exits the building alongside a swarm of seniors, feeling the crisp air hit her cheeks. The chatter between groups of students quiets down as she swiftly walks to the bus stop, waiting patiently for her bus to arrive. She fidgets along the strap of her bag, mentally preparing herself for another day at her job. She takes a deep breath as the bus slows to a stop, soon stepping on and swiping her Metrocard. She shuts her eyes on the long ride, feeling the fatigue of yesterday's full shift weighing on her. 
Once her stop was announced, she gets off the bus and inches closer to the entrance of her workplace. She stares at the cold bricks and remembers what she's doing this for, pushing open the door.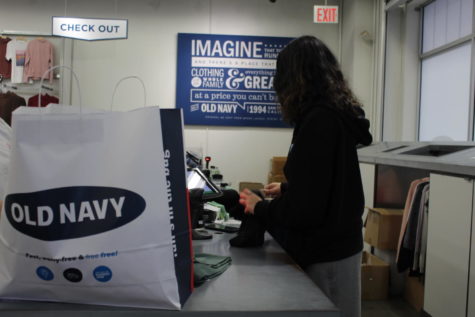 "I needed money and wanted a job that gave me discounts on clothes I like," senior Sarah Pirzada said. "I applied to Gap, but Old Navy reached out. The Old Navy I work at is only a bus ride away and is near a Starbucks and McDonald's, so it didn't seem bad at all."
Employment while also being a student allows for a learning experience of many important skills. It forces students to balance their school life and work life.
"I'm more responsible and prompt," Pirzada said. "I used to be the person that was always late to everything, but my job forced me to practice being early and forced me to be held accountable when I'm being careless."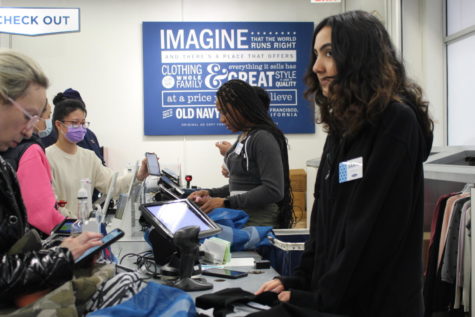 However, according to The Journal of Educational Research, there is a negative correlation between students working longer hours and their grades compared to unemployed students.
"Working full shifts after school leaves no time for homework because I'm usually ready to sleep once I get home after a long day of school and work," Pirzada said. "I value my sleep, so my work tends to pile up after a long week."
Guidance counselor Mr. Brown said students "should work three or four times a week so that they have enough time between those free days to catch up if they need to do any work or study for a test."
"On the days that they do work, they should try to do work beforehand," Mr. Brown said. "Sometimes you may be able to have some time before or after school and in between, after school and before your work shift starts that you should try to do work. You should always try to get a good night's rest and you should, you know, try to eat so you keep your energy up so that when you are able to work in between."
Mr. Brown believes that students should work if they want to show colleges that they are capable of balancing academics and after-school activities, but students performing poorly in school or can't handle the workload shouldn't work.
"You should focus on your academics because, you know, an after-school job is really not a career, it's a job," Mr. Brown stated. "And later in life what, when you're in school, you're striving for a career, not a job."
According to Indeed, students work for various reasons, such as developing transferable skills, accumulating professional experience and earning money.
"I chose to work at my job for two reasons," senior Kimberly Reyes said. "One being that I wanted to gain financial independence to be able to have freedom and respect from my parents and two because it was necessary for me to begin the process of saving for college, my share of rent and groceries because I am financially independent."
The Department of Labor states that students under the age of 18 cannot work over 4 hours on school nights and 8 hours on non-school nights. However, when working on a school day, having free time is still difficult to achieve as the hours add up.
"An obstacle I face while working and going to school is having few hours of sleep due to getting home relatively late due to taking the bus to work on days where I close the store and making time for things like studying and reading," Reyes said. "It is also very hard to maintain a social life similar to those my age because I am always working and tired and never have time or energy to hang out."
With the added factor of working alongside school and other extracurricular or personal activities, students can feel elevated stress levels and have no time for themselves. 
"Emotionally, I've felt somewhat drained and tired because of the school, work, and sleep schedule," Reyes stated. "I understand the value of time and money now and has given me a new perspective."
Reyes explained how although working while being a student took a toll on her, she also highlights how she benefited from it.
"I feel that I should've appreciated the time I had when I was not employed, I simply cannot imagine a life without work anymore," Reyes expressed. "However, I am always busy and it has equipped me with cat-like reflexes, speed, efficiency in tasks, physical strength, dealing with human behaviors, teaching skills, and discipline."
Although having a job as a student can be difficult to balance, Pirzada shares advice to those who want to still pursue working.
"You'll get tired of it after a month, but at least you're making money!" Pirzada said. "Know your limits and make sure you leave days to simply relax or catch up on all your assignments. Be open-minded as well because there are a lot of silver linings in the jobs you least expect."
Leave a Comment