Cheer Team Back in Action Post Pandemic
In the United States, there are
are over 3 million people who participate in a sport that aims to promote safety, positivity, and coordination. At Francis Lewis High School, the cheerleading team is part of that 3 million who practice together and promote this message.
"Cheer is an insane amount of teamwork and trust," Varsity Cheerleading Coach Ms. Allen said. "When someone falls, we say that it was everyone's fault, not one person's fault." 
The mental and physical demands of cheerleading meets the main objective that many cheerleaders keep in mind: awareness.
"I try to do my best, keep everyone happy and pay attention to what I'm doing, " junior Sian Baskerville said.  
Maintaining an encouraging and positive attitude brings the cheerleaders together in order to do their post.
"I just love seeing their faces glow with excitement, it's just a good feeling and I just cheer them on," manager of the Cheerleading team Leah Katzap said.
Though the Francis Lewis Cheer team keeps up their radiant energy during practice, like any sports team, cheerleading has obstacles and risks that the cheerleaders are prepared for. 
"We have had hard times when people have fallen, bruises, swollen ankles, sore wrists," Ms. Allen said. "Sometimes you just have to push through it and know how you can fix it."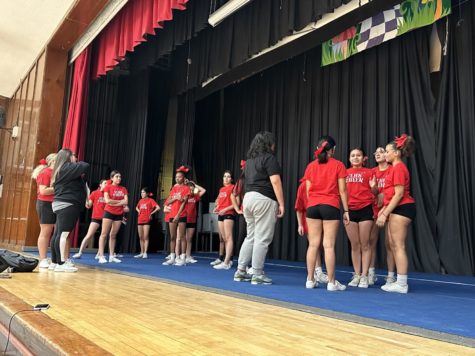 Cheerleading is back in action this year after the COVID-19 pandemic, making it a memorable year for the cheerleaders. Their biggest change is now only having one varsity Cheerleading team instead of having both a junior varsity and varsity team.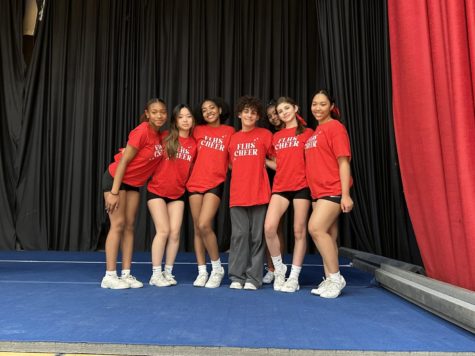 "I had so much fun this year," Ms. Allen expressed, "bringing in a lot of new people, how the team has gelled, how the seniors have passed down their knowledge from their experience."
One of the many important positions is the base, who helps to support and hold people up.
"I like making baskets when they are completely in the air and then you catch them," Baskerville said.
Baskerville, along with the rest of the team, was able to represent Francis Lewis High School and exhibit their skills and hard work at their first competition.
"We competed for the first time since COVID in December, so we had to put in a lot of hard work," Ms. Allen said. 
About twice a week the cheerleaders practice to prepare and strengthen their skills.
"On the day of the competition, they really showed up and showed out and showed their full potential," Katzap said.
The relationships and bonding that come with the cheerleading experience contribute to collaboration skills.
"The cheerleaders have such great stamina and physical ability that if you put a regular person in their position, they won't be able to do it," Katzap said.
Leave a Comment