Paper Bridges: Connecting with Orphans through Letters
As you walk down a hallway during 10th period you see groups of students waiting at a classroom door. They make their way into the classroom; a fresh and bright environment illuminates the room, and the students just seem to know what to do. Papers and abundant colors of markers are spread out around the table and the students begin to scavenge for the right colors that fit the ideas they have for their cards this month. The students make their way to their seats, and as the chatter becomes louder, they let their imagination take charge. The colorful scribbles symbolize heartfelt messages, beaming with encouragement and positivity.  
The club, Paper Bridges at Francis Lewis High School, is in association with the non-profit organization, Paper Bridges. This organization works towards helping orphans through letters or even care packages made by all types of people. These gifts are to encourage and help remind these children that someone cares about them and that they matter. This organization accepts letters and gifts, which are then sent to various orphanages all around the world. 
"Our club aims to write letters for children in underserved communities to just make their day," senior and President Sally Jung said. "It is low maintenance so we meet once a month. It's the first Wednesday of the month."
According to the article Paper Bridges, Paper Bridges was founded in 2017 and has sent out "thousands of letters, handwritten and digital". These letters were written by people "in all walks of life", including teachers, children, the elderly, as well as students at Francis Lewis High School. 
"We just work with Paper Bridges, we don't physically send out the letters," Jung explained. "We scan the letters for the members and email them to Paper Bridges. That's how we distribute our letters to foster care or orphanages." 
In other words, Paper Bridges, as described in the article previously mentioned, is a "nonprofit organization that empowers our community to support orphans and vulnerable children around the world." This is possible with the help of people's creativity and original ideas. 
"The card designs are up to the members, if they want to add special designs or fonts, they can," Jung said. "We do have designated themes for each month. For this month, it's spring because it's a new season and spring time. Another example could be in December. We could do a Christmas theme, or in February we could do a Valentines theme."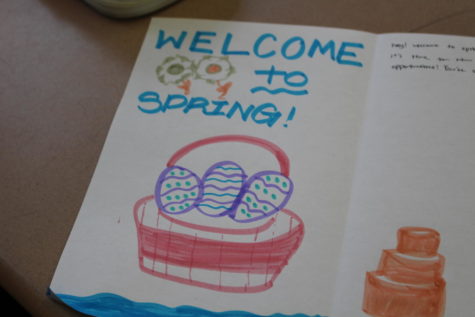 Besides the drawing designs, Francis Lewis students are very creative in what they write and the way they portray their words. 
"In my letters, I normally write about how my day went, and how I appreciate how strong the person I'm writing this letter to is," sophomore and club member Isabella Miao said. "Giving people positive affirmations is something I'm big on. It's an easy and healthy way to motivate these kids to keep going, especially in their conditions."
Though the orphans are not students' penpals, students try to have conversation with them, to console them like a close friend in need of support. 
"I typically strive for a happy vibe in my letters as I don't want children to feel upset or uncomfortable when reading my letter," Selina Lu, a sophomore and club member described. "Sometimes I will add how nervous I am for a competition but usually I keep it happy and classy."
As a result, this club stands out to many. Lu adds that she has found this club very unique because it "spreads awareness for these orphans who don't have any families."
Similarly to what Lu said, Miao stated, "I feel like I'm contributing to society.  We get to write special cards that we hand make just for orphans. It's also an easy, quick and artistic way to show off your abilities."
For some, as Miao describes, it is also a good way to destress as the club environment feels very therapeutic, and for others, the club creates a sense of community.
"Something that I enjoy is seeing everybody come together and showing up to the club with their friends and just having fun writing and designing," Jung added.
Though a sense of community is built among Francis Lewis students, the club is slightly flawed in some ways, as the club members are sort of "left in the dark" after writing their letters.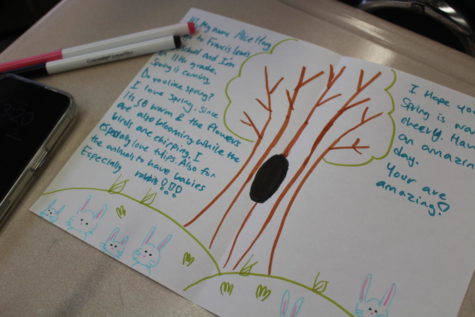 "Because all we ever do is write and draw, it would also be nice to see their [the orphan's] reactions and to reply," Miao said. "It's really important to this club, but we don't get that much information from the orphans."
According to the article, Paper Bridges: Spreading Hope to Orphans One Letter at a Time, the Paper Bridges organization has also helped orphanages by "developing educational curricula, sending STEM kits, building mini-libraries, and many other launches." Many things are in the works for the club's future.
"The other board members and I were considering holding other events to help expand the club," junior and Treasurer Emerald Boako said. "A project that is currently in motion is the creation of care packages that will be filled with toys that underprivileged kids will be able to use during the summer. We also plan on holding events where members can volunteer to help out at daycares and preschools in less privileged neighborhoods." 
To make these events and goals possible, funding is also an essential factor to consider.
"In order to raise money for our care packages and events, our club has held two fundraisers with Blaze Pizza!" Boako exclaimed. "The second one is currently ongoing and ends April 28. If a club member goes to Blaze Pizza and uses the code our club provided, the club will receive 10% of the funds. This money will be used to buy paper bags, toys, and supplies to decorate the care packages." 
It is also unclear where exactly Francis Lewis High School students' letters and care packages will be distributed. As stated by the World Forgotten Children Foundation, the Paper Bridges organization is in contact with at least "12 different countries", including "Guatemala, Zambia, South Africa, India, and Myanmar".  This means that students here in New York City are helping people beyond their proximity through the power of writing and, in the future, the packages they make.
"I feel like it is a very creative way to show off your contributions to society," Miao explained. "There are orphans out there and this club is a good way to help the community, because orphans don't have it best; so we want to try our best to help."
Leave a Comment