The Wonders of the Spot Dessert Bar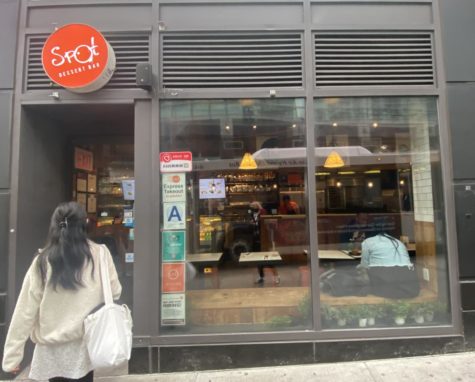 Do you want to try a dessert like no other but don't know where to look? Well, the Spot Dessert Bar can help resolve this. The Spot Dessert Bar is an exceptional dessert place located at 39-16 Prince St in Flushing with a modern black exterior; you might just miss it if you aren't looking carefully.
As you push the long vertical door handle, a sweet aroma fills your nose, which is how you already know this spot will be extraordinary. As you sit down, your server offers a menu as pop music plays in the background. Here are some dishes that I recommend trying out.
What to get: The Matcha Lava 
Cost: $14.45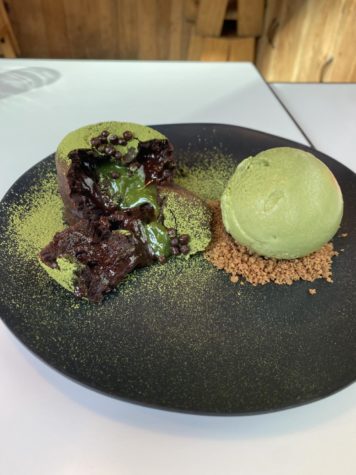 The Matcha Lava dish includes a mini chocolate/matcha lava cake with matcha powder and chocolate chips on top and a scoop of matcha ice cream with Granola crumbs below it served on a black plate. When you dig your metal spoon into the chocolate and matcha lava cake, a warm chocolate ganache oozes out from the lava cake; creating a beautiful sight. When you get to the center of the cake the green matcha ganache will ooze out and mix with the chocolate ganache. Scooping a scoop of the warm ganache and mixing it with the matcha ice cream and Granola crumbs on the side creates a harmony of flavors that just melts into your tongue; it creates the right amount of sweetness in one bite. Eating the matcha ice cream with the Granola bar alone is also extremely delicious. 
What to get: The Harvest 
Costs:$14.45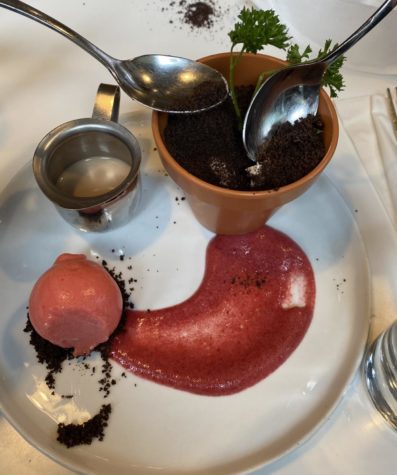 The Harvest dish includes a scoop of strawberry sorbet with Oreo crumbs on the bottom, a pot with a tiny fake plant and "dirt" or cheesecake, Oreo crumbs, strawberries, and frosting, and a small metal cup with milk tea in it. When you pour the milk tea into the plant pot, the milk tea gets absorbed into the Oreo crumbs imitating a real plant. On the outside, it looks like the Harvest dish is just a plant with a plant pot accompanying a large scoop of strawberry sorbet, but on the inside, the sweet mixture of cheesecake, filling, strawberries, and milk tea creates a balanced mixture of flavors for a dessert. However, the strawberry sorbet alone tastes a little sour and tastes like something is missing. 
What to get: Cookie Camp
Costs: $14.45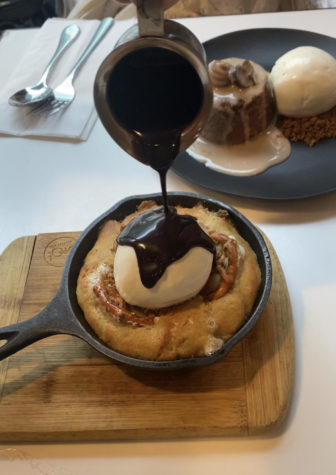 If you want to eat a hot dessert then, you should get the Cookie Camp. But make sure to be careful as the pan is extremely hot. This dish is served on a wooden board with a black scorching pot containing ice cream, a large pretzel, chocolate syrup, and cookie dough on top. To make things better, the Spot Dessert worker also offers to help you pour in the chocolate syrup while you record your experience. When you stick your spoon into the ice cream, pretzel, and cookie dough you get a dessert that is not too hot nor too cold, but something just right. 
The Spot Dessert Bar offers a variety of dishes both hot and cold to offer different options for their customers. Everything from the menu to information about private events can be found on their website, spotdessertbar.com. They are open from Monday to Sunday from 12 pm to 12 am. You don't typically need to make a reservation since the Spot Dessert Bar is not normally very crowded. If you don't have time to go in person, you can also order takeout and reach them via phone at 917-285-2278. This spot is, however, on the more expensive side with dishes that could range upwards of $15. This spot also offers drinks which are around $5-$8 and cookies for $4.
The Spot Dessert Bar workers are extremely friendly and the atmosphere in the Spot Dessert Bar is very relaxing and calming, which is perfect for a date, a hang out between 2-4 friends, or doing homework while eating something delicious. Overall, this was an excellent experience and I definitely recommend trying the Matcha Lava if you ever have the chance. You should come try this spot at least once in your lifetime!
Leave a Comment