One in 5000: Ms. Contino
Before Ms. Contino became the teacher we all know today, she was like any other student navigating her life in high school. A Francis Lewis High School alumna, Ms. Contino enjoyed English, history, and above all else, theater. She would become one of the student editors of the school paper, volunteer in the English office and become the assistant director of many school plays. 
"I loved it here so much, I didn't think I would like it my first few days as a freshman," said Ms. Contino. "I was like 'I hate it!' But it grew on me and I just loved being here. The assistant director for the school plays had asked me to come on board, so starting in my sophomore year I was a stage manager and then junior and senior year I was the assistant director. That's what initially brought me into the auditorium and the lay of the land."
In this "lay of the land" Ms. Contino participated in many plays in her high school years, including many classic yet not as popular play names such as Arsenic and Old Lace, The Musical Comedy of 1940, Where's Charley, and Dracula, which taught her a lot about theater and keeps her inspired to this day. 
"They were fun to work on but the audiences were never big because people were like, What is that?" Ms. Contino said. "I respect her [the drama teacher] for doing that cause I love theater and I'm a Broadway girl, and there are so many shows that I love and I would love to produce one day. But I know nobody will come see them because of how the generation is." 
Many of the plays that Ms. Contino directed throughout the years would be much more modern and eye catching to the audience at Francis Lewis High School including High School Musical, In the Heights, Newsies, and the most recent Puffs.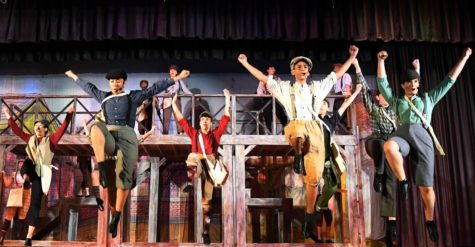 "When I choose my shows, I try to pick stuff with name recognition that people would want to see," Ms. Contino said. "I did Puffs because anybody who knows Harry Potter will love that show. I did Rent, Hairspray, Legally Blond and Shrek."
Beyond the plays and drawing inspiration from her drama teacher, Ms. Contino would also be heavily impacted by her English teacher. 
"My senior year English teacher here [Francis Lewis High School], I took AP Lit, she was so inspirational and such an amazing teacher," Ms. Contino described. "She was so in tune with everything we were doing and the material was so engaging that I was like, This is what I'm going to do." 
After graduating high school, Ms. Contino went to college to pursue her dream of becoming a teacher.
"I have my bachelor's degree in English Literature and my master's degree in Secondary Education," Ms. Contino explained. "I did a five year program at Adelphi University so I had my master's degree at 22 years old."
Yet after attending Adelphi University, Ms. Contino endured a separate journey before making her way back to Francis Lewis High School.
"I worked at one other school prior to coming here, but only for 6 months," explained Ms. Contino. "I was at Forest Hills High School, I worked on some of the shows because I had known people there. So I was helping out in assistant directing."
When she came back to Francis Lewis, Ms. Contino returned to many of her roots, going back to working on the school paper and helped bring back theater to Francis Lewis.
"Once I came here, I was given the opportunity to do a lot of different things," Ms. Contino said. "I started out here doing the school paper. I was the newspaper advisor for my first 5 or 6 years in this building. When I came back to work, they [the principal at the time] said, Will you bring the play back?, because there was no show for a while."
Fast forward nearly 19 years, Ms. Contino is now both the drama director at Francis Lewis as well as one an AP Seminar and AP English Language teachers. Just as Ms. Contino praised her own teacher, man of her old and current AP LANG. students feel the same sense of connection towards their English class.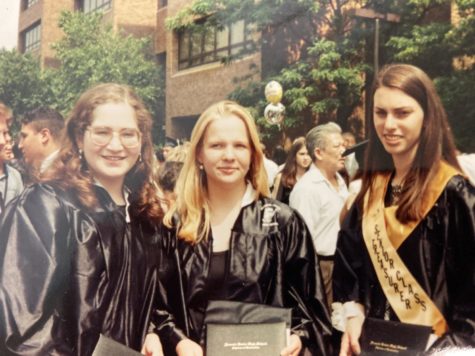 "I think Ms. Contino is very interactive and engaging when she gives her lessons," said senior Erin Jeon, Ms. Contino's previous student. "She really tries to incorporate a lot of modern day topics that are relevant to our lives into our lessons. It's very interesting because it is something I can actually see in my day to day life, not just in the classroom."
AP LANG. provides Ms. Contino the resources and environment to teach engaged students, who enjoy learning and thinking outside the box.
"The conversations are amazing," Ms. Contino said.  "They [students] work so hard and I love the content of that class because it's so current and modern. It's not old stuff, it's about what's happening in the news, what's happening in the world, how can we make sense of the way people talk and what they say. I think it's so relevant and important going forward in life to get a good grasp of rhetoric and language. I love seeing students' faces when something hits them, when they get it. It's an incredible feeling." 
Many of her students also praise Ms. Contino for being able to find a balance between the work she has to do for the school plays and her regular classes. 
"Whether it be in class or in the play, she is super close to everybody and always cares about your best interests," junior Junayed Ridwan said. "Another thing is, she's really really smart. I mean, teaching that many English classes cannot be easy. She knows how to get her students to be very successful in class, as well as in the play."
For Puffs this year, many of Ms. Contino's students participated in a school play production for the first time.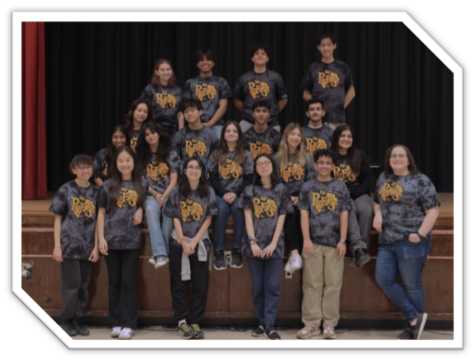 "Well, when she recruited me for the play, I was very confused at first," Ridwan explained. "But, it worked out pretty well. She was always there to be encouraging and that allowed me to want to pursue theater a little bit more. I was never a theater person to begin with, I was just a tech guy, engineering. I wasn't involved in that [theater]. Her casually asking me to do that and me being okay with it showed me that I can participate in theater more in the future."
The same goes for junior Jack Fann who performed in Puffs as the character Voldemort alongside Ridwan, who played Wayne Hopkins. 
"I didn't really want anything to do with theater but she made it sound really fun in class, so I auditioned for it," Fann explained. "I didn't really want to do it because I thought it was just reading lines, memorizing them, and then coming onto stage, and I have stage fright. But after doing the play, I realized that theater is more than just the lines, but also the people you're working with."
Like Ms. Contino was herself, Jeon is the assistant director of this year's school play. Jeon agrees with Fann's idea that there is a sense of family created when working on the play or even just in class.
"I think Ms. Contino has an aura to her, like motherly energy," Jeon added. "She's very caring and she's almost like a second mom to me. I know that I can talk to her about anything, whether it's about grades or about my personal life. She's just really caring and she genuinely wants the best for her students. She's also really passionate about the work that she does. She makes sure to involve her students in their academic and personal life." 
Participating in the school plays, whether it is a student's first, second or last time, allows Ms. Contino and play members to work closely together as a team, going beyond the student and teacher relationship in the classroom.
"My favorite part of it [directing the plays] probably is getting to see students in a different capacity," Ms. Contino explained. "Some of the cast members are in my classes, not all of them, but a decent amount this year did try out. The difference to see what they're like in the classroom -–some of them are quiet, don't participate, don't really get involved and just stick their head in the books— come to rehearsal after school and seeing these big personalities and great sense of humor. It's just so nice to see people in different areas and get to know them on a different level, it's probably my favorite part. It's just the bonding with the family we create."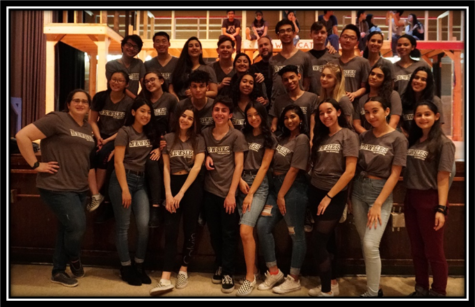 Ms. Contino has also encouraged growth and exploration for her students through performing arts.  
"I initially got involved in theater when she asked me to be stage manager when I was her AP LANG student," Jeon said. "I was able to learn a lot from her. She showed me what a community is, and she allowed me to explore my creativity. I had never really dabbled into the arts before, and she taught me that it is important to have multiple ways to express yourself. She really taught me about opening up to new horizons and saying yes to things that I never thought I would before." 
Ms. Contino is there to direct the play, but she still provides students opportunities to make their own decisions on how to act out a scene or make suggestions on set. 
"Being obviously our director, she had all the leadership and authority," Jeon said, "but it didn't really feel like that because she let not only me, but also the cast members have so much creative freedom and it was really nice."
Without Ms. Contino, without the enthusiasm and commitment of students, and even without the teachers who taught Ms. Contino, Francis Lewis wouldn't be the same. Ms. Contino's story shows how one person can truly make a difference and how inspiration and passion can be spread by working in a school community.
"The bonds that you make with the students, that are sometimes lifelong, are the most important things," Ms. Contino said. "It's so special that you can make such an impact on a student's life and maybe you don't know it until years later when they tell you 'Hey I became an English teacher just like you,' which is exactly what happened to me and my English teacher. I think it's the students, it's the love of what you can create with people." 
Leave a Comment