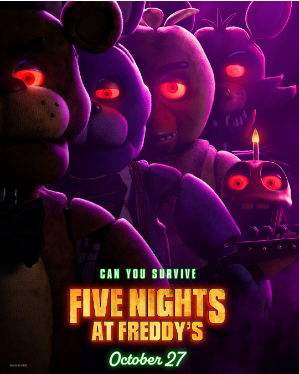 The Five Nights at Freddy's franchise, which was previously recognized as a well-thought-out series of games, has finally found its way to the big screen in the form of a movie, which was scheduled to be released on October 27, 2023. I recently watched the much awaited Five Nights at Freddy's film, and it was an enjoyable experience from start to end. As a lifelong fan of the FNAF video game franchise, I walked into the theater with high expectations, and when I walked out had definitely fulfilled, and even exceeded them.
To summarize, Micheal Schmidt goes to see career counselor Steve Raglan, after getting fired for assaulting a man who he suspected to be kidnapping a child, who turns out to be the child's father, in a mall when he was a security guard. Steve Raglan gives him a job as a night guard at Freddy Fazbear's Pizza, an abandoned family restaurant. In addition to pizza and other culinary products, this restaurant included arcade games and musical performances. Animatronics, Bonnie, Chica, Foxy, and, of course, Freddy, perform the musical shows. These animatronics are controlled by William Afton, and all they want is to harm Mike and his sister, Abby.
The mechanical animatronics were amazingly brought to life in the FNAF film, in my personal opinion. The animatronics appeared to have walked right out of the games, and seeing them on the big screen was a pleasure. The realism and creepiness was beyond expectations, adding a whole new element of fear to the picture.
The film is similar to the game, you play as a night guard in the game, you must survive five nights while being pursued by five animatronics hell-bent on harming you. Freddy Fazbear's Pizzeria is a terrific spot for both children and adults to enjoy the robotic creatures.
What genuinely distinguished this film is its regard for the original series. It pays tribute to the video game franchise while elaborating on the lore in a genuine and innovative manner.  This isn't a light adaptation; it's a thorough exploration of the universe of Five Nights at Freddy's, and enthusiasts will love the attention to detail.
When Five Nights At Freddy's was just a game famous YouTubers got extremely popular playing the games which helped it gain popularity at that time.The movie does a wonderful job of demonstrating the game developers' admiration for these YouTubers by featuring them in the film. These YouTubers include 8-bit Ryan, Baz, Razzbowski, Dawko, FusionZGamer, and CoryxKenshin. 
Finally, Five Nights at Freddy's is a tremendous film achievement. With fantastic performances, excellent production design, and a script that goes into the franchise's darkest corners, this film truly satisfied me, especially considering how long I had waited for it. It feels as though my childhood has been fulfilled and I'm so happy with how the movie turned out. I hope all of the original fans who have been with the games since the beginning of our wild FNAF journey since 2014 appreciate the film as much as I did.