Once in a Lifetime: Francis Lewis Attends Hamilton
AP English Language and Composition students attended Hamilton on Broadway at the Richard Rodgers Theatre in Manhattan on October 25. 
"I was excited for my students," AP English teacher Ms. Contino said. "I was looking [at] my students' faces seeing the anticipation."
Hamilton was created by Lin Manuel Miranda, an American composer, lyricist, playwright, and actor.  Miranda was inspired by Ron Chernow's biography of Alexander Hamilton, prompting him to create his own Broadway show. What makes the show different from others is that it's based on rap musicals, bringing history to life.
"If you watched the show, it's not only words that they say," said AP English teacher Ms. O'Connell. "Every musical note means something."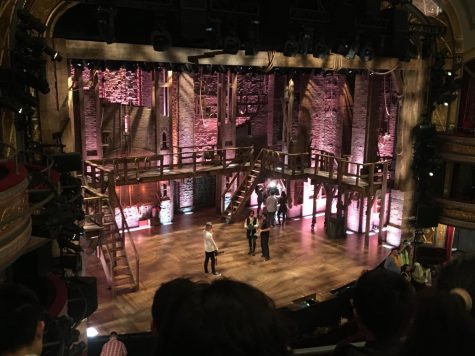 Alexander Hamilton was born in the West Indies in Charlestown, Nevis on January 11, 1757. Hamilton's mother died in 1768, leaving Alexander an orphan with his brother since his father wasn't in the picture. However, young Hamilton had a thirst for knowledge. His aunt sent him to New York to study, leading him to be George Washington's adviser and the military secretary of America.
"I think it had a big impact on the United States because before this, a lot people didn't know who Hamilton was," said Francis Lewis student Aliya Argro said. "I know what effect he had on America but through this, a lot people were able to know what he did for America."
Miranda was born on January 16, 1980 to Puerto Rican parents and grew up in a Hispanic community in upper Manhattan. He recently wrote a song titled Almost Like Praying for Puerto Rico to raise money after Hurricane Maria devastated the island. Miranda was also in the Disney animated movie Moana (2016) and earned an Academy Award for How Far I'll Go.
"[If] I had the chance to meet him, the first thing I would do is hug him because he is such a brilliant writer," Argro said.  "I know he put so much research into this show and I would want to praise him for his dedication."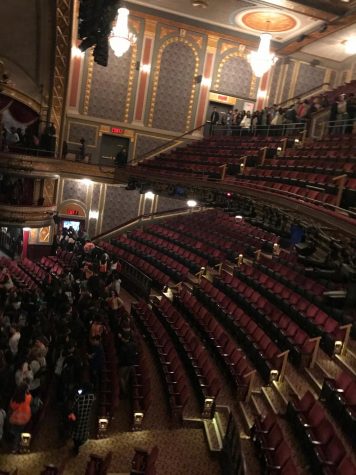 The students enjoyed the show so much that they couldn't help but sing along during the performances.
"My favorite song is Satisfied," Francis Lewis student Olivia St. Hill said. "When that came on, I was singing the whole time.  I love that song."
Hamilton tickets are difficult to acquire. Tickets can range from $179 to $400 per ticket, depending on the seat. However, students and teachers were able to attend the show for only $10.  
"I applied for a program through the Gilder Lehrman Foundation,'' Ms. Contino said. "[I] actually applied last February to get the school involved and I got a notification on August 31 that we were accepted for this year."
In 2016 Hamilton was awarded the Pulitzer Prize for Drama and won eleven Tonys, earning "Best Musical" at the Tony Awards. 
"It is inspirational," Ms. Contino said. "He [Miranda] somehow managed to make kids and adults fall back in love with American history, care about the founding of this nation, and what happened to the people who founded the nation. It just made it worthwhile to kids who never cared before."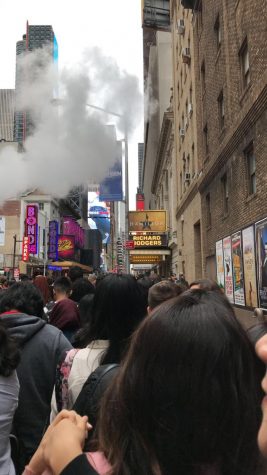 Leave a Comment