The Patriots Dig Deep to Advance to the PSAL City Championship
The Francis Lewis Girls' Varsity Volleyball team finished the regular season with a 9-1 record, winning their last game against Townsend Harris 2-0 on November 1 at Townsend Harris High School.  The Patriots advanced to the City Championship match, losing against Benjamin N. Cardozo High School 2-0 at the Queens College Gymnasium.
"I think they've done a good job this year," Coach Rosenbaum said. "They've come a long way putting a new group of girls together and new positions.  [They're] getting better individually each day and the team each week."
Francis Lewis' first game was against rival Cardozo September 28, losing 2-0.  Junior Amira Durkovic contributed seven assists and two digs while senior Ashley Saladin offered two aces and 13 digs in the close defeat. 
"We lost our first match of the year, but since then we won every match in the PSAL," Rosenbaum said.  "Once we got ourselves together we've been doing pretty well.''
The team began their regular season winning streak against Bayside High School on October 5, winning 2-0 and then won again against John Bowne High School, 2-0.  John Bowne Coach Fattah understood the importance of the match before it began. 
"It's a big one for both of us," Coach Fattah said. "If we win we could potentially be in third place.  It would be a major accomplishment for my team."
Junior Ann Soriano and senior Katherine NG Sang both contributed four aces while senior Madisyn Pozo had five kills and two aces.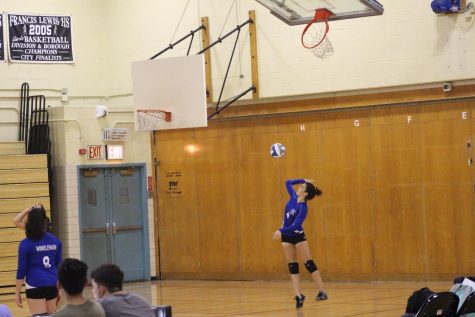 According to Coach Rosenbaum, the player who has shown the most improvement throughout the season is senior Nicole Anabogu. "Her improvements have been a pleasant surprise," Rosenbaum said. "She has been doing that since day one, no matter who we play in the PSAL.'' Anabogu finished the regular season with 10 blocks and 49 kills and contributed 12 blocks and 25 kills in the playoffs.  
The Patriots entered the playoffs full of confidence as they finished the regular season with a nine game winning streak. Their impressive play continued as they won quite convincingly against Tottentville, 2-0.  The Patriots faced a tougher 2nd round against Seward Park Campus, winning each match 25-19 and 25-23.   Seward Park Campus finished the regular season in second place with a 10-2 record behind Stuyvesant High School.
Francis Lewis advanced to the City Championship match and once again faced Cardozo, who gave the Patriots their only loss during the regular season. Their first match was extremely close as Cardozo edged Francis Lewis 25-22.   The Patriots refocused their energy for the second match but came up short as Cardozo won 25-18.   Katelyn NG Sang contributed 11 service points and 9 digs while Katherine NG Sang offered 11 digs and one kill in the defeat.
The team changes every year as seniors leave and this has an effect on the team. This year the Patriots will be saying goodbye to six seniors.  "Absolutely, every year our team is different because players leave and players come in.  Players have to pick up with spots the girls left," Coach Rosenbaum said.
Leave a Comment