Girls' Varsity Soccer Team Wins City Championship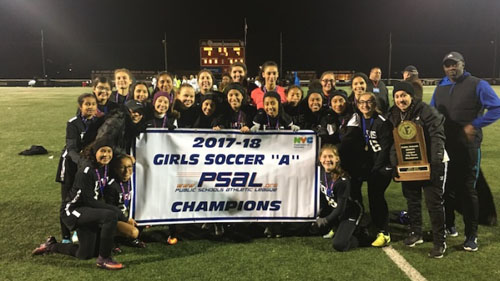 The Girls' Varsity Soccer Team made history for Francis Lewis High School after a full season of hard work, dedication and belief. 
After their crushing 5-1 loss in the finals last year to Beacon High School, the Patriots came back and redeemed themselves, beating Beacon 2-1 in this year's final game at Saint John's University, claiming the City Championship crown. 
"The biggest factor for the team's success this season was heart," Coach Sotiriou stated. They were committed, focused and determined to get back to that championship game and win."
The Patriots and Demons were tied 0-0 for the entire first half and each side scored a goal in the second half, for a 1-1 tie. With regulation time running out, the game was now on the line with only penalty kicks remaining. The Patriots took the championship with a penalty kick score of 4-2. Freshman Stefania Skaliotis led the team with two goals as goalie Kristine Yagudayev contributed 20 saves in the victory.
"I think the team played really well and [we] held our own," Senior and Co-captain Jacklyn Lada stated.  "Once we got our opportunity, the game became even and wasn't one sided for them. In the beginning, they were pressuring us a lot. Co-captain April [Cabral] and I knew we had to shift the energy of the game."
Although the game was close for the Patriots, their victory in the championship shouldn't have come as a surprise. The Patriots blazed through the entire regular season undefeated with a 12-0 record. However, one game against Townsend Harris on October 22 nearly ruined the team's flawless streak. The Patriots were leading 2-1 after the first half and neither team scored in the second half, thus sealing the match with a 2-1 victory.  Lada led the team with two assists along with seniors April Cabral and Nicole Martinez each scoring a goal.
"After going the majority of the season without much competition within our division, it was nice to have a close and challenging game right before we went into playoffs," Coach Sotiriou said. "Townsend Harris played very well that day and they did a good job challenging our team, which helped us figure out what we needed to work on before [the] playoffs."  Townsend Harris finished the regular season with a 9-2 record, advancing to the second round of the playoffs before losing to Hunter College High School, 6-1.  
The Patriots are determined to come back next season and win another championship.  The team is relatively young as 9 of the 22 players on the roster this season are freshmen, with only five graduating seniors leaving the squad.  The historic win for the Patriots is only the beginning and the team, along with Coach Sotiriou, are ready for more.
"To maintain this level of play next year, we would need the returning players to work hard before the season even starts by staying in good physical shape as well as continuing to practice and play during the off season," Coach Sotiriou said.  "The girls will have to continue to be determined and focused and work together to continue to accomplish our goals."
Leave a Comment