One in 5000: Erika Versoza Strives for Artistic Expression
Carrying a cheerful smile everyday, junior Erika Enya Versoza attends Francis Lewis High School looking forward to her art class.  Each day she puts in effort to create a picturesque work she conceives in her imagination, using a variety of tools from pens and paint to scrap paper and her digital tablet.  All of the work she does pushes her in the direction of her dream of becoming a professional artist.
Born in the Philippines, a mute two-year old Versoza and her family moved to New York looking for better opportunities. Growing up in a new setting, she had difficulties adjusting to American culture, especially speaking English.
"My family spoke our native language, Pangasinan and Tagalog, at home while people spoke English at school," Versoza said. "I couldn't understand anyone in school. I was very quiet and I fully learned English by the time I graduated elementary school. I was sent to classes called 'Speech,' and I had to learn letters that were hard for me to pronounce."
With little ability to communicate, Versoza used art as a way to "speak." She started taking art seriously when she realized how much she loved it.
"[Art] helps me escape reality for a while," Versoza said. "I can always draw out what goes in my mind, like putting my imagination on paper. It's as if I could make my imagination clearer and somewhat materialize my dreams."
Versoza's favorite art styles include semi-realism, anime, landscape, abstract, and freestyle. Her recent pieces were influenced by artists such as  Kawacy, Yuumei, Ashiyaart, and Laaovan, but she was initially influenced by Arina Tanemura's Japanese manga, Sakura Hime Kaden.  Versoza illustrates "whatever comes to [her] mind" or whatever reflects her present emotion.
"I feel that my art could be better," Versoza added. "I strive to improve every day. It's a love-hate feeling, but as much as I may hate my art sometimes, it could get better the next time I try."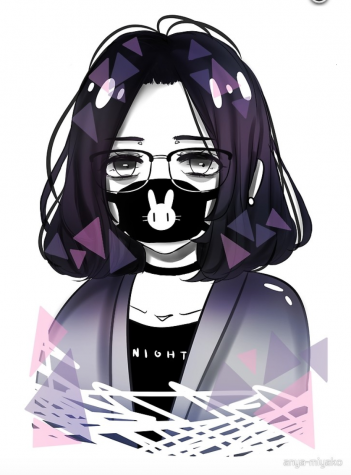 Versoza has partial color blindness, meaning she can't see certain colors together like green and red. However, it doesn't bother her.  It's like being told she has a "disadvantage."
"I see the world in a different way and it helps me grow mentally stronger," Versoza said.  "I have determination and I hate to give up easily. I like to pursue things with an open mind since everything doesn't need to have only one solution."
Versoza wanted to audition for Fiorello H. LaGuardia High School, but she was discouraged by her parents. They weren't supportive of her choice to become an artist because of "the stereotype of artists [ending] up in the streets" and encouraged her to become a nurse instead.  However, they gradually accepted her choice.
"They were against it to the point that whenever we mentioned careers, it would end in an argument," Versoza said. "Times have changed and my parents have grown to accept that I make my own decisions."
Entering Francis Lewis through the University Scholars program, Versoza thought she wouldn't have a chance to work on her art, but she was not hesitant to join the Art and Design program where she can pursue her dream. Although she struggles with color and realism, she doesn't mind asking teachers and upperclassmen for help.
"People ask me why I want to become an artist even though I am color blind, [but] it just makes me want to pursue [it] even further," Versoza said. "A disadvantage doesn't mean you can't do it. It just means that you have to find another way to solve the problem. People I have befriended [at Francis Lewis] are very supportive of me and put me on the correct path, lifting my spirits when I am down, and tell me that I can do anything I wish if I put my heart into it. I'm lucky to be with great people."
Versoza uses social media to promote her art. She also sells merchandise with her designs under the alias "Anya Miyako." In addition to involvement in school concerts and clubs, Versoza gained recognition for winning second place in the 2017 Northeast Council of Teachers of Japanese (NECTJ) annual pamphlet cover contest in digital art. For college, she is considering the art-specializing School of Visual Arts (SVA).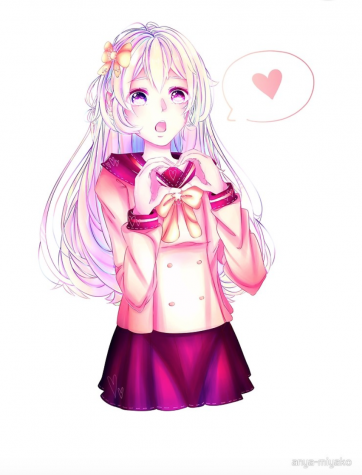 "Not only [is SVA] one of the few schools that offer cartooning and animation courses, but it is also affiliated with Kyoto University in Japan," Versoza said. "Kyoto University is one of the top art colleges in Japan, and I've wanted to continue studying Japanese [in] college since I would like a job in Kyoto Animations."
Versoza sees herself working as a concept designer for businesses ranging in gaming, films and animation. Putting her career "above anything else," Versoza wants employers to know that she is "tolerable" and ready to accept a challenge.
"I love challenges because it is a learning experience," Versoza said. "It drives me to try harder, no matter how difficult the challenge may be.  As long as I am doing what I love doing, I'll be happy."
Over 5000 people – including students, teachers, staff, and administrators – are part of the Francis Lewis High School community. One in 5000 is a series that delves into the individual stories of the people in our community.
View Comments (1)