That's Not a USB Stick: An Investigation into the Whys and Hows of Teenage Vaping
A random student puts a USB stick-like device in her mouth, puffing away fruit-scented vapor clouds as she walks to the school entrance after the late bell rings. Elsewhere, two students puff away as they walk to the bus stop. Incidents like these also tend to happen in the bathroom, just ask any student from Stuyvesant, Brooklyn Tech, or Bronx Science, but they're not limited to spaces where a teacher is not present. On occasion, you might find a student or two puffing from those devices behind their teacher's back. That's not a simple USB stick, it's an electronic cigarette, and usage among high school students has been on the rise the past few years.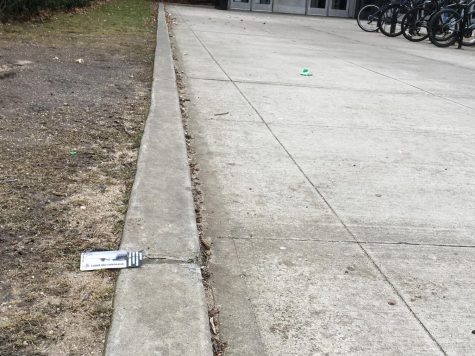 These scenarios are not uncommon. At the risk of getting in trouble, students are willing to vape using e-cigarette brands including blu, ES, and JUUL, which reportedly earned $1 billion after sales of 473 million pods. They're usually powered by a battery that can actually be recharged through a USB port.
"I know [these guys] in my government class that vaped while my teacher had her back turned, not even out of the room," a senior said. "They kept doing it for like five puffs before they figured their luck would run out and put it away."
ACKNOWLEDGING VAPING IN HIGH SCHOOLS
Last November, the Centers for Disease Control and Prevention (CDC) published the 2018 National Youth Tobacco Survey (NYTS) reporting that over 3.6 million children are currently using e-cigarettes. The FDA's Center for Tobacco Products (CTP) has been working with the CDC to bring attention to the issue.
"Current e-cigarette use—or 'vaping'—among middle and high school students increased alarmingly between 2017 and 2018," a CTP official told Francis Lewis News. "From 2017 to 2018, there was a 78 percent increase in current e-cigarette use among high school students and a 48 percent increase among middle school students."
Inside the Spark Room (240), Ms. Hudson works as a Substance Abuse Prevention/Intervention Specialist. She meets with "two to three [vapers] a week" to help them with their issue. The day before she was interviewed for Francis Lewis News on January 9, she met with a student who was caught vaping.
"I feel like the companies have promoted vaping as an alternative," Ms. Hudson said. "The way it's marketed, the colorful JUULs, blus, and all of those things, [make] it really appealing to young people."
The colorful, fruity marketing of e-cigarettes has been condemned as an attribute to the increase of teenage vaping, but an anonymous junior confessed to Francis Lewis News that something else convinced him to vape freshman year.
"[I used to] JUUL because [of] stress," the junior said. "I don't vape anymore because it doesn't appeal to me, and I don't have an addictive personality. It was affecting me at school and at home.  Stress in school is a major problem which adults don't take seriously."
The junior would like to make it clear that he has stayed away from e-cigarettes since his freshman year and also criticized JUUL's marketing strategy.  "Vape companies like JUUL market itself as a 'healthier option to traditional cigarettes'. It is a drug, a drug that has been grandfathered in."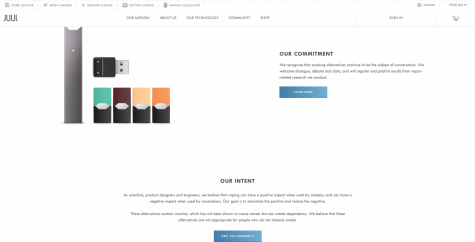 CURTAILING THE ISSUE
Students who are caught vaping are suspended for two-three days, have their parents contacted, and are brought to Ms. Hudson. She works with students to "realize the hazards of vaping/other substance abuse" and to "recognize that they're limiting their potential and ruining their health."
"I do a five part teen intervene program," Ms. Hudson added. "It's a brief intervention where you challenge people to look at their habits and substance abuse. After that, depending on how/what the outcome is, I will refer them to services or continue to support them in the school building as long as they are feeling like they might get into that situation. I'm just here for the support. If it's a real issue, especially if it's vaping marijuana, we usually refer them to an outside substance abuse program."
A CTP representative told Francis Lewis News that the FDA has been taking action to stop sales of e-cigarettes to children and control how retailers market their products.
"FDA Commissioner Dr. Scott Gottlieb announced several new steps [including] preventing access to flavored tobacco products and plans to ban menthol in combustible tobacco products," the CTP representative said. "These actions, in addition to our ongoing public education, [The Real Cost Youth E-Cigarette Prevention Campaign], will further prevent youth access to flavored tobacco products and help address the epidemic of youth e-cigarette use."
Ms. Hudson has been visiting freshman health classes in the fall term to educate students on vaping prevention lessons and life skills training. She plans on doing the same for the senior health classes in the spring term.
"I was just in a class teaching life skills to some students," Ms. Hudson said. "We were talking about, as a matter of fact, how to make decisions, what steps you take, how to reflect on the decision, how to weigh the pros and cons, things like that. The majority of students are receptive to it, and I feel like even if they aren't, some of the information sticks so they might use it later on in life."
Ms. Hudson does her best to "give [vapers] the information they need to make their decision" rather than directly advising them. She thinks vaping "is a bit more dangerous" than smoking because the health consequence can be "found out more rapidly."
"It takes years to develop symptoms from smoking cigarettes. Young people start vaping, and because the vapor gets into your lungs, some people get immediate consequences: the popcorn lung and the actual fluid in their lung… If you vape, you are a thousand times more likely to end up with esophageal, throat, and oral cancers."
Bronx High School of Science tried to curtail the issue by closing down some restroom stalls, but that resulted in long restroom lines and students being late for class. Some schools in Long Island have set up sensors in restrooms and locker rooms to detect vaper in the air. Be aware that these sensors are not the same as the police scanners used back in January and October of 2018 as one junior told friends in the girls' locker room.
"My little sister was scared [the police] were going to find her JUUL and call our mom," a junior said in October. "When her bag went through [the scanner], nothing happened."
THE ISSUE WITH E-CIGARETTE-RELATED LAWS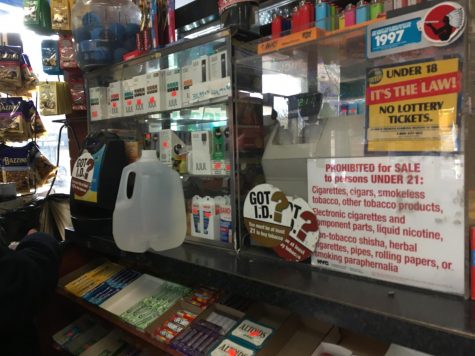 NYC's Electronic Cigarettes Law states that "Retailers cannot sell tobacco products and electronic cigarettes to anyone under 21," barring sales but not usage. Despite the passing of e-cigarette regulation laws, there is no specific law that bars people under 21 from smoking, unlike the Minimum Legal Drinking Age (MLDA) which clarifies that the purchase and consumption of liquor under age 21 is illegal. The DOE has regulations as well, but the reformed vaper analyzed the extent of its rules.
"[Those are] NYCDOE regulations which means it has to be contained in schools or NYCDOE jurisdiction," the reformed vaper said. "When I said regulation, I meant by congressmen and state legislators. It's better this way. Kids don't get it on their record for the future."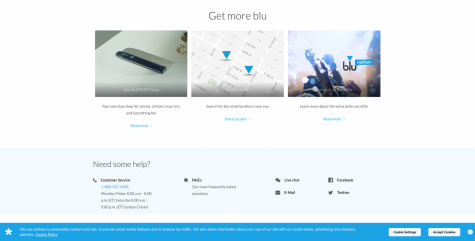 New York State smoking legislation states that e-cigarette sales are banned over the Internet, but retail websites are still accessible. JUUL and blu have pop-up windows that ask if the user is at least 21 years old and headers that identify nicotine as an ingredient in their products. KingPen, a retailer of regular and marijuana-infused vape pens, does not have pop-up windows or warnings on its website other than the fineprint on the bottom that says "To purchase any product… you must be at least 21 years of age."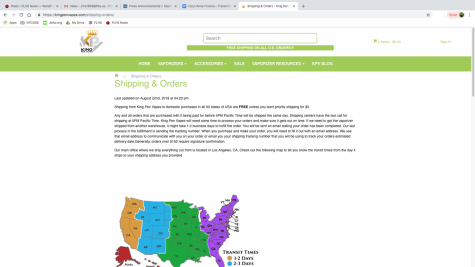 Francis Lewis News reached out to KingPen three times, but no reply has been sent back.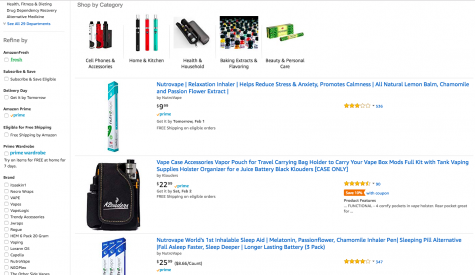 On August 28, 2017, Mayor Bill de Blasio signed a law that bans sales of tobacco products in pharmacies that recently went on effect January 1, 2019. He restated this in an email to Francis Lewis News.
"Nothing is more important to this administration than the health and safety of all New Yorkers," Mayor de Blasio wrote. "From capping the number of e-cigarette retailers to prohibiting pharmacies from selling tobacco products, my team and I are working hard to build the New York City that you deserve. We must all do our part to move this city forward."
The reformed vaper pointed out earlier that delis and some students still sell these products, so Francis Lewis News reached out to the offices of nine politicians to ask about legislation regarding this issue, including Tennessee Senator Lamar Alexander, NYS Assemblyman Richard N. Gottfried, NYC Councilman Mark Levine, and Governor Andrew Cuomo. As of the publication of this article, the only politician that has responded to Francis Lewis News' messages is NYC Mayor Bill de Blasio.
"Everyone has to be on the same page," Ms. Hudson said. "Vaping is bad, and that's the message that has to be conveyed. You know, if you have mixed messages, then I think the vaping crisis or problem will continue."
On January 27, a 24-year-old Texan died after his e-cigarette exploded. While stronger legislation has yet to be passed, the reformed vaper has a piece of advice to give those who have considered vaping:
"Do what you want, but just educate yourself of the consequences. Know what is illegal and what is not."
Leave a Comment