Sophomore Sensation: Jazan Johnson Scores Big in Varsity Basketball
The crowd is riled up, on their feet screaming his name as the pressure is on player zero. As he receives the pass he quickly drives towards the basket. A defender approaches him, already calculating his next move. His shoes skid against the hardwood floor as he crosses the defender with the brisk movement of his feet. He makes the jump shot, the crowd erupts into chants. His teammates run up, circling him and praising his play with handshakes and slaps on the back. Jazan Johnson, the sophomore sensation does it again.
Jazan Johnson has been playing basketball since he discovered his passion at the young age of eight years old.
"In fourth grade, I didn't even play basketball but they had a team and I had nothing to do after school, so I joined," Johnson explained.  "When I was around twelve, I realized this is what I want to do."
He's currently the only sophomore on the Francis Lewis Varsity Basketball team and has accomplished quite a lot coming into high school. He made the varsity team as a freshman, playing among and against juniors and seniors twice his size.
"In seventh grade I had an all-star game," Johnson said.  "It was at Francis Lewis and the coach saw me so he invited me to a workout. Eventually, I had to try out but he knew about me before I even came to the school."
When Jazan found out he made varsity, he was quite surprised, but the coaches knew he had the capability.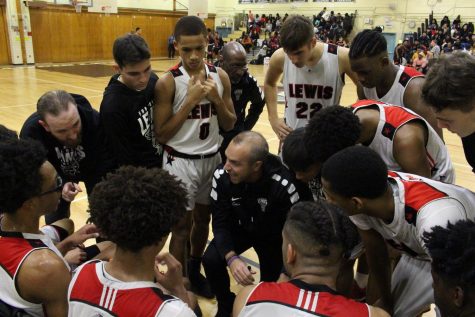 "When Jazan was a freshman, we decided to have him on varsity," Varsity's Coach Mr. Ciarleglio said.  "We knew he could contribute immediately. Jazan has an extremely high potential. He is one of the top sophomore in NYC. We also wanted Jazan to learn from the older players, and understand what is expected of varsity athletes."
Joining the varsity team as a freshman was nerve wracking for Jazan, and although he was proud of the hard work that got him on the team, he still felt the need for acceptance. Due to being the youngest and newest member on the team, he had to faced the consequences of being picked on by the older players in a joking, and playful manner.  
"They'd make me put all the balls away after practice, stuff like that," Johnson said, laughing at the memory. "I used to hate that, but I mean they're my boys."
Although he felt the need to prove himself to fit in, the perspective of his teammates was entirely different.
"Everyone would "bully" him because he's a freshman," senior Andrew Collazo said. "We would give him noogies and everything.  But, we all knew he was good so he didn't really have to prove himself."
Jazan's skills have improved tremendously throughout his two years at Francis Lewis. He now makes jump shots, something he couldn't do freshman year, and he is making smarter decisions with the ball.
"He has matured with his decision making on the court," Coach Ciarleglio said. "He better understands how to use his speed and size against older kids."
Jazan's growth helps him contribute to the team in a way no other player could.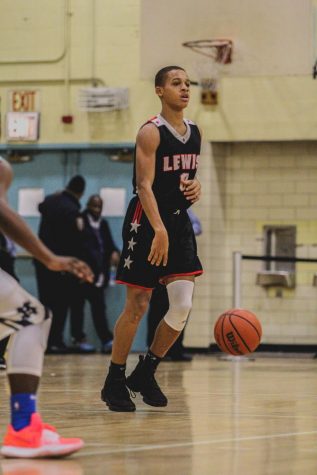 "Jay's a sophomore sensation," senior Elijah Pratt said. "He's really important on the team. We need him to create for other people, drive to the basket, and create open looks. He's very versatile." 
Having a stable balance between the responsibilities of academics and sports is difficult to maintain, but Jazan always makes sure he has his priorities set and follows through with them. He's constantly enhancing his skills by practicing shots after practice or completing school work. Balancing these responsibilities consumes his time, and pushes him to work even harder.
"After school I can't always hang out with my friends, because I have practice," Johnson said. "By the time practice is over it's too late to hangout with anyone. I just go home and do my homework."
Jazan is hard working and stays motivated thanks to his biggest fan and supporter, his dad.
"My dad, he tells me to take advantage of any moment or any chance that I have, so I listen to that," Johnson said. "He always sacrifices himself to make sure I'm doing good."
Basketball has impacted Jazan's life in a very meaningful way. It's something that is common in the Johnson family, and it has allowed him to meet a few of the very significant people in his life now.
"Not only do I love the sport, I get to meet new people," Johnson added.  "I get to meet a lot of people playing ball like Andrew, Luka, Joey, and Jordan.  My mom and dad also played ball so they knew I was probably going to play basketball too.
Jazan's future goals for basketball include attending Duke or Kentucky University before playing professional basketball. 
"I'm trying to make it to the NBA," Johnson said. I want to give back the opportunities I had, to people in the same situation I'm in. I want everyone to know that they can be what they want to be, no matter what position they're in. I hope I'm remembered as someone that works hard, and tries to achieve their goals as best they can."
Over 5000 people – including students, teachers, staff, and administrators – are part of the Francis Lewis High School community. One in 5000 is a series that delves into the individual stories of the people in our community.
Leave a Comment