Black History Month: Francis Lewis Teaches Cultural Equality and Expression
Started by Carter G. Woodson, Black History Month has been a part of many people's lives for years. It was originally only a week long however after realizing this amount of time was too short and the lack of black history implemented in textbooks, colleges and universities across America took action and extended the event. Black History Month takes place in February and celebrates the accomplishments of black historical figures and their overall impact. Francis Lewis has done a lot to celebrate this month and acknowledge black culture and achievements throughout history.
"[Black History Month] means celebrating a culture, giving to others, and allowing others to understand a culture that's less represented," African American Club President Brittney Thurston said.
Thurston organized a Black History assembly that took place on February 28. Performers such as the jazz band and the Boys' Step Team were featured and artists such as Sam Cooke were honored.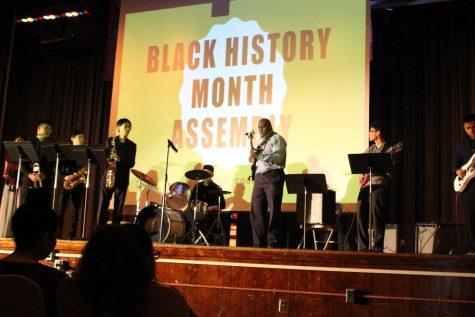 "We did have performances, but along with that, we made sure to show the background of everything," Thurston said. "There's more to us than just performing and being entertainment.  For the step team, they don't just do step. [The culture] originated in Africa and they came and brought it to this school."
In addition to the assembly, Francis Lewis hosted a Black History panel organized by ISS Assistant Principal Ms. Williams.  The panel focused on women of courage and power with four guest speakers – The Cathedral School's Director of Inclusion & Community Engagement High School Counseling Associate Dr. Worokya Duncan, Lindley Consulting Group CEO Vanessa Lindley, Amparo 3 Founder and Designer Iliana Amparo Quander, and Born Again Vintage Designer Bridgette Artise. Students were able to learn about each speaker's experiences in their industries as well as their cultural diversity.
"When you do something courageous you'll still have fear; the theme is courage and power," Lindley said. "Whether you succeed or fail there will always be a lesson in it. That's where you find your power."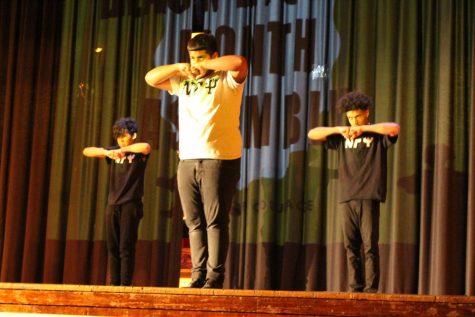 In the last week of February, Francis Lewis put up a display titled "Fashion of the Century: An African American Experience," which showcased fashion from the 1900s to the 2000s.
"I've been doing [fashion] for a little over twelve years," Artise said. "Twelve years ago nobody was thinking about sustainability or eco-friendly. To be able to start a business where people weren't thinking about it and to still pursue and persist to me is a major example of power and courage."
Francis Lewis is a diverse school that encourages equality and expression. Celebrating different cultures broadens students' knowledge and understanding of their peers. Black History Month is an important month in history and gives many people a voice and empowerment.
"It's not represented enough," Thurston said. "I feel like people need to learn more about the representation of black people and our history. Maybe even bring it to school curriculum."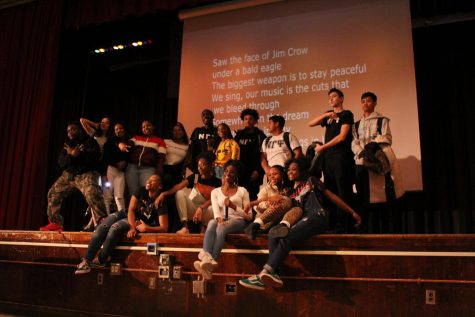 Leave a Comment