The Battle to Integrate NYC Public Schools
Out of the 4,798 students who received an offer to one of the eight specialized high schools this school year, only 506 black and Hispanic students received offers. The decrease in the number of black and Hispanic students who received offers has reignited a conversation about racial disparities, not only in the eight elite public high schools, but in New York City's public school system as well.
In 1954, the landmark decision of Brown v. Board of Education declared segregated schools unconstitutional for violating the 14th Amendment for being "inherently unequal".  Although the Supreme Court outlawed de jure segregation, or legal segregation of groups,  in schools across the nation, New York City continues to deal with de facto segregation, or separation based on customs and social norms.
New York City's public school system is made up of 1,135,334 students according to the NYC Department of Education, making it the largest school district in the nation. Despite being ranked the sixth most diverse city in the nation by WalletHub, the city's public school system is, according to a report from the University of California, Los Angeles' Civil Rights Project, home to the most segregated schools across the nation. Since nearly 70 percent of students citywide are Hispanic or black, a school is considered racially representative, according to the School Diversity Advisory Group, if a school's population is made up of at least 50 percent Hispanic or black students, but no more than 90 percent. By these standards, only 30.7 percent of NYC public schools are racially representative.
Residential segregation is one of the factors that contributes to NYC's segregated school dilemma. The city is composed of regions dominated by a race or two and of numerous ethnic enclaves, neighborhoods dominated by one ethnicity, formed by freed African American slaves and immigrants over several decades. For instance, Harlem is primarily inhabited by blacks, while Little Manila in Woodside is home to a large population of Filipinos. Zoned schools, schools that students are assigned based on where they live, reflect the demographics of each neighborhood, often resulting in a school environment lacking diversity.
"When I attended elementary and middle school, I attended the same school, William Spyropoulos, a Greek-American school located in Flushing," senior Demi Kapetanakis said. "Growing up in a Greek-American school was very hard because I didn't really get to meet people from other cultures."
Another contributing factor to this issue is the growing number of parents who choose to send their children to schools out of their zone. In a public school system that's made up of 32 community school districts, some districts tend to have schools with high poverty rates. Parents attempt to send their children to schools in a more desirable district as opposed to sending them to lower-income schools, which are prominently found in black and Hispanic dominated neighborhoods. This phenomenon is occurring as early as elementary schools; in fact, a study conducted by The Center for New York City Affairs at the New School found that 40 percent of kindergarten students are enrolled in schools that aren't their zoned school. By sending their children to schools with lower poverty rates and higher test scores, it concentrates the effects of poverty in zoned schools.
Back in 2017, Mayor Bill de Blasio formed a School Diversity Advisory Group which aims to integrate the city's public schools based on race and class. A highlight component of their plan is to increase the number of students in a racially representative school by 50,000 over a five year period. To do so, they suggested setting diversity targets for schools. These targets would now consider a school a racially representative school if the "percentages of students they serve by race are within 10 percentage points above or below the average for that race." The group will be focusing primarily on nine districts (districts 1, 2, 3, 13, 15, 22, 27, 28, and 31) who have sufficient socioeconomic diversity that would meet the target.
The School Diversity Advisory Group proposed decreasing the number of "economically stratified schools by 10% (150 schools)" over a five-year period. By doing so, they hope to reduce the number of parents who send their children to low poverty and higher-performing schools out of their zones, leaving behind lower income schools at the underfunded schools. A similar policy was enacted in Cambridge, Massachusetts and has resulted in both racially and economically balanced schools. On top of that, the schools have increased achievement scores for black and Hispanic students above the national average.
The group is also tackling the lack of diversity in city's specialized high schools. The New York Times reported on March 18 that only seven Black students were accepted to Stuyvesant High School this year out of 895 spots. Back in 2017, 5,847 black students took the SHSAT, which made up 21 percent of the total testers, but only 194 (3.8 percent) received offers. Only 10 percent of black and Hispanic students were accepted into one of the eight specialized high schools, even though they make up 66.5 percent of the student population in New York City public schools. This report once again raised awareness of the diversity issue in specialized high schools once again.
"Eight of our most renowned high schools – including Stuyvesant High School, Bronx High School of Science and Brooklyn Technical High School – rely on a single, high-stakes exam," said Mayor Bill de Blasio during a town hall in Brooklyn last year. "The Specialized High School Admissions Test isn't just flawed – it's a roadblock to justice, progress and academic excellence."
Last summer, Mayor Bill de Blasio announced his proposal to get rid of the SHSAT test, a test for students to gain entry into the eight specialized high schools. Instead of taking the test, the top 7 percent of students from every middle school would be granted permission to attend a specialized high school.
"Students then choose whether they want to accept or decline their invitation," said Tracy Okai, a member of the Teens Take Charge press team.  "This directly creates economic, racial, and intellectual diversity among the top schools of New York City."
Teens Take Charge is a partnership consisting of NYC high school students, nonprofit leaders, and educators who seek to provide students a voice in the education conversation and to create a "more equitable public school," according to their website.
"Teens Take Charge's plan is to integrate the specialized high schools," Okai said. "These high schools do not represent the intellect and diversity of New York City. Additionally, the test does not give a holistic view of a student, such as their grades, attendance, and even personality."
Back in 2018, Teens Take Charge proposed the Enrollment Equity Plan which consisted of three major components aiming to integrate NYC public schools. The third component of the plans calls to "admit a proportional number of students from middle school to Specialized High Schools," similar to Mayor de Blasio's plan to admit the top 7 percent of middle school students into specialized high schools. Their proposal, which was based on research conducted by the Community Service Society of New York, alleges that the enrollment of Black and Hispanic students in Specialized High Schools will increase from 9% to approximately 45%  in three years without hurting the high academic bar.
However, eliminating the SHSAT is being questioned by many, such as the Pacific Legal Foundation, a public interest organization. On December 13, 2018, the Pacific Legal Foundation filed a lawsuit in federal court requesting both a preliminary and permanent injunction prohibiting the new changes to the Discovery Program. The plaintiffs argue that the proposal violates Asian Americans' equal protection rights under the 14th Amendment because they, make up the majority of the student population, are going to be the most affected by the changes. According to a report conducted by the New York City Independent Office Budget Office, the proposal would reduce the percentage of Asian students admitted into specialized high schools "by about half, to just over 31 percent", while offers to white students would remain the same. 
This has also prompted parents, predominantly Asian parents, to protest against eliminating the SHSAT as it would lower the standards of the specialized high schools. In April 2019, Keep SHSAT, a group of students, parents, and alumni in favor of the SHSAT, held a rally in Albany in support of implementing the Gifted & Talented (G&T) programs in all public schools. According to the NYCDOE, the G&T programs offer "specialized instruction and enrichment opportunities" to exceptional students, from kindergarten to eighth grade, who score a high grade on the G&T test. Still, due to only approximately 2,800 seats available, a child may not be granted a seat; the NYCDOE encourages parents to attend open houses to get priority in admissions. Students who live nearby the schools and those who already have siblings attending the program are also granted priority in getting into the program.
"They should add more seats to current Specialized High School and add G&T programs to every borough, or even every school, to give kids an education," said Ms. Lin, a parent of a specialized high school student.
Members also believe the test is a great opportunity for all students to gain access to a good future and should not involve multiple criteria requirements while admitting students.
"The SHSAT test is an important measuring stick on a child's education advancement into college," said Antonio Larusso, a member of the Keep SHSAT, "It's not fair for those kids who worked hard to achieve a good education and go to college."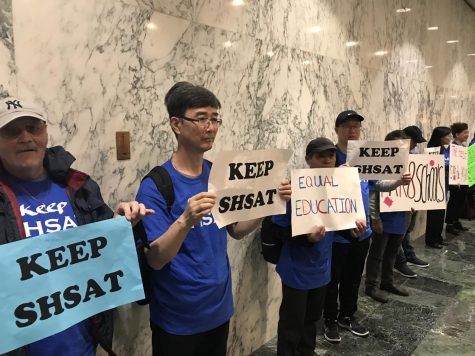 A major factor behind the lack of diversity in specialized high schools is that many students of lower income households, mostly Hispanic and black students, can not afford the expensive preparation. While some parents send their children to preparatory schools for years to prepare for the SHSAT tests while some families are struggling to live day by day.
"We didn't feel it was fair that the kids who couldn't afford the preparation were competing against kids who can afford the private preparation," said Dr. Marmor, principal of Francis Lewis High School and former principal of Queen's High School for the Sciences.
During his two years at Queen's High School, Dr. Marmor recognized that almost none of the students attended the surrounding middle schools. After researching the backgrounds of the students, he believed there need to be changes applied to this issue.
"I partnered with Congressman Meeks, the local congressman from the Jamaica area. He gave me a $5,000 grant and we hired a professional SHSAT preparation company," Dr. Marmor said. "We gave scholarships to two from each of the middle schools around our area, invited them to a 20-session preparation and we worked with the kids from the neighboring community to prepare for the eighth grade test."
The result of this program was very successful. After the preparation, a great number of students received offers from different specialized high schools. Inspired by Dr. Marmor's idea, the New York City Department of Education (NYCDOE) is now providing the DREAM and the Discover programs for all middle school students to prepare them for the SHSAT.
The DREAM program offers free after school classes for eligible seventh graders to prepare them for the SHSAT. To qualify, students have to be a NYC resident, have a minimum score of 3.0 on  the 6th grade NY State English and Math exams, and meet the income requirements. In the future, the program will extend from November of seventh grade to October of eighth grade school year.
The Discovery program is designed for all students who took the SHSAT but scored right below the cutoff score. The program takes place in specialized high schools during the summer. It welcomes students from low-income households or English Language Learners who moved to New York within four years.
The NYCDOE is also planning to offer more official SHSAT days to middle schools to encourage students to take the test and increase student's participation in AP and STEM (science and engineer) classes, especially female students, English language learners, and students with disabilities.
"Are there some populations that are under represented in our school? Absolutely," said Dr. Marmor. "But I believe our diversity is our greatest strength. Francis Lewis celebrates its diversity."
Leave a Comment