One in 5000: Art Teacher Mr. Mason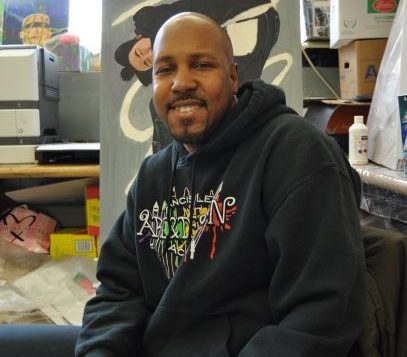 Art teacher Mr. Mason has taught at Francis Lewis for 10 years, dedicating his time to improving his students' artistic abilities and guiding them through the rigorous process of art school applications.
"The art school process is basically once you find a school that you're interested in, look and see what the details [are] that they're asking for," Mr. Mason said.  "Most have portfolio requirements. Once you get the requirements, try to work towards those requirements. Just make sure you follow the deadlines."
Seniors have been experiencing the pressures of developing a portfolio, along with the additional supplemental materials required by art schools.
"It's a really stressful process where you have to worry about essays and portfolio work," senior art student Justin You said. "I have to stress about what to write in my essays, and generally what I need to work on so I can meet the requirements of what they want and boost the chances of me getting into that school."
The portfolio, which is the most important part of the admissions process, requires a large amount of development and guidance.  Mr. Mason assists his students in developing meaningful ideas and taking the time to put effort into their art pieces.
"I try to get them to focus on what they actually want to work on," Mr. Mason said. "Some people have what is called either concentration, which means the main theme they want to focus around, or most of my students have a breadth, which is basically an experimentation of all types of mediums and genres." 
"I really want them to focus around themselves, what they like, what they dislike, something that they're passionate about. Once they find that passion they try to build that together. That's what basically builds their portfolio."
Students have responded well to Mr. Mason's teaching methods.
"He has helped me in a way where I can use different mediums and different ways of drawing so I can make my portfolio more unique and stand out," You added.  "I've seen improvements in what I've liked drawing and what I should be drawing, especially with observational pieces. I've been drawing more realistic than I previously have and he's been pushing the sketches more so I've been thinking of more ideas that I should be using in my pieces."
As New York has some of the best art schools in the nation, Mr. Mason takes his students on field trips throughout the school year because he believes these trips are a key part of the college application process.
"You have to get outside of this school," Mr. Mason said. "A lot of people think this is their world, between home and school.  The world is so much bigger than that. They don't really know what we have here. I don't know how many students have actually been to the Statue of Liberty." 
"If I can take you to a college that's here in the city, and is in line with what you're looking for, as far as your major, then why not? Why not try it out?  How many people actually look within their own city and see what's available? So that's my job, to kind of get you out there and see what's available."
Additionally, Mr. Mason assists his students with tuition costs by actively seeking out opportunities and scholarships offered.
"Right now, school is ridiculously expensive," Mr. Mason said. "Art school is probably more expensive than even Columbia University or some of these Ivy League schools, so trying to find ways to cut back on that cost is imperative. I think they need to go out and find what resources there are."
Mr. Mason actively encourages his students to look for these opportunities, resulting in a large amount of his students entering art schools."
"I have around 7-8 students per year that go into art school," Mr. Mason said.  "I've been teaching Art & Design here in this school for about 10 years, so that's 80 students alone, not including me teaching outside of school."
According to his students, Mr. Mason provides a learning environment that is fun and educational. 
"He's different from other teachers because he's really casual with us," senior Danny Chen said. "So much that it's easy to go up to him and ask questions. He's still strict with his grading policy, but understands if you messed up on something."
The art program is an elective many students need to take in order to graduate, but students come in unexpectedly enjoying the class due to the pleasant setting Mr. Mason has created in the classroom.
"To be honest I just needed another class and it turns out I also had friends in this class too," Chen said. "I stayed because Mr. Mason is one of the chillest teachers I've had and actually talks with us. He also lets us come in during free periods to work on our projects so that's been helpful in getting our work done on time."
Over 5000 people – including students, teachers, staff, and administrators – are part of the Francis Lewis High School community. One in 5000 is a series that delves into the individual stories of the people in our community.
Leave a Comment