Opinion: Are you Really Learning Online?
As COVID-19 cases soar throughout the United States, placing it well on the path to becoming the next global epicenter, many school districts, including the New York City Department of Education, are transitioning into online education programs in an effort to continuously give high level education to their students. At Francis Lewis, Zoom conferences and Google Classroom are being used, although applications vary between schools. However, with a student to teacher ratio of 20:1, will Francis Lewis still be able to administer a proper education for its students? 
The answer in the long term is no, and here's why. 
A key factor involved in the online learning process is the redistribution of new schedules.  Although the new schedule from 9 am -2 pm is generally better for most students as it means less hours, the new schedule also implements a series of overlapping classes for many students. This can be particularly difficult as they will have to prioritize and balance their classes, which as a result causes a loss of education in certain subjects.  Additionally, most classes now only take place 2 days a week, compared to the full 5 days in a regular schedule.
Besides a new complicated schedule for students and faculty to follow, another obstacle to overcome is standardized testing. At Francis Lewis, educators pride themselves on having a myriad of Advanced Placement classes. These AP classes are sponsored by College Board and when completed, can provide students with college credit in a particular course.  However, in a recent statement, College Board announced that it will be reducing testing material in the beginning of March, as well as switching to online examinations. 
As a result, students might not be able to be fully "college ready" in terms of their AP class, which loses the whole point of being in an AP class. Furthermore, with less material, students are not being given the full AP experience. Other standarized tests have also been similarly canceled, with a decision not yet made on the annual Regent Examinations, which have been a long term requirement to graduate high school in New York state. 
With online learning, proctors of assessments also have to face the possibility of students cheating. With access to the internet, students now also have the ability to cheat on their examinations. However, testing boards like College Board have implemented new security measures. "The exam questions are designed and administered in ways that prevent cheating; we use a range of digital security tools and techniques, including plagiarism detection software, to protect the integrity of the exams," stated College Board in a recent update regarding AP tests. Regardless, the fear of mass cheating should still be considered. There have been occurrences in the past in which students were able to cheat on standardized tests. Back in 2017, students at Scripps High School in San Diego were able to  cheat on the AP tests as they were seated too close together. With the existence of loopholes already in standardized tests in a school environment, it isn't hard to believe that students won't cheat online as well.
Along with the obstacles of administering standardized tests, students also lose the classroom experience while learning online.  Although applications such as Zoom provide interactive features like students being able to virtually raise their hands, factors such as less class time overall  still contribute to students and teachers losing the benefits of interest and engagement, as well as proper classroom discussions. Although students and teachers can now work and learn from the comfort of their home, this ultimately can be a serious distraction. At home, students can now eat, play games, or do other things at their will, which teachers cannot control. Along with distractions, students will also be losing an adequate place to communicate with their friends as well as stimulating their communication skills. Although this may be a problem from the virus quarantine itself, it still is an important factor to consider. Applications such as Zoom as well as social media do provide some communication, but it just isn't as effective as an actual classroom. 
With the implementation of online learning, there are still positive aspects, such as students being able to learn from their homes as well as teachers being able to continue to work. Furthermore, students are still able to pursue their AP credits that they have worked hard for throughout the school year.  However, factors such as cheating, as well as a proper learning environment for students need to be addressed in order to make online learning better for both students and faculty. Students deserve a good education, and the facilitators of education should be able to properly do their jobs.
Leave a Comment
About the Writer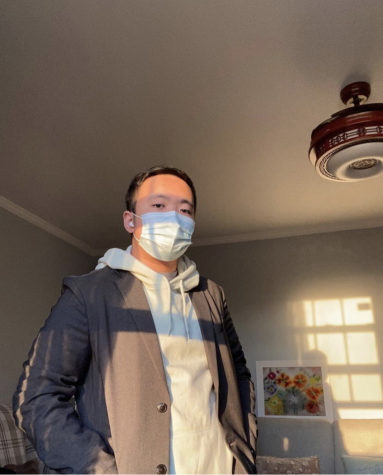 Tony Wu, Editor In Chief
Born and raised in NYC, Tony is a passion-driven community organizer and advocate in making the world a better place. He's an experienced political organizer,...