One in 5000: Ms. Conklin
The heat of the summer, the sounds of raindrops, leaves brushing up against you, heavy equipment on your back, and salt in your backpocket just in case leeches come into contact with your skin while hiking through the Malaysian jungle — all to see orangutans.  Fast forward to September; you're setting up your classroom, preparing biology lesson plans, writing notes and welcoming students as they walk in — all for the desire and hope that students become more aware of their environment. Francis Lewis High School Biology teacher Ms. Conklin plays two important roles for society – a teacher and an activist.
Incorporating information as a National Geographic Certified Educator, from visiting over 52 countries and participating in several organizations, Ms. Conklin has brought a different approach to her six years of teaching high school students. 
"Oftentimes science class can feel like pointless work for a test," said Dr. Tyler St. Clair, a professor at Potsdam University who works alongside Ms. Conklin.  "Kristen's approach to teaching makes sure that students understand that what they're learning in class matters and that there are a lot of immediate things that students can do with their new knowledge and skills in their own life."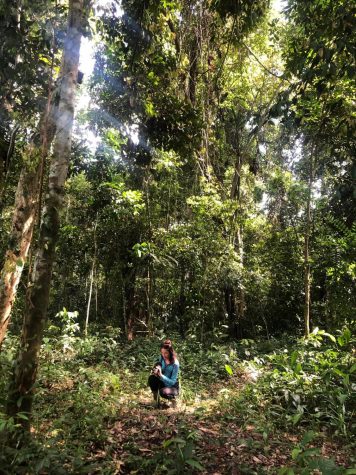 Ms. Conklin is able to make her science classes more interesting and engaging for her students because of the opportunities that have been given to her outside the classroom.  Her love for science and animals help make students and herself more engrossed in the topic. This fascination has been with Ms. Conklin since she was young, but it wasn't until college that it grew.
"My first year in college, I was handpicked to study in the Amazon and live with this indigenous group of people," Ms. Conklin said.  "When we went down there, we were living in this boat for about a month in December and after that, I came home and all I wanted to learn about was science."
Although during the majority of the year she is teaching, Ms. Conklin also participates in the National Science Teacher Association, the National Geographic, the Marine Conservation Society, New York Volunteer for Wildfire, and was the advisor for the Endangered Species Club.  These organizations have given her the chance to travel around the world for research.
"They [Teachers Journal] paid for me to go to Madagascar in Africa," Ms. Conklin said. "The two of us [Ms. Conklin and Dr. St. Clair] wrote research on lemur species and we met the lemurs, which was amazing. I had never seen a lemur before, but they're so cute.  Then we met the people that lived there and we stayed there for a long time, about 3-4 weeks."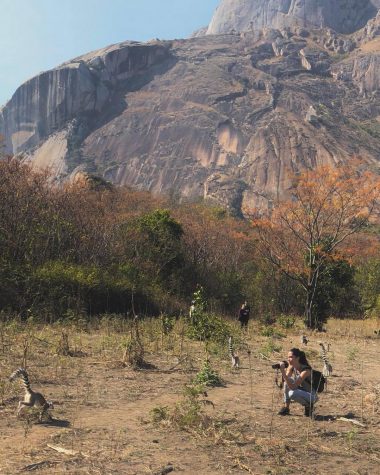 The information she was able to collect in Africa had prompted her with enough research to write her first publication.  This publication is part of Teachers Journal, which allows teachers to publish papers in the field of education and is peer reviewed.  With this publication, Conklin will be going to Boston in April 2020 to further educate other teachers about lemurs.
"This April, I'll be going to Boston and I'll be representing Francis Lewis High School," Ms. Conklin said.  "I will be teaching teachers about my work that I did with National Geographic and with Boston University that sponsored me to travel to do these teacher programs."
Not only is Ms. Conklin opened to learning more, but she also applies the information she learns to how she chooses to live  her life.
"Food shopping has become so challenging because I even go as far as bringing my own bags, don't use anything with plastic, even make-up," Ms. Conklin said.  "I read the ingredients in anything. If I can't pronounce the ingredients, I don't buy it."
Learning more about the world and seeing how the environment is impacted first hand made her more aware of how her actions may impact her surroundings.  While Ms. Conklin does apply information learned locally, she extends this action to students globally.
"In Malaysia, we designed a project for students that helps them understand their relationship as American consumers to the international palm oil industry," Dr. St. Clair said.  "Through engaging with this big issue, students learn science, why understanding science can help them be a better person and what opportunities are open to them in science careers, helping students to think globally and act locally."
Ms. Conklin and her partner have done multiple projects in other countries as well.  Their research includes, but are not limited to: traveling to the Sahara desert to learn more about the local culture and endemic animals, traveling to Thailand to learn why humans should never ride elephants, traveling to the Galapagos to learn more on various cultures and do research on turtles, and traveling to Costa Rica and Iceland to learn what a world without fossil fuels looks like.  This desire to obtain more information has contributed to her motivation for teaching.
"I hope that my students will grow up and care about science and really feel more connected to the world than what they did before they were in my class," Ms. Conklin said.  "It's important for them to just know what they're looking at or even being better observers."
Connecting to the environment for Ms. Conklin can be taken literally as well.
"Last summer, we [Atlantic Marine Conservation Society] had a humpback whale that was sick, got hit by a boat and ended up dying. I reported there at 7 am, there was a group of scientists and we had to cut the whale open," Ms. Conklin said.  "I've never done that before. It was my first time doing a necropsy and that was a lot. It was also a learning experience so we wound up taking samples and sending them out and we learned a lot, what chemicals are in the water."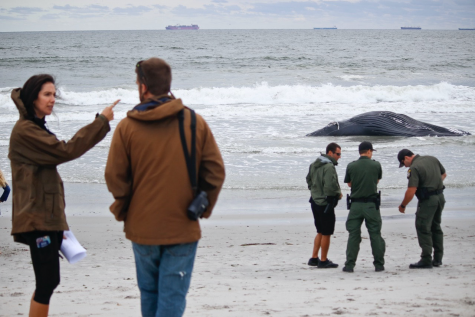 Ms. Conklin tries to integrate her experiences into her teaching, which helps make learning more engaging for her students.  She hopes her students will see this new perspective and apply it to their lives as well.  
"We feel used to waking up, going to school, going home, going to work.  You just build this simple life," Ms. Conklin said. "My one thing is to break free of that and if you have that opportunity to go out and do something, go.  Even if you're terrified, even if you're scared."
Over 5000 people – including students, teachers, staff, and administrators – are part of the Francis Lewis High School community. One in 5000 is a series that delves into the individual stories of the people in our community.
Leave a Comment
About the Contributor
Erin Mui, Community News Editor
A junior at Francis Lewis High School.  Mui is the oldest child of three who grew up in Rego Park, Queens.  Since 2018, she has written articles for...