In the Eyes of America's Youngest Volunteers: How FLHS Students Participated in the 2020 Election
In the weeks leading up to the election, lines wrapped around blocks with people standing for hours at a time. There was singing through masks, marching parades, and dancing outside polling centers. The energy was palpable, and the 2020 Election Day will go down in history with the highest voter turnout in over a century. 
With this election being one of the more consequential elections in recent history, the nation's younger voters started getting more involved too, including students at Francis Lewis High School. Even students who were too young to vote found ways to participate, including Abigail Katzap, a senior. She volunteered at her local poll site on Election Day. 
"I love politics. I love government. And this election is obviously a historical election." Katzap said. "I knew that they needed people and, you know, just like one extra person is always gonna help."
Katzap was responsible for handing out ballots, checking people in and providing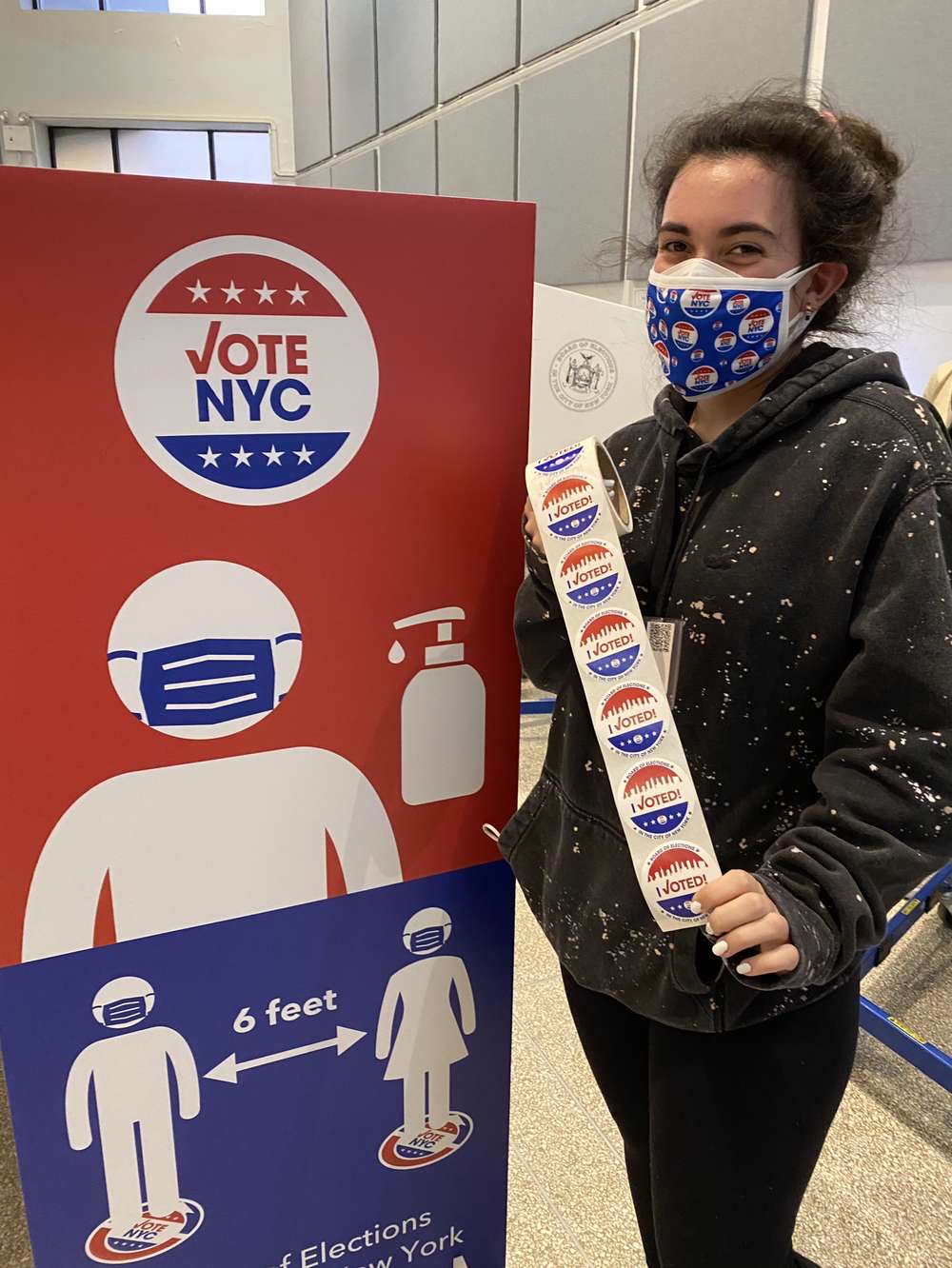 additional information about the voting process. Through her job she noticed a large voter turnout in her polling center. 
"I think people were a lot more passionate about who they're voting for this election," said Katzap.
This year's presidential election raised some concern as it occurred in the midst of a global pandemic. In the 2016 presidential election, 56% of poll workers were over 60 years old with 26% of poll workers between the ages 41 and 60 years old. With COVID-19, older poll workers were less inclined to participate in working the polls for concern for their health, encouraging younger Americans to fill those roles.
"I found out that if some voting sights are understaffed they will close it down," said Alissa Julien, a senior. Julien volunteered to be a poll worker, where she worked as a Scanner Inspector. Her responsibilities included directing and assisting voters on how to correctly scan their ballots, inspecting each section of the machines to ensure the security of information, downloading and printing out ballot results, and securing paper ballots. 
"I thought this election was too important to risk a sight closing down and potentially have voters not be able to exercise their right to vote," Julien said. "Since this is the first election that I am old enough to actually understand how the process works, I thought this is a great way to experience the election process even though I'm a minor." 
While many high school students felt they needed to step up for this election, others have additional reasons for wanting to participate.
"I felt I should be involved mainly because this was the ultimate way I can help create change," Daniel Brusch, an exit poll worker for the 2020 election, explained. "I've been politically active since freshman year and have worked with multiple non profits to bring about racial, economic and social justice to my community."
Since the 2016 presidential election, 16% more of 18-24 year olds said in October that they were going to vote in the 2020 presidential election. In New York State, the number of 18-19 year olds registered to vote increased by 7% from November 2016 to October 2020. As more young voters increased their participation, high school students felt they should be more involved as well. 
"It is very important for all American citizens to take part in their civic duties to vote," John Douveas, a senior and first time voter, said. "We are very lucky that we have the opportunity to be involved in our elections."
Concerns arose when it came to being involved on election day due to the global outbreak of COVID-19. There were precautions such as maintaining six feet, limiting the number of people allowed in a site at a time and requiring masks, however, not everyone abided by these rules. 
"My main concern was the way people wear masks," Katzap said. "I'm still very iffy about COVID because you know, it's a pandemic. A nurse came in and she took down her mask to talk to me and I'm like, uh no, please keep it on. And people get offended too."
While Katzap's job included obstacles like communicating with non English speaking voters and frustrated people, other jobs had more physical obstacles. 
"As I was setting up my machine, there was paper jam getting the starting data and resulted in the machine not being available to use at all that day. So I was a little down in the beginning because I literally started the day by "breaking" something so important but I was later on assigned to another machine."
Unable to vote because of his age, Brusch collected demographic data which included information such as race, party affiliation and candidate preference of voters for the Minkwon Center for Community Action, which was part of a larger effort to collect exit poll data nationally. 
"It was depressing seeing all the people who voted for Trump when I was recording the survey results," Brusch expressed. "It's a weird thing to see how half of your community could support someone who actively wants to take away your rights and even more disconcerting to know it's the same person you just talked to and who smiled to your face." 
Students reflected on their experiences and what they mean for both the present and future. 
"My kids will ask like, oh did you vote? I would be like, no, I was 17," Katzap said. "And then I would tell them what I did and, I dunno, it was a fun thing to do."
Despite working a 16 hour shift filled with complications, Julien walked away happy with her experience. 
"I was exhausted but I felt accomplished," said Julien. 
Julien offers advice to her peers as she will return in future years to participate. 
"I intend on doing this again in future especially now that I have an idea of how the process worked due to this experience," Julien said. "I would also recommend it to anyone since I do feel like this experience was knowledgeable." 
Leave a Comment