Opinion: It is Unjust to Discontinue Dr. Seuss' Children Books
Americans have all heard of Dr. Seuss and they are probably familiar with his books that they spent their childhood with, including The Cat in a Hat, Green Eggs and Ham, and other children's books. Recently, six of Dr. Seuss' books – If I Ran the Zoo, On Beyond Zebra, Scrambled Eggs, The Cat's Quizzer, And To Think That I Saw It on Mulberry Street, and McElligot's Pool – are no longer available in publication because of racist images.  Currently, you can't request these books from the Queens Public Library.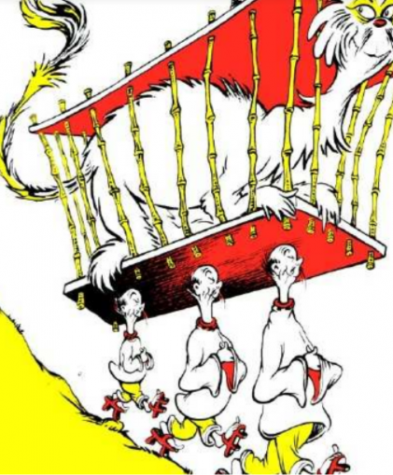 The books are criticized for numerous caricatures of non-white people that incorporate stereotypes, such as an Asian person being portrayed with a narrow eye, wearing a conical hat, holding chopsticks, and eating from a bowl, or bare-footed African men wearing what appears to be grass skirts with their hair tied above their heads. Ceasing the publication of these books with these kinds of images, the Dr. Seuss Enterprise proclaims, is part of their plan to "ensure Dr. Seuss Enterprises's catalog represents and supports all communities and families." They say that their goal is to keep the legacy of Dr. Seuss.
The problem is that the act of "keeping his legacy" is deeply connected with the modern form of cultural exclusion called cancel culture. Cancel culture is an effort to eliminate anything that offends the sensibilities of modern day society, and it seems certain that the decision was greatly affected by today's trend of "canceling." People don't want to see those kinds of stereotypes.  They want to erase its existence so that new generations won't know about it. However, attempting to show only what's pleasing to the reader may in short term alleviate the racial issues surrounding that publication, but in the long term will have a negative effect on society. A historical truth should be recognized without any minimization or modification.
Compared to 21st century viewpoints, some of these images do represent a stereotypical point of view on a specific race.  Some people might not know,  but he once drew numberless political cartoons perpetuating Asian stereotypes in his work. Between 1941 to 1943, he published more than 400 political cartoons in newspapers, many of them displaying anti-Japanese images, which was common back then. In 1942, Dr. Seuss published cartoons suggesting Japanese are a threat to the U.S. To understand why he did so, people must recognize the time period during these publications. During WWII, the U.S. fought against Germany, but Japan's attack on Pearl Harbor was the catalyst for the U.S. joining the war. These discontinued books are remnants of those days, the remains of a past society. They portray how the author, and possibly society, viewed those races.
It is not right to simply try to conceal the fact that racism was common back then, and  Dr Seuss was just one example of this. What people should do is admit the fact and recognize the influence of racism in our history. Yet instead of acknowledging the truth, the organization chose to keep his legacy by hiding the fact that he was immersed in common prejudices. The popularity of his books made him a figure of American children's books over time, and people want him to remain so. His books will be read by the next generation, but only the children's books approved by our current culture. 
There are many books that convey unfitting messages. For example, Rudyard Kipling, one of the most honored writers and poets of Britain and author of Jungle Book, wrote many books supporting imperialism and white supremacy, including The White Seal, Kim, and The White Man's Burden. However, instead of hiding these works, researchers study the historical background to understand why he wrote the books. His books remain a topic of discussion. Mark Twain, an icon of American literature, used derogatory words to refer to African Americans in his writing, but that doesn't mean his books should be censored. Dr. Seuss' books are the same. They were written 80 years ago, and people should consider the historical context of the publication. 
When people read a book, they learn from it; not only the theme or life lesson conveyed in the story through the characters' experiences, but about the book itself, figuring out why the author wrote the book, why the author chose certain language or images, and connecting it to their knowledge of the historical context of the work itself.  It is the reader's role to determine if it is right or wrong. Therefore, the Dr. Seuss Enterprise, in trying to take part in the current trend of cancel culture, made a terrible decision discontinuing the 6 books carrying racial stereotypes. "Filtering" books cannot be justified.
Leave a Comment