One in 5000: LTC Lahood & the JROTC Program
"Attention! Present arms!" are some of the commonly heard commands in rooms 205, 219, and 223A on Wednesdays. In those rooms, one will find students wearing their decorated uniforms and learning in a military-based format on how to become better citizens. This is all part of the Francis Lewis Junior Reserve Officer Training Corps Program.
At the heart of Francis Lewis is the JROTC Patriot Battalion. With a cadet count of over 850 and multiple championships awards for its nationally acclaimed drill teams, JROTC is one of the most famous & popular programs at the school. For its department head, LTC Lahood, every day is a day that continues to drive & inspire him.
"When I was discerning what I was going to do after I retired from the military, I was only 48 years old and I was not ready to retire," said LTC Lahood. "My motivation has developed to serve others. I won't say it started out in the military that way, but that's what it evolved to. And so I was looking for a profession that I could continue to serve. That brought me to Francis Lewis where first Sergeant Grogerhty introduced me to the junior ROTC program."
LTC Lahood is the Senior Army Instructor at Francis Lewis' JROTC program, also serving as its direct department point of contact and the main coordinator behind all program-wide activities.
"I plan and resource all cadet activities," said LTC Lahood. "I develop what we're going to do. I chart a course and then I work on resourcing the battalion to achieve those missions or activities or results. That's what I do, I plan and resource."
"I don't have a typical day," he added.
Although the Colonel has a Command and Staff leadership team to help him (consisting entirely of Senior cadets), planning & resourcing for program-wide events & activities is no easy task. Events such as the Fall Car Wash, Promotion Board, and Inspections require heavy attention to detail, at times where attendance can exceed over 200 people. Despite the ongoing pandemic, the program has seen exponential growth & success with ongoing events, such as the October Moon Festival Parade.
"We're trying to do all the things that we can do within the limits of the department of ed policy," says LTC Lahood. "We have done a carwash and we have done our first parade; which was actually the first parade New York City has had since the shutdown. We're rebounding."
At the heart of JROTC, the key to success is teamwork in order to motivate students at Francis Lewis. When asked what inspired him, LTC Lahood had one simple answer; his passion for the students.
"Serving the students, helping students, helping students navigate high school and have a plan for life after Lewis, so they can attain whatever dreams or goals that they have for them." says the Colonel. "I like the students. Dreams without a plan are just fantasies, but a dream with a plan becomes a goal. And I want my students to have a goal for life after Lewis."
To date, the JROTC program has been active at Francis Lewis for over 25 years and has over 10,000 alumni in its community.
"I foresee our students being the next generation of leaders at the local, state, and national level," says LTC Lahood. "I fully expect to someday see, turn on the TV, and the secretary of state is a Francis Lewis, Patriot battalion, alumni. My goal for this program is for a Francis Lewis cadet to fill those public offices and continue to serve with honor, personal courage, integrity, and respect, and to bring those values back that are lacking in so many cases in our public sector."
Over 5000 people – including students, teachers, staff, and administrators – are part of the Francis Lewis High School community. One in 5000 is a series that delves into the individual stories of the people in our community.
Leave a Comment
About the Contributor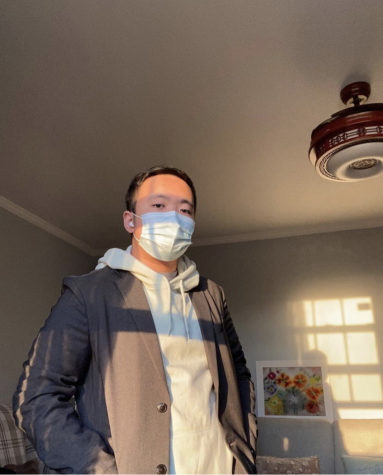 Tony Wu, Editor In Chief
Born and raised in NYC, Tony is a passion-driven community organizer and advocate in making the world a better place. He's an experienced political organizer,...