Tasty Bites: Best Korean Corn Dogs in Queens
Is there anything tastier or more interesting than a Korean corn dog? The crispy exterior batter and the stretchy cheese pulls have a sweet and savory mix, and let's face it – anything fried will always somehow turn out delicious. 
Korean corn dogs can now be found practically any place in New York, it is no surprise that they've become so popular. Queens and Manhattan are the most popular areas in New York to get Korean corn dogs. 
The batter differentiates Korean corn dogs from American corn dogs. American corn dogs are coated in cornmeal batter and have a smooth exterior, whereas Korean corn dogs are battered with yeasted dough or rice flour. Corn dogs in Korea come with a wide range of toppings as well, including potato and ramen chips. Some come in a a squid ink-flavored dough too. Corn dogs are usually coated with sugar to give them a sweet and salty flavor.
If you're looking for an inexpensive and quick snack, Korean corn dogs are a great option. They can be found all throughout NYC and would be great for some trendy photos. If you're a foodie, this is definitely a must try!
We visited several Korean corn dog spots in New York City throughout Flushing, Queens, and some located on Murray Hill, Queens.  Below are our top picks:
Murray Hill
What to get: All mozzarella hotdog ($4.99) and Sweet potato mozzarella ($4.99). 
These corn dogs were delicious! There was just the right amount of batter, and it was fried perfectly. We suggest starting with the basics if you've never had Korean corn dogs, like the mozzarella hotdog.Expect a long and stretchy cheese pull with your first bite. There is a huge variety of corn dogs to choose from here. They have sweet potato mozzarella. Since the sweet potato is sweet itself, you don't need to add sugar. At Jongro Rice Hotdog, you can order and pay for your corn dogs at a kiosk. Pick up is quick and simple. Once you receive your receipt, your order number will be displayed. Once your order number appears, you just walk in and pick up your corn dogs.
Downtown Flushing
What to get: Pizza UGDog ($5.99), Mozza Mix w ketchup and spicy mayo ($4.49), Cheddar Mix ($3.99) + potatoes (0.75).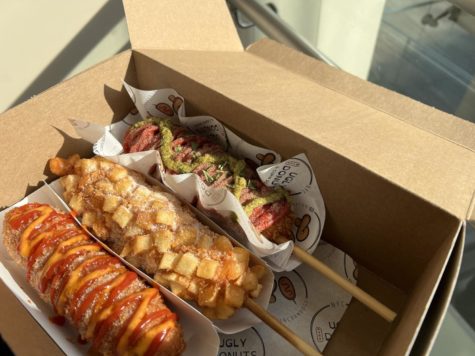 They're made with a lot of batter and have just the right amount of crunch. They use beef sausage, which is ideal for corn dogs and sets them apart from other locations that use lesser sausages. Adding potatoes to your corn dogs is a great plus, because it's more tasty and more filling.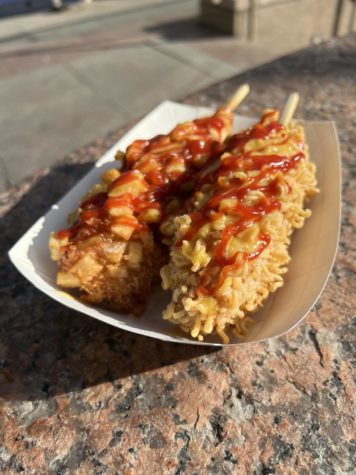 Downtown Flushing
What to get: Potato Hotdog ($5.49) and Ramyon Noodle Chips Hotdog ($4.49). 
Not only do they have delicious corn dogs, but they also offer mochi doughnuts, croffles, and specialty drinks! This place offers a wide range of corn dog toppings such as potatoes, sweet potatoes, and ramen. The potato corn dog will keep you filled as potatoes surround the whole corn dog. The ramen corn dog has a unique texture and crunch. When you walk in, just simply order and pay through the kiosk. It's super quick and easy to receive your delicious corn dogs. 
Downtown Flushing 
What to get: Oh K Classic Hot Dog ($2.99), Potato Mozza Dog ($5.49), Half Mozza & Half Hot Dog ($3.99). 
The toppings at Oh K-Dog are very generous and filling. Their delicious toppings include potato and sweet potato, as well as different types of sauces like spicy mayo and sweet chili. Located inside the food court at Queens Crossing, Oh K-Dog is convenient because there is plenty of seating. We think that this place has better corn dogs than nearby stores and would very much recommend this store to others looking for corn dogs in the area. 
Murray Hill
What to get: Plain ($3.99). 
The Basac offers a unique selection of corn dogs, including squid ink which makes the batter black and one with seeds and nuts. If you prefer a thick battered corn dog, this spot does just that. The batter is thick and chewy. We ordered Korean corn dogs fresh from the fryer, which were delicious. The cheese was melty, and the batter was crispy and tasty. It's street food, so you can order it and then you can take it to go and eat it on the way.
Leave a Comment