FLHS Students Win PSAL Pinstripe Award
Seniors Brian Huang and Grant Lee were awarded this year's PSAL's Pinstripe Award in recognition of high academic and sports performance.  Awarded in coordination with the New York Yankees, the honor is bestowed to 55 students, with 11 from each of the city's five boroughs. Francis Lewis News conducted interviews with both students to learn more about their accomplishments, and how they've grown on their path as student-athletes.
"I started the sport late," said Huang, the Boys' Swimming Team captain.  "Unlike many, I started at the age of 14, the summer before my freshman year."
When asked about his experience going into the sport later than many of his fellow peers on the team, however, Huang highlighted his ability to continue to grow and adjust to the team.
"Although my age group was much faster, I did not let that bring me down," Huang added. "I went to back-to-back practices, high school, and club practices, four hours of straight swimming. My progression became consistent, improving every meet. I am now the senior captain of the team. My journey in this career gives me the opportunity to motivate new swimmers that once were just like me."
Unlike Huang, Lee, who is the Boys' Varsity Basketball captain,  started earlier in the sport and offered a different insight into his own growth and development. 
"Basketball has always been the most popular sport in my family, so ever since I was a child, basketball was something that I knew very well," Lee said. "I started playing at around the age of 8, and after years and years of hard work and dedication to not only my sport but academics as well, I'm proud to say that I received the Pinstripe Award from the PSAL."
Both Huang and Lee have been playing in the PSAL since their freshman year.  Both reflected on their positive experiences from playing in the league. 
"The PSAL gave me a platform to compete against schools across the city," Huang said.  "It gave me the opportunity to meet many new people as well as many role models. "It helped me learn life skills such as teamwork, dedication, and communication. It gave me a purpose, a passion, to a boring ordinary high school life. The PSAL is filled with hardworking student-athletes which motivates me to work twice as hard as my competitor."
Similarly, Lee also reflected on his experience participating in the PSAL as one filled with growth and production.
"Being able to participate in the PSAL is such a great opportunity," Lee said. "I'm able to play a game I love with fellow students, bond, and create memories. Being a part of the PSAL has impacted my high school career greatly. Every time the long 5 month basketball season starts, I fully commit to 6 days of practice a week, for 2 hours each day." 
When asked about receiving the award, both student-athletes described their recognition as a surprise but were honored nevertheless. 
"It's remarkable," Lee said. "Out of all the student-athletes in the whole entire city, I was chosen as one of the 55 representatives to receive this award. The chances of receiving this award are out of this world, and I'm super grateful, and still in shock."
Similarly, Huang shared Lee's sentiments. 
"I am honestly speechless," Huang said. "I did not expect to be recognized at all. When coach Cardona announced to the team regarding my award, my response was 'what did I do?'  I feel that this award is a team effort. I may have won the award but to me, this is a team award. Everyone played a part in it."
Both Huang and Lee are currently seniors at Francis Lewis and will be graduating in June 2022 to pursue higher-level education outside of the PSAL and school community. Both student-athletes also plan on continuing their passion for their sport in college. 
"This sport (swimming) brings me lots of joy," Huang said. "As a very competitive person, I love racing. I enjoy being around my teammates. They bring out the best in me. I plan on continuing my participation in this sport in college as well as coaching younger children." 
"My whole life is affiliated with basketball," Lee said. "I walk, talk, and sleep basketball. Not only do I love playing it, but I also love watching it as well. Basketball has created so many opportunities for me and has shaped me into the person I am today. Although the chances of me being able to continue playing at the next level are slim, that would be the dream."
Leave a Comment
About the Contributor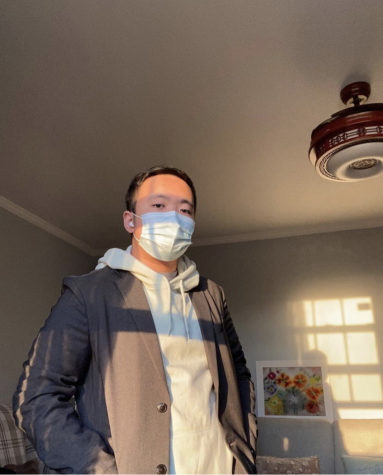 Tony Wu, Editor In Chief
Born and raised in NYC, Tony is a passion-driven community organizer and advocate in making the world a better place. He's an experienced political organizer,...