What's Cooking with Chinese Hotpot?
Need something to warm you up during a freezing night in New York? When the temperature is freezing in the city, a meal of Chinese hotpot will for sure be enjoyed . It's a great way to warm up your body during the harsh weather. Plus, it's delicious!
This traditional meal dates back to more than 1,000 years ago during the Jin Dynasty. Today, hotpot hasn't changed much but has been modernized and can be enjoyed by a wider sector of the population.
The preparation of hotpot involves the cooking of raw or cold dishes into a boiling pot of savory soup. The meats are sliced evenly and vegetables are washed thoroughly for the best experience.
Hotpot can be found in most places, especially historically Asian neighborhoods such as Flushing, Queens with over 15 restaurants. I visited four of the most popular hotpot restaurants in downtown Flushing and here's what there is to say: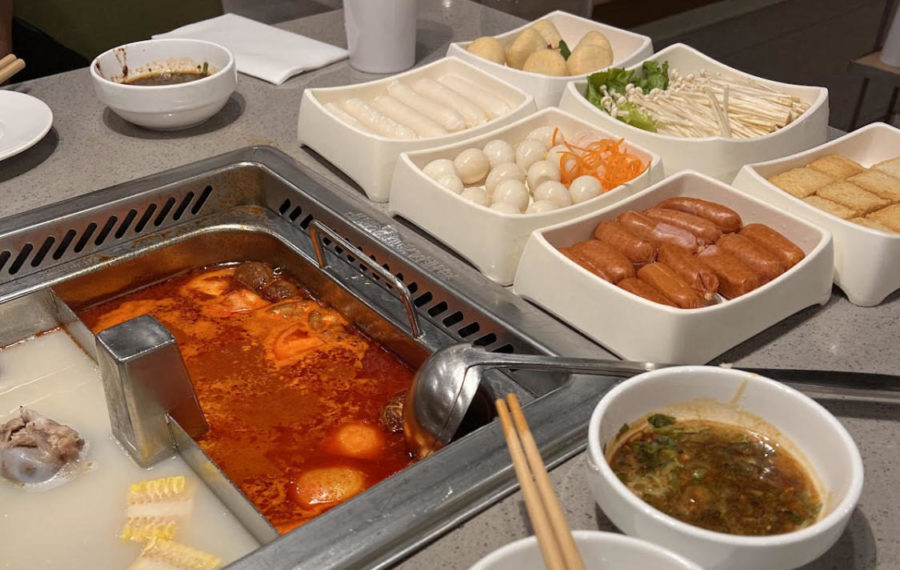 Recommendations (Must Try!) : Rice Cakes, Fish Roe Ball, Crispy Mini Sausage, Dancing Noodles
With only one store in NYC, Haidilao is a must try. Founded in China, this well known hotpot restaurant is known for their amazing extra services such as hand massages while waiting. This place is usually packed for dinner so make sure to come at least an 1 hour early. There are up to seven choices of soup bases so choose them to your liking. The sauce bar includes a variety of ingredients to create your own mixture of sauce and even fruits to bring back to your table to snack on. If you have no idea on how to make a delicious sauce, don't worry, there are recommended sauces posted on the wall with steps on how to replicate them. Here are some recommendations on what to try but feel free to order what you want as well. The rice cakes here aren't your ordinary rice cakes, they're soft and chewy with an amazing cheesy taste in the middle. Haidilao's fish roe ball has a firm outer surface but when bit into, you get a nice surprise of a juicy and crunchy filling. Now these mini crispy sausages are actually really fun to cook, they're cut so that when it's ready, they end up looking like a mini octopus, a delicious crunchy sausage octopus. Haidilao's dancing noodles are an amazing experience, ordering this dish showcases performance of Chinese noodle dancing, where they hand pull the noodles right in front of the table while doing spins. You may even catch a robot server rolling down the lane with freshly prepared dishes!
Recommendations (Must Try!): Sliced Beef Tripes, Shrimp Paste, Milky Beef
ChongQing Lao Zao is super popular among the locals in Flushing so waits are usually 1-2 hours, even up to 3 on a busy weekend! This restaurant is the only one in the US so coming here is a must! The soup, dishes and experience here is really authentic to ancient Chinese hotpot. From the outside, this restaurant really stands out from the buildings around as it has a unique exterior that imitates a rustic Chinese building. Walking through the heavy wooden doors almost seemed as if you had traveled to China in the 40s. The setting imitates a rustic Chinese environment, with hanging Chinese lanterns and other props like huge wine pots, even the ladles and cups fit the theme! There were even baskets to put coats in so that you don't leave the place smelling like a hotpot. Although the tables are out in the open, the feeling of other customers eating and chatting nearby is a fun and unique experience. The shrimp paste is a must order here as it comes in a little bamboo tube. When cooked the paste hardens and gives you this flavorful crunchy yet delicate shrimp taste. The sliced beef tripe looks a little funny but the texture of it cooked is amazing, giving a chewy texture. Milky beef is a new item on the menu. Its name may sound weird but the beef is soaked in the steaming warm milk-like liquid which makes the beef really tender for cooking. A downside to this restaurant is that they charge you for sauces, a little upsetting as sauce is one of the most important parts to eating hotpot.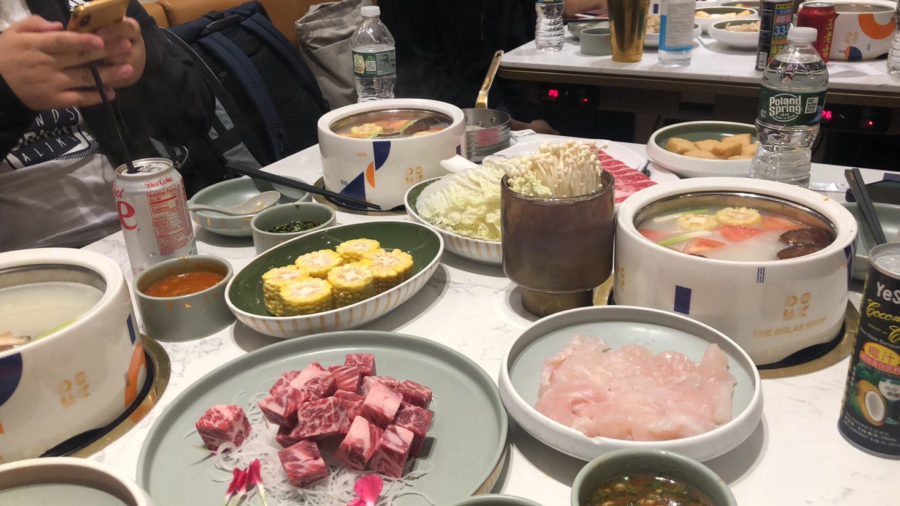 Recommendations (Must Try!): Wagyu Cubes, A5 Miyazaki Beef, Ox Tongue
For those looking to try something expensive, the Dolar Shop hotpot might be the one for you. Although this place is called Dolar Shop, it's the most expensive out of the other two restaurants. The interior feels really fancy and high class, serving dishes on expensive looking trays. The reason for its prices is because of their top quality meat. Instead of one big pot, each person gets their own small pot to cook their dishes in. The tomato and oxtail broth tastes amazing and goes really well with any dish you order. When coming here, trying the meat is a must. The wagyu cubes are presented in neatly sliced cubes and take up to three minutes to cook, but once you're done, the taste and texture is totally worth it. The meat takes up some of the flavor from the soup and gives you a nice tomatoey taste, as well as a chewy texture that follows. The A5 Miyazaki beef is the most expensive item on the menu. This plate serves up to 7 neatly sliced pieces of top quality meat with beautiful marbling all over. It doesn't take long to cook, give it 8 seconds and you'll be ready to go. The cooked beef is delicate and flavorful, it simply just melts inside your mouth. There's even a glass wall to showcase how they cut their high quality meat dishes!

I personally love ChongQing Lao Zao as it's the most authentic hotpot experience you can have. The setting of the restaurant is beautiful as well as the utensils, which really match the theme of the place. Eating here is an amazing experience but do try out the other restaurants mentioned. Of course you can always set up your own meal of hotpot at home with a portable stove.
Leave a Comment