Kathryn Chen: Student Writer
As college decisions are coming to a close at the end of March, the seniors of Francis Lewis High School are in their final stages of receiving their acceptances. The college application process is very tedious, and as a result, many seniors spent their first term stacking their resumes and studying for their last SAT. From FAFSA to personal statements, Francis Lewis High School seniors have worked tremendously hard to qualify for their dream institutions. 
One senior in particular has made her mark by self-publishing her own book. Senior Kathryn Chen has worked diligently to create a book, not only to look good on her resume but also to inspire those around her. 
"My book's name is called Introduction to Psychology with Mythbusters," said Chen. "The title itself explains what the book will be about. I started to write this book having in mind that my target market will be late middle schoolers and early high schoolers," she continued.
By focusing on her audience, Kathryn is able to gear her content and ideas in a way that allows her readers to relate or comprehend better. 
"I wanted to encourage lower classmen to take this class as well by writing this book and fascinate them with the same concepts that fascinated me," said Chen.
Her knowledge in the field of Psychology doesn't detract from her overall book as she tries to incorporate things she's learned from her own personal experiences in class.
"While taking AP Psychology I was fascinated with all the concepts and theories of Psychology and how it answered every little question about life like why we procrastinate or why we forget to do things," explained Chen. 
However, Kathryn doesn't fail to give credit where it's due.
"My two Psychology teachers Dr. Cohen, my AP psychology teacher [at school] and Mrs. Seo, my Psychology 101 teacher at Queensborough Community College have taught me so much which allowed me to write this book," animated Chen.
Dr. Cohen has been very active in the Francis Lewis High School community. From teaching AP Psychology, AP Research, Forensics, and even being involved with various clubs such as Calligraphy Club and Hydroponics, there's no doubt that she cares about her students.
"I am not at all surprised," started Dr. Cohen. "Kathyrn was one of my most diligent, most driven students and she always asked wonderful questions. You could see how excited she was by the material, how much she cared about learning it, and not just for a grade, but because she was genuinely interested. That being said, it's so remarkable what she was able to achieve easily with interest because I mean you always have that drive and determination, and she showed she really has all of those factors and I can't be more proud of her."
Although Psychology is an extensive course, Kathryn has put a lot of care into her writing even down to the smallest details.
"I had to plan out what topic should go in which chapter to keep the readers interested, [and] with the book cover, I had to figure out what colors to use, what pictures to use, etc. There was a lot of planning overall," revealed Chen.
"Some topics in Psychology are very hard to explain using words and when it [came] to those topics I would get stumped and want to give up. At those times, I would try to think back to how I was taught by my Psychology teacher and try to apply it to my book."
With a self-published book, many factors have to be taken into consideration. Obstacles come in a variety of ways, and Kathryn most definitely wasn't immune to any of them.
"I started to incorporate images into the book for better visual aid [and] wanting to keep everything the same style would mean that I would have to get the photos from the same source. So I reached out to one of my good friends that was good at drawing, [but] soon I realized that it was very unrealistic to have all the artwork done by one person and very quickly the drawings could not keep up with the pace I was writing," expressed Chen. 
Even though Kathryn is still waiting on her college decisions, she has hopes and dreams just like the rest of our senior population at Francis Lewis High School.
"I am currently looking at UPenn and I would like to go there as a Psychology major. I think there is still a lot more that can be learned and I would be able to do so at Penn's remarkable Psychology department and innovative research center," said Chen.
With such an extensive process, Kathryn has put lots of thought and time and effort into something that she's passionate about. Although her book is still in the publishing phase, a self-published book is a feat that not many people are able to accomplish, and we all wish her the best when it comes to her college acceptances.
Leave a Comment
About the Contributor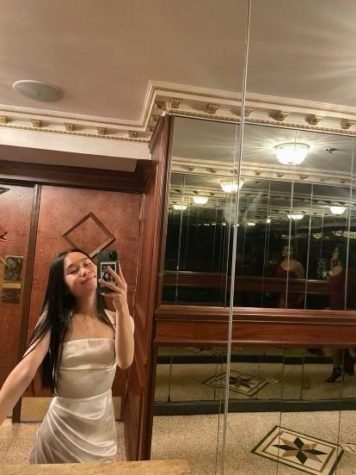 Ella Ong, Arts and Entertainment Editor
Currently a senior at Francis Lewis High School and a member of the Journalism Program, Ella is the Arts & Entertainment editor. She is also a part...