Necessary or Profiling? Francis Lewis Feels the Effects of the Travel Ban
A calm Friday afternoon would soon become a battle between government branches and the voices of the nation as the POTUS administration struggled to honor the principles of our founding fathers.  
The Trump administration disseminated an executive order on January 27 titled "Protecting the Nation from Foreign Terrorist Entry into the United States", but Americans have coined the phrase "Muslim ban."
"It's hard not to consider it a Muslim ban when you're banning people from Muslim countries, " said AP Guidance Ms. Palomino.
After President Trump's signing, the ban was intended to prevent citizens from Muslim majority countries, including Syria, Iran, Iraq, and Sudan from entering the United States. However, it was halted when a U.S. District Court ruled against the ban, stating that it was unconstitutional. Although the court ruled against the ban, Trump appealed the ban once more, successfully causing it to take effect as of March 16.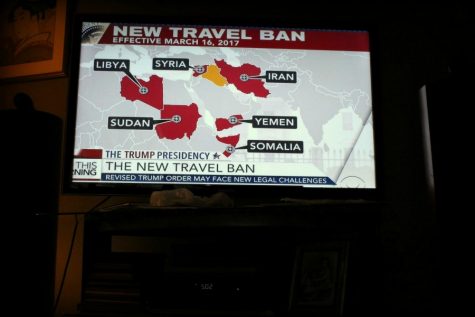 Francis Lewis High School is known for being a school of tolerance, as the school is comprised of immigrants from different parts of the world, representing many different religions. The community prides themselves as a "No Place for Hate" environment, but some students with a Muslim background feel as if the ban is targeting them.
"We noticed that there are kids who are nervous coming to school," said Ms. Palomino. "They are a little nervous about filling out forms, so where this was always a place where they felt free to tell us all their information, people are a little more skeptical of why you're asking and they are nervous about what's going to happen."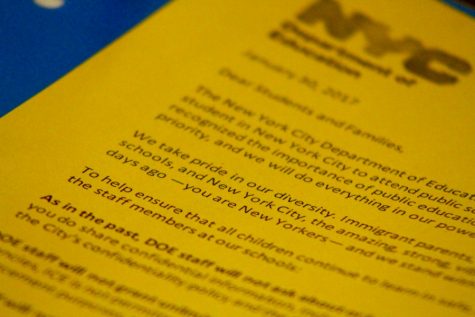 "People have reasons for coming to America," said Francis Lewis student Samaelle Darand, "whether they are escaping religious persecution, financial issues, violence, or just trying to make a future for themselves. This land was built off of immigrants for those same very reasons. I see America as the land built off of immigrants…this very diverse place where everyone should be welcomed."
Various protests started at John F. Kennedy airport where lawyers from the American Civil Liberties Union (ACLU) tried to help victims.  Francis Lewis students also participated in the I Am A Muslim Too rally in Times Square on February 19.
"I am an immigrant who came to America eight months ago," said junior and Youth Organizer Ivan Daquial. "The biggest reason why I decided to go is to empower my peers and to show them that rallying is not some radical action, but an action of togetherness.  I am the youth. I am powerful. I will be the change if I choose to."
"I knew that racism was still alive before this and was aware of all the stereotypes against each race," said frustrated junior Meicha Hall. "I still had hope then that America was the 'land of the free'.  Now I feel that I have lost that."
Students hurriedly painted last minute details on signs and planned their protest songs, ignoring the criticism they faced from others.
"What pushed us to go out here, despite it not being a popular thing, was the thought of everyone coming together for the same cause and developing one voice that should be heard," said junior Fatiha Islam.
What Should Be Done?
"I pray that in the future, President Trump may overview his statement, try to amend some of his statements, make changes, and make life easier for the Muslims in this country," said Amna Awan, a member of the Queen's and Muslim community. "I'm not fearful at all because I believe that if I'm doing something good, God is going to help me."
Additional Reporting by Christina Situ, Jonny Natanielov and Ashley Dawkins
Leave a Comment