Tasty Bites: Best Vietnamese Pho in Queens
The Vietnamese cuisine pho is made up of rice stick noodles, a gently but meticulously seasoned broth, and beef, as well as a beautiful garden of greenery for garnish. All of these elements come together to make a soup that's spiced but not too hot, hearty but not too heavy, and adaptable with herbs, chiles, citrus, and dipping sauces. From its street-vendor origins, the dish has expanded to include a variety of proteins, including chicken, fish, and even tofu. Pho can be rated by its freshness and smell, as well as its deceptive depth of delicious flavor, regardless of the recipe. You can add bean sprouts and jalapeños for extra crunch to your soup. Adding hoisin sauce and sriracha adds an extra kick of saltiness and spice. We based our review on the taste and price of each restaurant. Our goal was to find the most flavorful Pho at an affordable rate.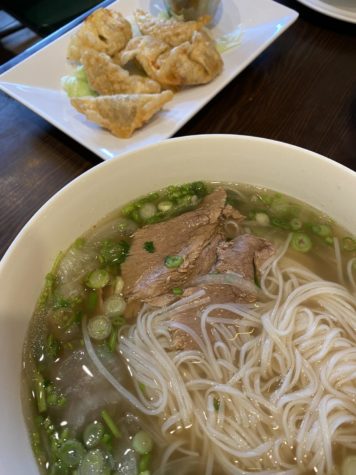 Pho Che
193-16 Northern Blvd, Flushing, NY 11358
What to get: Brisket Pho (small: $13.99, large: $14.99) and Gyoza $8.59
The first step into the restaurant, you are hit with a bunch of delicious smells throughout the restaurant. When the Pho arrives, the fragrant steam hits your face as it is placed down on your table. You can see the thin white noodles and slices of beef, chopped cilantro and scallions, and a dark broth. The taste is incredible! The noodles have a perfect texture and the beef is nicely cooked. If you add the sauces, it adds the right amount of spice and saltiness. Try getting gyoza as an appetizer! They gave an extra crunch to the meal and the filling was nicely seasoned. Overall, the food at Pho Che was amazing and everything tasted perfect.  
Chef Papa Vietnamese Kitchen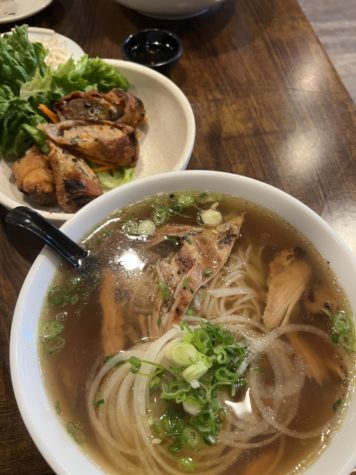 42-05 162nd St, Queens, NY 11358
What to get: Signature Pho (Small: $14, Large: $16), Chicken Pho (Small: $11, Large: $13), and the Spring Rolls ($10).
The restaurant's atmosphere is lush with greenery and art adorning the culture's walls. The broth in Pho soup is wonderful. It's light but flavorful, deceptively beefy, savory, and complex, with just a hint of richness and delicious spices like cinnamon. It paired well with the grilled chicken on the side. It was quite soft, and the variety of textures in the dish enhanced the noodles. Getting the Spring Rolls, crispy and greasy offsets with the noodles, is an appetizer that can also improve your visit.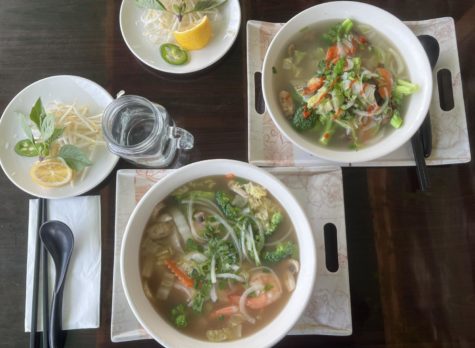 Pho Choice 
184-22 Horace Harding Expy, Queens, NY 11365
What to get: Seafood Pho ($11.95) and Vegetable Pho ($9.95)
At Pho Choice you get great food for an affordable price, they also have a wide selection of Pho to choose from. Each Pho had a nice amount of toppings. The Vegetable Pho has a nice variety of vegetables ranging from broccoli, cabbage, carrots, onions, and mushrooms, there is no meat in this dish because it is vegetarian. Spices, aromatic vegetables, and the umami of the mushrooms provide the broth's flavor. It's not an identical replica of the pho across the street, but it's still tasty. The Seafood Pho has a good amount of shrimp and squid, the squid should be melt-in-your-mouth delicious, and the al dente noodles were perfectly cooked. The sauces added a spicy flavor to the dish. 
Leave a Comment