Take a Bite Out Of the Greek Restaurants of Queens!
Want to take a trip to Greece? There is a less expensive way to have the full Greek experience: the Greek restaurants of Queens since the best part of the Greek experience is the cuisine. Queens is known for its diverse food and culture and when it comes to Greek food, these restaurants do not disappoint. As a Greek-American, I have always been asked where is the best place to have authentic Greek food so I went on a quest to find a place that closely resembles my grandma's cooking.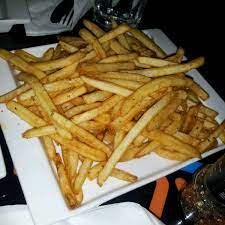 First on the list was the famous Gyro World. Anytime I mention Greek food, most Queens residents think of Gyro World. 
As I walked into the restaurant, I was hit by the aroma of oregano, garlic, and basil. The atmosphere was reminiscent of the Greek tavernas. A taverna is a small restaurant that serves Greek cuisine but what makes it unique is that the tavernas in Greece provide entertainment such as dancing, television or singing. 
There was yelling in Greek, Spanish, and English from the kitchen. The TVs blasted the soccer game while men shouted at their respective teams. 
I ordered a bifteki with french fries, lemon potatoes and avgolemono which has been my go-to order for years. My main issue with the food I received, mostly the french fries and lemon potatoes, was that it was too greasy and fattening. The fries were lathered in grease and seasoning and the lemon potatoes were overpowered by the lemon flavor and often were raw. 
On a positive note, the bifteki and avgolemono were something I would get again. The bifteki melted in my mouth and as I was chewing it was like an explosion of flavors. The avgolemono – a chicken soup with vegetables – was savory and filling. I almost asked for seconds.
Despite the mediocre quality of most of my dish, it ended up being pretty expensive. The bifteki, avgolemono and lemon potatoes came together in a platter that was $22.95. Then I ordered the fries separately for $6.95.
Although Gyro World nailed the authentic feel that a Greek restaurant should have, the meal did not live up to those expectations.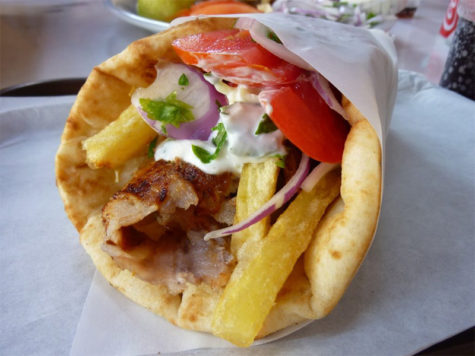 Next up is Kalamaki which was a restaurant I have only tried a couple times despite it opening all the way back in 2014. 
The first thing that catches my eye as I walk in is a yiayia (grandmother) sitting at a table hand making koulourakia, which is a Greek butter cookie. That image took me back to the days of making koulourakia with my own yiayia. She had a mandili (headscarf) wrapped around her white hair and as I passed her she greeted me with a smile and nod. I already felt at home and I hadn't even tried the food yet. 
I ordered bifteki with pita and a side of Loux soda, which is a carbonated Greek drink. I had high hopes for this dish since the atmosphere was very reminiscent of a traditional greek taverna. I took one bite of the warm bifteki and as the taste entered my mouth, just as the Gyro World bifteki, it melted in my mouth.  The pita was unlike any pita I have had. It was drizzled in olive oil and feta cheese. It was a unique take on pita and it really took it to the next level. The Loux soda was an instant blast from the past to my days in Greece. This Greek soda is something that is rare to find in America so it was a plus that Kalamaki carried it. The food was not only excellent but authentic.
Additionally, the food at Kalamaki is much cheaper than Gyro World. The bifteki was $7.75, the pita was $1.25 and the Loux soda was $4.50. So you can have an authentic Greek meal without hurting your wallet too much.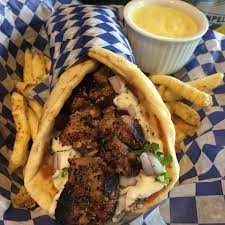 Finally, my journey ended at Eons. Eons is a few blocks away from Francis Lewis, it is near a popular hangout spot where both students from Francis Lewis and St. Francis Prep hangout so it shocked me that I have never heard about this place before. 
The restaurant definitely had more of a modern feel than the traditional atmosphere of Kalamaki and Gyro World. Its location is unfortunate since it is a popular hangout spot for high schoolers and it is near a busy road so all I heard were high school kids and the cars on the street. The layout was built like a modern poke bowl place or chipotle where you build your meal. Here, you build your gyro step-by-step which I thought was a cool, modern twist on Greek restaurants. On the menu, they also claim that all their food is local and hormone free which is good for some people who want to watch what goes in their food. 
I built my Gyro with pita, chicken, a side of lemon potatoes and greek salad, and a topping of tzatziki sauce. The gyro itself was typical of any gyro I have had in the past, I wouldn't say it was amazing but it is definitely something I could order again. The lemon potatoes and the greek salad were absolutely perfect. Many restaurants, like Gyro World, have the issue of over seasoning or over dressing their lemon potatoes and salads which overpower the original taste. Eons hit the nail of the head and I had an amazing balance of flavors. Finally, the Tzatziki sauce was the best I have ever tried. I wouldn't say it was as authentic as Kalamaki but I definitely will be trying it again.  
To add on, the price of Eons was very acceptable considering their food is local and hormone free, I only paid $9.50 for my gyro. 
These restaurants all definitely had their pros and cons and I could see why some may hate or love each restaurant. If you are looking for an authentic experience, Gyro World is the place for you. If you are looking for authentic taste, you must try Kalamaki. And if you are looking for a more modern take on Greek cuisine, try Eons. Overall, it is impressive that there is such a variety of Greek food in Queens when we are so little of the population which goes to show the diversity of this borough and our country.
Leave a Comment