Student Bathrooms in Annex Raise Questions for Students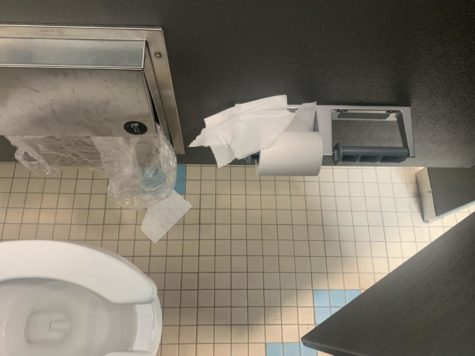 As I set foot into the annex student bathroom, my sneakers don't tap the tiles, but rather scrape on the sprawled and damp pieces of paper towels that are scattered across the floor. Scanning the perimeter, my eyes catch the line of girls standing in front of the three stalls available. I'm met with a familiar scene that I've seen far too often at Francis Lewis; empty soap dispensers, vacant toilet paper rolls, and the chatter of students fretfully waiting to use the restroom and move on to their next class. 
The annex bathrooms offer no contrast to what the student body has experienced in the main building, and it's a question we ponder time and time again: When will the bathrooms improve? What are these problems, and what's causing them to persist?
One issue is the number of bathrooms and stalls. Junior Zara Masudova offers her point of view on the issue.
"The bathrooms I would say… they're good, but the stalls are not that much," Masudova said. "There are three stalls – three or four. And I feel like, in this big building, we need more stalls." 
Masudova also raises her concerns regarding time management.
"There was a long line for it, so they couldn't really use it," she said. "So, they waited and they couldn't even use it in the end because the period ended, so they had to go back up. I think that was a negative experience."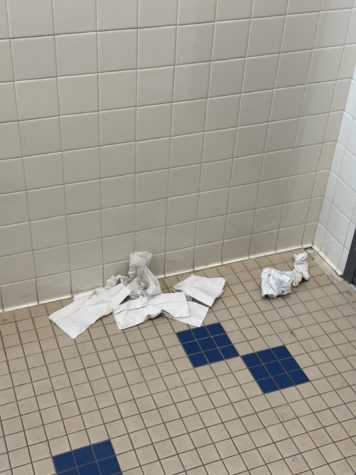 Ms. Rothenburg, a teacher working in the annex building, expresses positive experiences with the staff restrooms,  claiming the bathrooms are in a clean state for the most part, and there are always toiletries available. If there weren't, accommodating those items is never a problem, stating that anyone can go into the supply closet for extra rolls of toilet paper or paper towels at the end of the day. 
"With the student bathroom, if students need toilet paper, we can go into the supply closet and get extra rolls at the end of the day if they run out of toilet paper or paper towels," Ms. Rothenburg said. "Sometimes students will say, 'Oh, I need a roll of toilet paper or paper towels' and we just give it to them."
Even with the availability of toiletries, Ms. Jaipershad notes that it's common for students to abuse such supplies.
"There will always be a subset of kids who want to take advantage, right?" Ms. Jaipershad said. "I think that messes it up for the bigger group." 
Along with these issues, female students are experiencing a deficit of feminine hygiene products. In the girls' restroom, there are machines that provide feminine hygiene products, something we don't see in the main building.
"I've seen a lot of my friends, they're in need of pads or something," Masudova said. "But they don't have coins with them. So, I see a lot of girls asking around, 'Do you have this?' or, 'Do you have that?' So, I feel like this school should provide it to us without making us pay for it."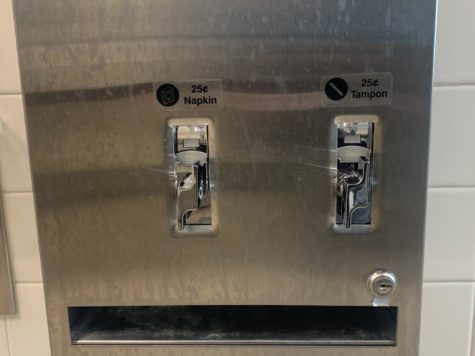 However, Ms. Jaiptrshad notes that these machines are empty and will be free in the future, as the need for these products seems to be a common occurrence.
"Kids have come to me and said, 'Hey Ms. Jaipershad, I don't have a pad today,' and I've always given them," Ms. Jaipershad added.
However, one problem remains, which is the student-to-teacher bathroom ratio in the annex building being 2:7. As a result, numerous students have criticized the fact that there is only one bathroom for each gender. Some believe this is causing the uncleanliness and the insufficiency of bathroom products.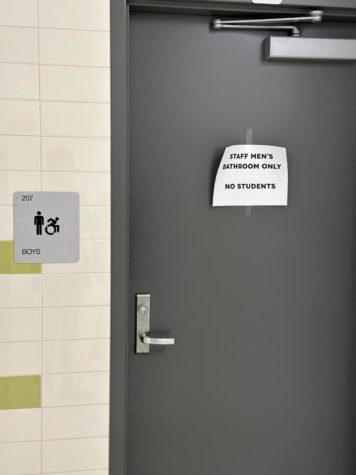 "There was a decision made that the first-floor bathrooms are the ones being used for students," Ms. Jaipershad said. "The reason that decision was made was because we see you use the bathrooms in the other building. More bathrooms doesn't necessarily mean better conditions," she added.
"If you're on the third floor and you went to the first floor to the bathroom, it's not further than if you were on the third floor and went to the third-floor bathroom because the annex is much smaller. So I didn't see that as being a problem and I haven't seen that as being a problem."
With optimism, Ms. Jaipershad encourages students to reach out and voice any concerns with the annex building.
"Those are things I'll bring up with Dr. Marmor because I think that's a good point that you brought up that we do need to improve our communication," Ms. Jaipershad said. "Send an email to me or Dr. Marmor or any AP really, and let us know what conditions you're finding because if I don't know about it, I can't fix it."
"I think all the spaces in the building are very important, bathrooms are important but communicate with the adults in the building when you see an issue, or a problem. Give us a chance to rectify it."
Leave a Comment