MSA Builds a Community for Muslim Students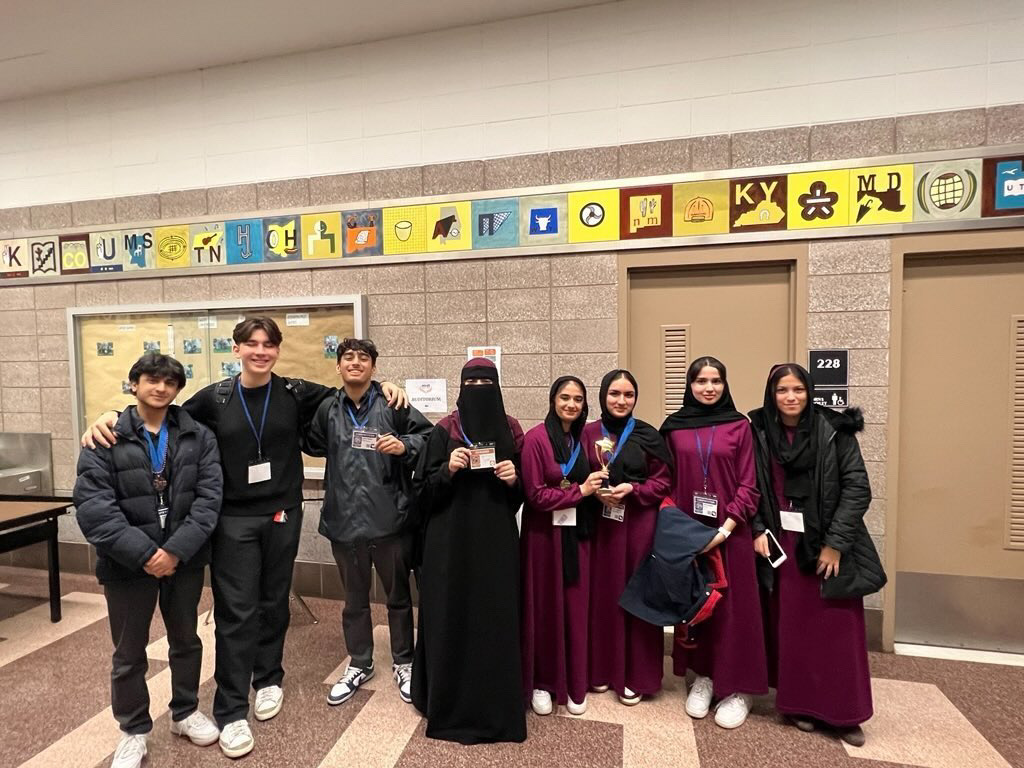 As you scroll through the Francis Lewis Club charter document and analyze the endless clubs offered, you start to feel like giving up. You feel like giving up on finding a club that can connect you with people that can understand you. Your eyes start to blur from the harsh light emitting through your computer screen and you're about to turn it off. Then, you see it. You see the Muslim Student Association club and a rush of excitement courses through you. You take note of the days, time, and room the MSA club takes place and you anticipate. You anticipate because you may have just found your community within Francis Lewis High School.
"We discuss topics pertaining to Islam and speak about real world issues, for example the oppressive acts towards Muslims in racist communities," said Yusef Ozmen, junior and co-president of MSA. 
As stated by the non-profit organization MIST, the Muslim Student Association was established in January 1963 and serves a way for Muslim students to have a space where Muslims can assemble for prayer, community, charity work and information about Islam. Students share their spiritual knowledge with their fellow peers and build connections.
"The club promotes an understanding of various cultures and traditions of Muslims from diverse backgrounds," chemistry teacher and MSA advisor Ms. Arshad said. "It also promotes an opportunity to educate non Muslims about their Muslim peers and promote unity through learning about each other and overcoming stereotypes, misconceptions and misunderstandings about Muslims."
MSA provides a safe space for many students to express themselves and have multiple people to relate to and express ideas with. 
"I feel it is very important to know Muslim students feel like they have a place to go, where they can express their concerns and openly engage in discussions and be understood by others who share the same," Ms. Arshad said. It is also a place for non Muslim students to connect with their Muslim friends and understand their concerns."
Also stated by the nonprofit organization, Muslim Interscholastic Tournament (MIST) is an annual competition for high schoolers around the world. MIST envisions a vibrant community of creativity, knowledge, and mutual respect. There are dozens of regional tournaments across North America, and over 6,000 high school students competed in these tournaments within the last year. 
"MIST is the Muslim Interscholastic Tournament, which brings high school students from diverse backgrounds (Muslim and Non-Muslim students) together to develop leadership, promote communication and inspire creativity while gaining a deeper understanding of Islam and Muslims in general," Ms. Arshad explained.
Co-president and member of MSA club further explains what MIST is and what they do at MIST.
Senior and Co-president of the MSA, Ali Siddqi explained, "We went to the Muslim Interscholastic Tournament against high schools across the city and will go to nationals over the summer," senior and MSA Co-president Ali Siddqi explained. "When we're not preparing for MIST we teach the students about Islam."
There are many things that happen at MIST as students are able to showcase their talents and interests by competing with other schools to be judged by a panel of judges. 
"Students are able to showcase their talents and interests, express their thoughts and ideas through various creative mediums," Ms. Arshad said.  "Some tournaments include, Art, Fashion Design, Debate, Short Film, Business Venture, Extemporaneous Essays, and improv."
An important part with being Muslim is the time of Ramadan. According to Britannica, Ramadan is a time of spiritual reflection, heightened devotion, worship, and self-improvement. During Ramadan, Muslims all over the world fast from food and drink between sunrise and sunset. Ozmen had a few words to say about his Ramadan experience.
"It was pretty easy," Omen added. "I used to do intermittent fasting so I just didn't drink water."
Another key part of fasting and Islam in general is praying. Muslims pray 5 times a day and one of the prayers, Dhuhr, starts during the school day. 
"Praying 5 times a day is also an essential part of the religion and it becomes a top priority during Ramadan as their spiritual efforts enhance during the month of Ramadan," Ms. Arshad remarked. "It is important to have an appropriate space to pray. I know many students don't have a quiet space where they can simply go and pray." 
A sense of community can be important for Muslim students to learn more about their religion and relate to people in a safe space. 
"Being a Muslim myself and growing up during a sensitive time in this country when Muslims were misunderstood by the general population, organizations like MSA was a place where I felt understood and it gave me an opportunity to learn about my religion and myself to be able to respond appropriately and educate people around me," Ms. Arshad said.
"This club isn't just for Muslims. While the MSA is strongly connected to Islam, people of any background who are interested in learning something new, meeting people, or helping those in need are welcomed to join this club," Ms. Arshad added. "The purpose is to facilitate tolerance and understanding among the school community which is composed of both Muslims and Non-Muslims."
Leave a Comment