Restaurant Review: Korean Tteokbokki
Looking for a place to try and enjoy Korean traditional servings for a reasonable price and somewhere near your community? Well you're in luck! Tteokbokki, or spicy rice cakes, are one of Korea's most popular street foods, especially commonly found in Flushing, New York. Made with long, white rice cakes, fish cakes, spicy sauce, along with various vegetables, tteokbokki are a pretty simple dish and can be easily customized depending on the kinds of add-ins you desire. With chewy, soft rice cakes along with fish cakes for extra savor and vegetables such as cabbage for some sweetness, tteokbokki consists of different kinds of tastes all at once, and fits well with fries. My goal was to find restaurants that serve different types of tteokbokki and explore the various alterations of the unique recipes each cuisine presents.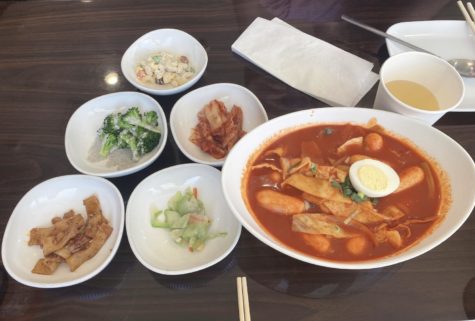 "Sodam" 
156-50 Northern Blvd
Flushing, NY 11354
Murray Hill, Flushing
Dish I ordered:
Cheese Ddukbokki – $17.00
Makguksu – $15.00
Personal Rating: 4 out of 5 stars
There were various kinds of food, not just street food, giving more options for different preferences. The restaurant was a pleasurable place to dine with family or friends, and the prices may be reasonable for the amount of side dishes that come along, which were all well cooked and delicious. 
Review: Upon entry, you are faced with several different fragrances of all kinds of Korean dishes. Before the main dishes arrive, you are served with warm corn tea and several side dishes such as kimchi, broccoli, stirred fish cakes, etc. The tteokbokki I ordered here was regular tteokbokki with mozzarella cheese inside. The stretchy cheese filled inside the rice cake adds extra chewiness to the overall rice cake and eases the spiciness. The fish cakes, boiled egg and cabbage added to the dish created a nice collaboration of different tastes and textures, it was really delicious! Right before I finished this dish, I decided to order makguksu which is also known as buckwheat cold noodles. The cool broth and sweet noodles really helped end off the meal with refreshment. Overall, the food served and my experience at Sodam was just amazing!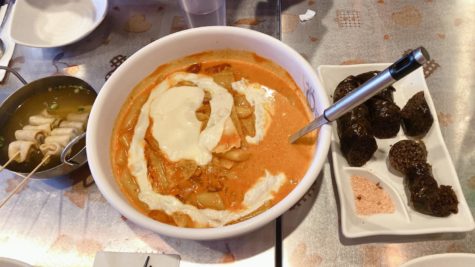 "Yupdduk Flushing"
157-22 Northern Blvd
Flushing, NY 11354
Murray Hill, Flushing
Dish I ordered: 
Rose Tteokbokki – $16.99
Korean Kielbasa (Soondae) – $13.99
Skewered Oden – $3.99
Personal Rating: 3.5 out of 5 stars 
Since this place specializes in tteokbokki with many kinds of options for it, it is the #1 place you should go if you're trying tteokbokki for the first time. However, some of the appetizers and side dishes were pretty small compared to the tteokbokki, so you have to order several of them to match with the main dish, when dining with friends or family. 
Review: This restaurant is known to serve all kinds of original Korean street foods such as tteokbokki, fried foods, noodles such as ramen and diverse appetizers using traditional Korean street food cooking techniques. With neat vintage-style designed walls with cute drawings, the inside of this restaurant is more like a cafe. The place is open 7 days a week and offers dine-in, pickup and delivery services. The kind of tteokbokki I ordered was rose tteokbokki, which is spicy rice cakes made with garlic, milk and heavy cream consisting of parmesan cheese.  This makes the general texture very creamy and less spicy compared with regular red tteokbokki. The dish came with fish cake, vegetables, sausage and bacon, all enhancing the general taste of the dish, making each bite much more fulfilling. Ordering appetizers such as soondae or blood sausages, and oden soup is really recommended as they can boost your experience with tteokbokki.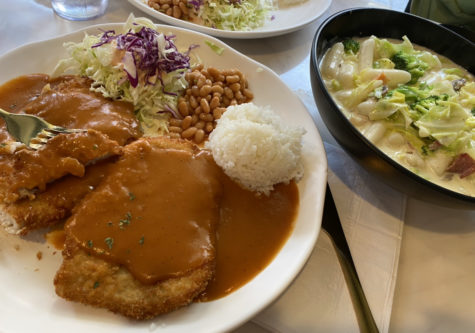 "Kimganae"
3912 Union St
Flushing, NY 11354
Dish I ordered:
Cream dukbokki – $15
Kimganae pork cutlet – $15
Tuna roll(kimbap)  – $9 
Personal Rating: 5 out of 5 stars 
This is one place you should try visiting if you go to Flushing. They have tons of different kinds of dishes, such as pork cutlet, tteokbokki, kimbap, bibimbap, though this place is specialized for street food. The restaurant has both indoor and outdoor dining as well as delivery and private catering. Overall my experience at this restaurant has been always good, delicious food and nice customer service. 
Review:  You will experience a unique kind of tteokbokki, with milk and heavy cream along with white cheese. The main dish consists of different kinds of seafood, broccolis, cabbage, carrots, and parsley. Unlike other tteokbokki previously mentioned, this dish didn't have fish cakes and wasn't spicy at all.
Creamy and cheesy sauce, full of savor and no tastes of spice with soft, chewy rice cakes embellished in the sauce. (serving size: 1~2)
Pork cutlet was rather sustainable, and could be shared among multiple people. Came with rice and corn and the sauce poured over the meat was plentiful and added savor to the overall meat. 
Tuna kimbap -) tuna, celery, sweet radish, onion and mayo covered with sesame leaf before the rice, can fully taste all and each ingredients (a bit bigger than just bite size)
Leave a Comment