Francis Lewis Presents the JROTC Pass in Review Ceremony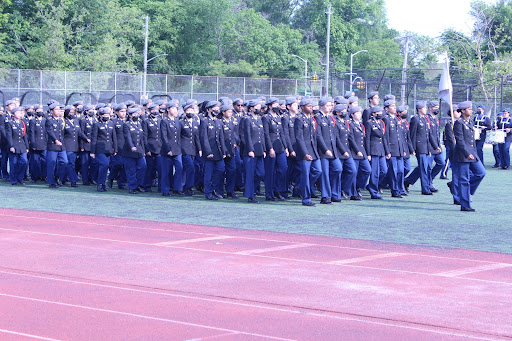 "Mark time march!" The cadets stop in their tracks and march in place. "Forward march!" The group begins to march forward. "Left wheel march!" The group then turns and starts marching with their hands to their side.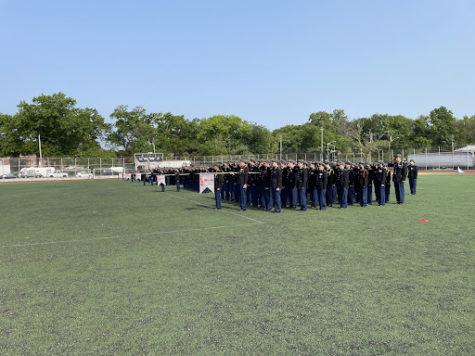 JROTC, also known as Junior Reserve Officer Training Corps, is a program in several high schools that teach participating students leadership skills, communication, accountability, time management, and more. A ceremony called Pass in Review is held every year to show off how well each unit can march.  Francis Lewis High School presented the JROTC Pass and Review ceremony on May 24. 
"The pass in review is based on what we do in the military where someone important visits your unit, so the first thing they will do is the whole unit will line up as we do and march around, kind of showing off how well your unit can march," JROTC Army Instructor Lawrence Badia stated. "We've done the pass in review since JROTC started here in 1994 each year."
On Monday and Tuesday, the pass and review practices were held outside on the field.  JROTC classes joined together in one large group and marched around the track, following the sergeants and drum corps commands. 
"During class, we practiced marching with other platoons and some drum corps members were practicing with us as well," Cadet Myu Kim said. "We came early in the morning to practice before the actual event started, so a lot of practice."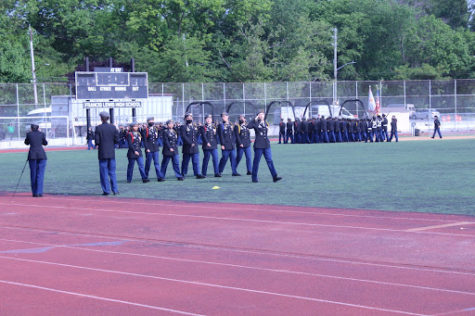 "People should know the efforts we put into this event," Kim added. "We practiced marching a lot during class and CNS members worked hard to organize the event."
Principal Dr. Marmor was invited to make a speech, thanking the JROTC cadets for their hard work and included Master Sergeant Badia who is retiring this year. Pass In Review is an important tradition that takes several class periods of practice and is a long-standing military practice that began as a way for a newly assigned commander to inspect his troops. 
"Pass in review is significant among the patriot battalion as it assesses how much drill and ceremony the battalion has learned throughout the year," Lee said. "But it also shows the amount of discipline that was learned and instilled among cadets."
The capstone ceremony culminated the hard work and accomplishments made by JROTC/JCC cadets throughout the school year and acknowledged students' leadership development. Students expressed their emotions on how the ceremony affects them personally.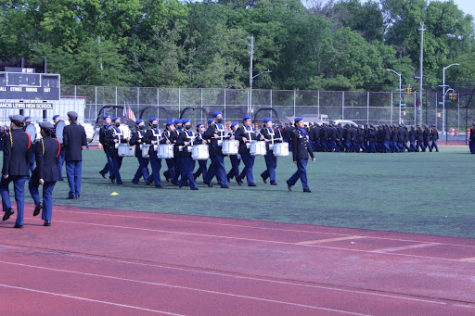 "This event is important to me because it is a big event in JROTC and we prepared a lot for it," Kim said. "Also, important guests come each year and it is important to look good. One important thing all JROTC cadets must all learn from this event is how much this program can help someone. Pass in Review, like stated earlier, instills lots of discipline and you wouldn't get to experience this anywhere else but in the JROTC program."
The Pass in Review Ceremony requires lots of time and practice, and there have been some challenges when preparing for the event. 
"Trying to get a lot of students that never marched before to march because they are not familiar with that," MSG Badia stated. "That's the biggest thing and then getting the whole group to do it is even harder." 
"This year I was the VIP because I'm retiring so it was nice to look at it and how it impacts the program," MSG Badia added. "It just has to be done. We do it every year with different students and it's just required to be done."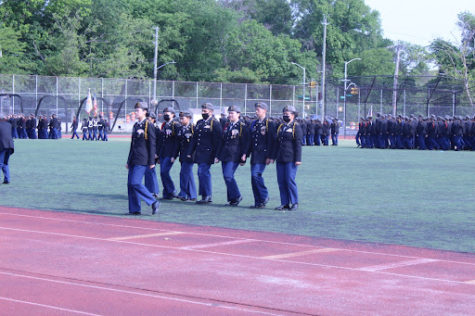 The JROTC academy held the Pass and Review ceremony as a conclusion for the time MSG Badia taught at Francis Lewis High School.  
"Thank you for all your hard work and I hope you are very successful in whatever you pursue once you get out of high school," MSG Badia said.
Leave a Comment