Saving Lives, One Pint at a Time
Senior Pooja Sharma walked into the gymnasium, which was turned into a mini nurse's office. Each vertically aligned table included medical stations and a friendly face waiting to take her blood.  Sitting at the table, a mixture of nerves rushed through Sharma when the blood associate wrapped an aneroid around her arm. "What grade are you in?" asked the nurse as she prepared her arm for the needle.
"Small talk really helped turn my nerves into comfort and it ended up being quite painless," Sharma said.
On October 5 Francis Lewis held its annual Blood Drive in the school gymnasium. Students above the age of 16 were eligible to donate one pint of blood to local hospitals in Queens.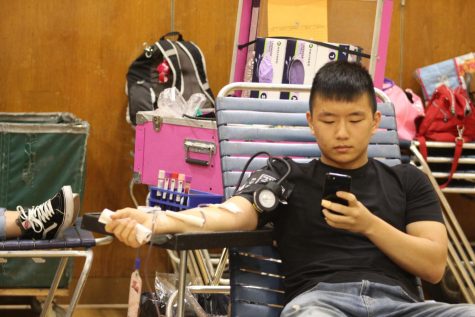 "In big high schools like this one, there's a lot of first timers so we usually collect 100-150 pints a day," a doner specialist stated.
After  pints of blood have been donated they are processed, tested, stored, and distributed to local hospitals.
"One pint of blood saves three lives," said doner associate Jim Faber.  "After you donate, it's separated into three life saving components:  Red blood cells, platelets and plasma."
Although there were many first timers at the Blood Drive, the blood doner specialists made sure the participants were well taken care of and comfortable during the procedure. Once the doners were finished, they were offered refreshments to help regain their blood cells and iron.
"When a child is really nervous we calm them down and take precaution, especially in high schools," a specialist said.  "Instead of sitting upright like  adults, we recline the seats. If they're really nervous we give them ice packs to cool them off a bit. When they're done, we don't just send them off.  We keep them here, give them juice and make sure they're okay."
Many first timers who agreed to donate blood knew it was for a good cause. Some students, such as Khassondra Moran, even shared their personal motives.
"My grandmother suffered from breast cancer and she didn't have many options to help fight her disease," Moran said.  "I'd like to donate blood today to help save lives in her honor."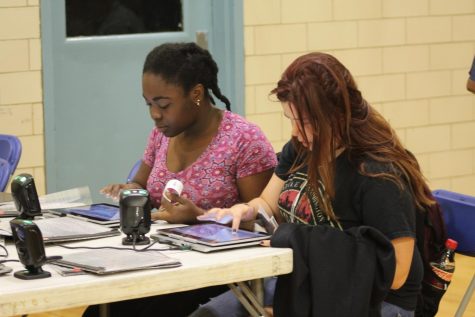 Blood Need Statistics
Every two seconds someone in the U.S. needs blood.
Approximately 36,000 units of red blood cells are needed every day in the U.S.
Nearly 7,000 units of platelets and 10,000 units of plasma are needed daily in the U.S.
Nearly 21 million blood components are transfused each year in the U.S.
The average red blood cell transfusion is approximately 3 pints.
The blood type most often requested by hospitals is type O.
The blood used in an emergency is already on the shelves before the event occurs.
It is estimated that sickle cell disease affects 90,000 to 100,000 people in the U.S. About 1,000 babies are born with the disease each year. Sickle cell patients can require frequent blood transfusions throughout their lives.
According to the American Cancer Society, more than 1.69 million people are expected to be diagnosed with cancer in 2017. Many of them will need blood, sometimes daily, during their chemotherapy treatment.
A single car accident victim can require as many as 100 pints of blood.
(Source: www.redcrossblood.org)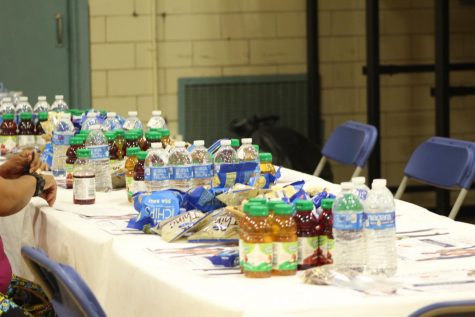 Leave a Comment