Aiming for the Spotlight: Students Audition for "High School Musical"
Inside the FLHS auditorium on a late Thursday afternoon, small groups of students were diligently reading lines from script excerpts. Practicing together and individually, students rehearsed earnestly, knowing that they had a chance to be casted in this year's school play, an adaption of High School Musical.
On October 19 – 20 from 3:30 to 5:30 pm, students auditioned for a performing role or signed up to join the stage crew. Drama Director Ms. Contino, who is looking to cast between 28 and 32 performers, asked auditioning students to come prepared with a song to sing through school announcements. Additionally, Contino requested that students practice scenes from the script to evaluate their auditions.
"I look for a performer," said Contino. "Somebody who comes up and doesn't just read from a paper or sing while staring off in the distance. We need captivating people who hold our attention."
For this year's school play, Contino decided on adapting the 2006 Disney Channel Movie, High School Musical, a teen contemporary musical comedy about two students who face opposition while auditioning for their school play's lead roles. Contino chose this movie to keep its relevance.
"It stood out because I think many students grew up with it," said Contino. "In a few years it will no longer be relevant. We need to do it while people are still excited about it."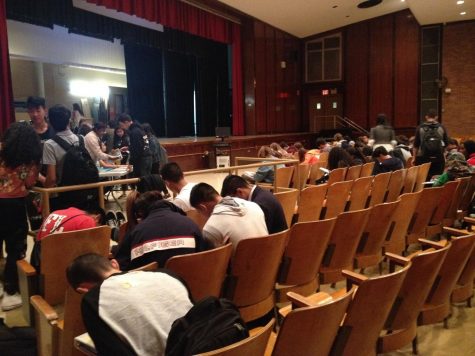 Sophomore Bianca Sukhnandan attended the audition because of her interest in performing, with High School Musical being "one of [her] favorite movies."
"I was interested in Gabriella because I love her character," Sukhnandan said. "She's very shy, but eventually opens up."
Prior to this year's audition, Sukhnandan performed in middle school plays and a chorus competition.
"My favorite aspect of performing is the rush that I feel," she said. "I may feel super nervous, but at the end when it's all over, it's worth it."
Director of Marketing for Music Theatre International, Jason Cocovinis, markets licensed musicals to organizations worldwide. According to Cocovinis, theatrical productions like this year's play are essential because they build life skills, and "there is nothing more collaborative and empowering than being involved in a theatrical production."
"By walking a mile in another's shoes, students expand their horizons and potential," Cocovinis said. "Quality arts education allows students to see the possibilities in their world."
"The leaders of tomorrow must be confident in their decisions and demeanor. By performing in a musical, young people build the self-assurance necessary for success."
Sukhnandan would be thrilled if she landed the role of Gabriella Montez, but realizes the competitive spirit of the theater company.
"I learned that not every audition is going to be easy and I may not get the part I want," she said.
Cocovinis advises auditioning performers to research the character they want to perform. Aside from research, Cocovinis believes there are many other opportunities to participate in a theater production.
"There are so many other roles in the theater," Cocovinis said. "Scenic designers, stage managers, light board operators, choreographers, box office managers…the list goes on. But the point is, being open to a new role is a chance to develop a new skill in a supportive environment."
Contino, who has been directing school plays during her 13-year tenure at Francis Lewis, looks forward to working with a group of students "motivated to learn and grow".  
"We learn from our failures and improve because of them," Contino said. "[It] is always scary but it is always worth a shot. I enjoy seeing [students] come into their own and leaving their comfort zones."
"The growth from day one to opening night is generally inspiring."
Leave a Comment