Francis Lewis Hosts First Annual Poetry Out Loud Competition
Students were settled in their seats, waiting patiently as I walked through the auditorium.  A Poetry Out Loud poster was raised below the lights as I noticed a single microphone standing in the center of the stage,  waiting for its performer.  Participants were seated on the left, well-dressed with suits, ties and dresses.   As English teacher Ms. Mavromatis walked to the podium to address the audience, the room was pin-drop silent. The competition was about to begin. 
On Thursday, December 14  Francis Lewis held its first Poetry Out Loud school wide competition where class winners from English classes competed by performing poetry of their choice in the auditorium.
"This is the first time Francis Lewis participated in this competition," said English teacher and coordinator Ms. Mavromatis. "In conversation with many of my colleagues, Ms.Whitney, Ms. Jackman, and Ms. Basaly, we were aware of the event but we hadn't seen it in our school.  We are excited to see it implemented." 
Created by the National Endowment for the Arts and the Poetry Foundation in 2005, Poetry Out Loud is a national initiative competition designed for currently enrolled students in grades 9 through 12 from all 50 states to choose their favorite poem from the list given by the Poetry Out Loud website, which includes more than 900 poems . The main goal of this event is to help students develop their public speaking skills, self-confidence and knowledge of literary history and contemporary life (www.poetryoutloud.org)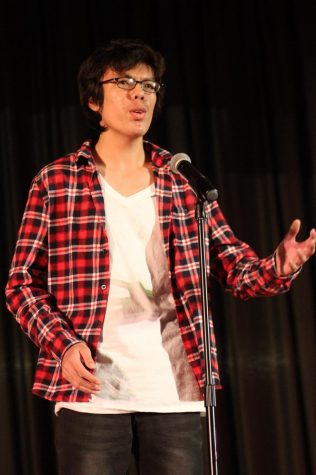 This year's competition included 24 participants from all grade levels.  Each student was required to recite two poems while a panel of judges, consisting of Francis Lewis faculty, graded each performance on criteria that included physical presence, voice and articulation, dramatic appropriateness, and evidence of understanding. 
Sophomore Nicole Kemmett won first place, followed by freshmen Uma Pendkar in second place and junior Johnny Zheng in third. Kemmett and Pendkar will represent Francis Lewis at the New York State competition, which takes place on March 9.  The 2018 National Finals will be held on April 23-25 at George Washington University.
Zheng recited The Farmer by W.D Ehrhart and Jabberwocky by Lewis Carroll.
"I chose Jabberwocky because it's a poem about a brave teenage boy who fights a monster in the woods," Zheng said. 
To prepare students for the competition, English teachers designed lessons that allowed students to research their selected poems as well as practice in class. 
"My students were prepared by presenting in class," Ms. Mavromatis said.  "They were also shown videos from PoetryOutLoud.com, which helped them develop voice articulation skills and dramatic appropriateness."
Ms. Mavromatis also advised her students to rehearse in front of different audiences before the school wide competition.  
"Practice in front of your family, your friends, the cashier in CVS, the bus driver," she added. "Anyone you can get your hands on, recite your poem. Don't be shy and don't be anxious."
English teacher Ms. Prout taught her students the necessity of feeling a connection to the poet.
"Choose a poem that you love, a poem that really speaks to you," Ms. Prout said.  "[Choose] a poem that you thoroughly understand, a poem where you really appreciate the beauty of the language and just have fun with it."
"Showing them videos of former winners really helped," she added. "I think it helped get them excited to understand what is expected of them."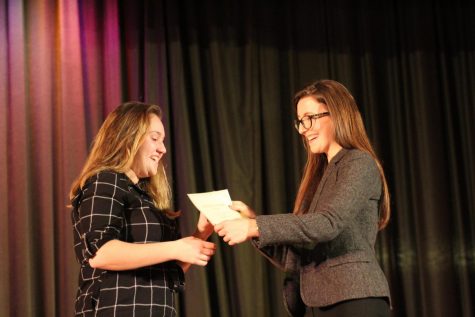 Teachers agreed that it's important to encourage students to stand in front of an audience and overcome their nerves.
"As a teacher, I see the importance of having students come out of their shadows, especially if they are juniors and seniors who are approaching college, where they're going to be asked to participate, present and interact with other people," Ms. Mavromatis said.
Poetry Out Loud offers a $20,000 award for the Poetry Out Loud National Champion, $10,000 for second place and $5,000 for third place.  Additionally, state level winners receive $200 and an all-expenses-paid trip to Washington, D.C. for the National Finals. The state winner's school will receive $500 for the purchase of poetry materials to help encourage more high school students to learn about classic and contemporary poetry.
Leave a Comment