Virtual Enterprise Teams Headed to National Business Plan Competition
BluePrint and Nuapps, two entrepreneurial student run companies at Francis Lewis, have earned a spot in the National Business Plan Competition. The two companies were among three teams chosen to represent NYC at the NBPC on April 16. This annual competition showcases the products of 28 teams nationwide through written, oral, and visual presentations that describe the policies and practices of their company.  
"I am extremely proud of the performance of our students in the most recent competitions," said Virtual Enterprise Adviser Mr. Power.  "The goal is that these awards and accreditations are just a stepping stone to true success in college and in their professions."
Blueprint, formerly known as Reimagin3D, is a 3D printing company that specializes in creating models, prototypes, and promotional material such as business cards and nameplates. The goal of the company is to create products that establish a lasting impression for clients.
"Reimagin3D last year made 6th place at Nationals, so as my VE coordinator says, the bar is already set," senior and Blue Print CEO Yasmeen Persaud said. 
As the CEO of BluePrint, Persaud was impressed by the hard work and efforts that led her team to success at previous competitions.
"The pressure and stress becomes worth it when you see that your effort becomes rewarded," Persaud said. "It is not even the plaque that makes me happy, but the fact that I grew as a person."
Advancing to Nationals has shown both Persaud and her team that everyone has the potential to apply themselves in achieving their goals.
"Going to Nationals has given me the understanding that with hard work you get what you want," Blueprint CPO Michael Kouropakis said. 
Blueprint wasn't the only company to make it to Nationals. It is the first Nationals for Nuapps, an app development company that produces and codes apps for virtual businesses.
"Personally, I was really shocked because Nuapps never made it to Nationals before, so this is actually our first year to make it to Nationals," Nuapps CEO Annie Law said. "To me it's like, 'Wow, I get the chance to go to Nationals and fulfill the legacy that Nuapps always had.'"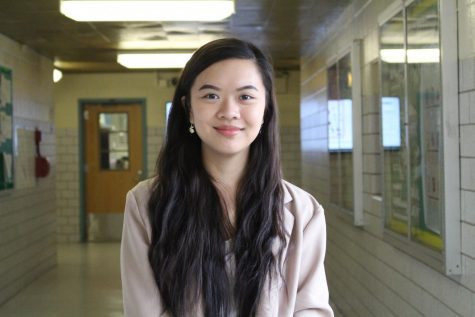 With only two months until competition day, the companies continue to vigorously prepare by finalizing their scripts and timing their presentations. The VE Coordinators have also contributed by guiding and supporting their team throughout the process.
"They push us and motivate us to become better individuals," Persaud said. "VE is not a class with a pen and paper, taking notes [and] listening to a 45 minute lecture.  It's running a business and learning how to tackle the real world."
Virtual Enterprise not only teaches students how to run their own companies, but also that winning isn't the only goal.  
"Standing in front of hundreds of industry professionals to pitch, and having the ability to hold an intellectual conversation and critically think on the spot to get answers is something that an award can't measure," Power said. 
He hopes to prepare the students for their future careers and interests in all industries. Students in the VE program are expected to grow both personally and professionally throughout the whole competition preparation process.
"There are a lot of things that you have to know before you walk out of VE, and it's not winning a competition," Law said. "It's not just about the five of us that are competing. It's also about the whole company and what they have learned from VE."
Leave a Comment