Francis Lewis Celebrates Cultural Diversity at the Lunar New Year Festival
Lunar New Year,  a 15-day holiday originating in China, celebrates an animal recognized in the Chinese zodiac starting on the first day of the first lunar month in the Chinese traditional calendar. Francis Lewis celebrated the dog zodiac at this year's festival on February 14 in the auditorium through posters and activity booths pertaining to Chinese, Korean, and Japanese cultures.
"Tomorrow will be a day before New Year's Eve," Chinese teacher Ms. Lin said prior to the festival. "It's very interesting for them to understand how Chinese people celebrate New Year and how Korean people celebrate Lunar New Year.  We'll have food, activities, plus comparisons [and a] different cultural theme."
Francis Lewis' celebration started in 2013 with the goal of gathering students from the school's oriental language classes and educating them on how the holiday is celebrated in different cultures. Ms. Lin assigned groups of students a project to create posters to educate non-Chinese language students with "new year celebration" as the central theme.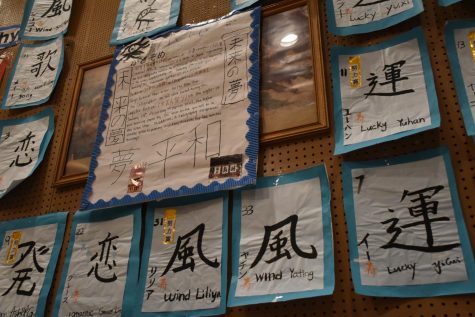 "[In] one example,  a student is doing a comparison between Lunar New Year with Christmas," Ms. Lin said.  "Some similarities, some differences with food, activity, the time, history, and celebration. The other example is what food they eat during the top four holidays in Chinese history."
Students were able to play with Japanese paper balloons, try on traditional yukatas robes, juggle, fold origami, and write calligraphy in the back of the auditorium. Towards the front, students could sample Korean snacks like ssal ro ppung rice crackers and try on a traditional hanbok dress.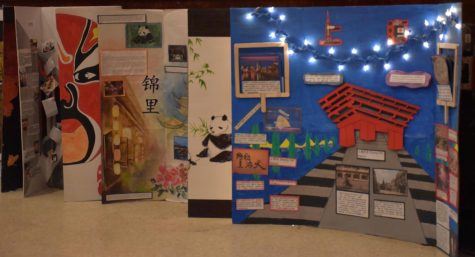 "I got to try different food, [read] really cool posters, [and wear] a hanbok," junior Mina Collado said. "I learned about games for both Korean and Japanese classes, and I learned some Chinese words [like] péngy?u. It's supposed to mean 'friend.'"
Collado, a student of Korean and Japanese, transferred to Francis Lewis last December. Her experience at the festival was "new" and "really fun."
"It's important to learn about Lunar New Year," Collado added. "In other schools that I've been to personally, I [didn't] learn a lot about Asian culture, so it was fun for me."
Japan used to celebrate Lunar New Year during its traditional observance, but since 1873, the holiday is celebrated on the first day of the Gregorian calendar. Japanese classes at Francis Lewis participate in the event in spirit of the tradition.
"We celebrate New Year on January 1st with the Christian calendar, but we are joining the Korean and Chinese classes," Japanese teacher Ms. Kimura said. "That makes me happy, and I'm looking forward to the event. We're glad to be part of this."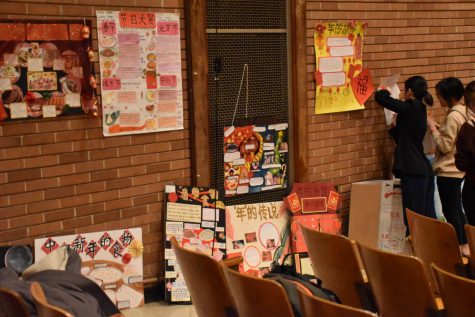 Junior Joy Park, a student of Japanese and Korean, demonstrated the Japanese martial art of swordsmanship or kendo.
"Kendo is a mix of Korean traditional arts kumdo," Park said. "We learn how to mix Japanese and Korean culture, and then it shows that even though there might be a lot of diversity in all of this, we can still join together and become one."
The goal of the event is to show the different ways the three cultures celebrate Lunar New Year. Ms. Lin wanted to offer her students and non-Chinese language students a unique experience that isn't done in many schools, as Collado pointed out.
"It is very important for [my students] to understand why [the] Chinese celebrate Lunar New Year and what it means to the Chinese people," Ms. Lin said. "Most of their parents are either Chinese or their grandparents are Chinese, and they actually don't get to see the whole picture of how people celebrate it. To see it from [an] American school is very interesting when we try to show students that and the comparison between Korean New Year and Japanese New Year."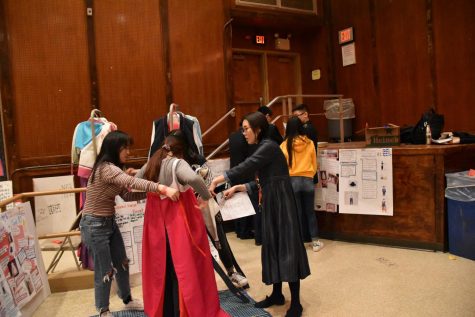 Ms. Lin has suggested even more culture diversity for future Lunar New Year festivals. 
"We want to have more cultures celebrate together," Ms. Lin added. "Since Lunar New Year's date is different [than] other cultures, it would be hard to set [a] date to celebrate together."
Leave a Comment