New York City Public Schools Closed for the Academic School Year
New York State remains in lockdown as confirmed cases of COVID-19 have reached 138,700 in New York City.  Along with the PAUSE order issued by Governor Cuomo in late March, the over 1.1 million students of  New York City Public schools, the country's largest school system, found themselves transitioning to remote learning via applications such as Zoom and Google Classroom when schools were temporarily closed on March 15.
The original date for New York City students to return to school buildings was set to April 20, which was then delayed to April 29 in a renewal of the PAUSE order.  Ultimately, Mayor Bill de Blasio announced that New York City schools will be closed until the next academic year. 
"It was definitely a wise decision," Principal Dr. Marmor said. "Security is our number one priority at FLHS.  I just don't find it realistic to have a school of 5,000 come back into a cramped space, especially when New York is still in a state of a pandemic, it's just not possible." 
"Personally, I have foreseen it and I have worked with the staff here at Francis Lewis to prepare our students for the remaining academic year."
Students at Francis Lewis have expressed dismay at the realization that the closing of school buildings for the current academic year also means the cancellation of extracurricular activities. 
"With schools being closed down a lot of events such as military ball are cancelled," said Cadet/1SG Steven Lee, who is part of the CNS Chain of Command in JROTC.  "We signed up for this position and to have this taken away from us is tragic."
Sophomore and Girls' Varsity Softball team member Jade Cora-Brea shares Lee's sentiments. 
"Due to the current closure my softball season has ended," Cora-Brea said. "We will never have a chance at playoffs this season and it has also affected the ability to advance in making a recruiting profile." 
Along with the cancellation of extracurricular activities in mid march, standardized testing such as Regents Examinations have also been recently cancelled. In an official statement  by the NYS Board of Regents, students will receive a waiver, giving them the graduation requirement from the Regents exam as long as they pass the course. 
"I think the cancellation of the Regents Examinations was the right choice to make since they would be difficult to take remotely," sophomore Matthew Friedman said. 
Some teachers also agree with Friedman. 
"I think it is a wise decision," English teacher Ms. Rothenberg said. "I think that the DOE will offer students the opportunity to take make-up Regents exams later on."
As Francis Lewis prepares to undergo long-term remote learning, there are still obstacles to overcome. A key challenge has been the recent security breaches of the Zoom video software. Despite the breaches, Francis Lewis continues to use the software by upgrading to a paid version, which offers more security. 
"Once we had security issues on Zoom, we immediately took action," Dr. Marmor said. "Other schools took days but our school did it overnight. When I was using Zoom, I realized there was a paid business plan for institutions, so without hesitation I decided to purchase it." 
In addition to security issues with Zoom, faculty and students across the city are challenged with a lack of computer software and WiFi to facilitate online learning. This problem has been of a particular concern with the attendance policies implemented district-wide. 
"Even if you do have a computer or WiFi, you might only have one computer, and then your siblings might need it, or even your parents who could be working from home," Dr. Marmor said. "As we continue to learn in the transition process, we are constantly updating our policies to make it better for students and teachers." 
Another challenge that many at Francis Lewis are facing is the upcoming senior graduation for the class of 2020. After 4 years of hard work and dedication, many seniors have been looking forward to their graduation ceremony and prom, a place where they can celebrate and say their final goodbyes as they transition into college. 
"I'm really sad because it's our one chance to celebrate our success and find closure with leaving our friends and going to other colleges," said Cadet/1SG Kimora Ho-Wu, who is also a part of the JROTC CNS Chain of Command. 
Dr. Marmor shares the same view but also provides a sense of optimism for seniors. 
"Unfortunately, as the current situation of the pandemic worsens as well as facilities being closed, it will be hard for us to have over 5000 students into one room," Dr. Marmor said. 
"I have decided that no matter what, even if it happens next year, we're going to have some kind of ceremony or party where the seniors of 2020 can sign their yearbooks, as well as say their goodbyes. Right now we are thinking of the possibility of doing it in an online Zoom session. Regardless, even if I have to do a one-on-one session with each student to congratulate them, I will do so." 
Leave a Comment
About the Writer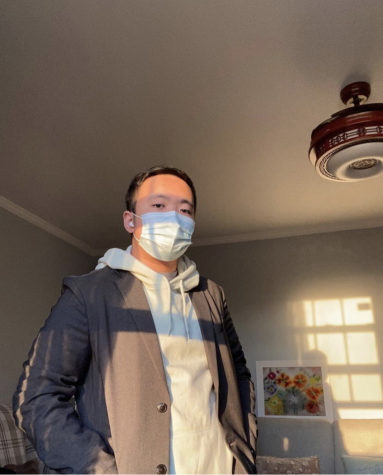 Tony Wu, Editor In Chief
Born and raised in NYC, Tony is a passion-driven community organizer and advocate in making the world a better place. He's an experienced political organizer,...