Francis Lewis Reopens Building for the Fall Semester
Over 1 million students in the New York City Department of Education were sent home to continue instruction remotely earlier this year on March 15. Seven months later, students have returned back to school, either remotely or through a blended learning program. However, with constant delays of the reopening in-person date, technical difficulties, and the constant need to protect students & faculty from COVID-19, how effective has the process been?
"I will tell you that the bulk of the preparation really started in early July," Principal Dr. Marmor said. "It became obvious to us that with 4500 kids in our school, the possibility of us coming back, full time, all together, in that overcrowded situation was not likely to happen." 
Students were given the choice of full-time remote learning for the semester or blended learning.  For blended learning students, a series of six cohorts were initially created at Francis Lewis to ensure social distancing and a safe learning environment. Each cohort essentially acts as its own mini-school, with a dedicated lunch area, bathroom, and other necessities. Currently, there are 3 cohorts or "pods", each with a unique color name.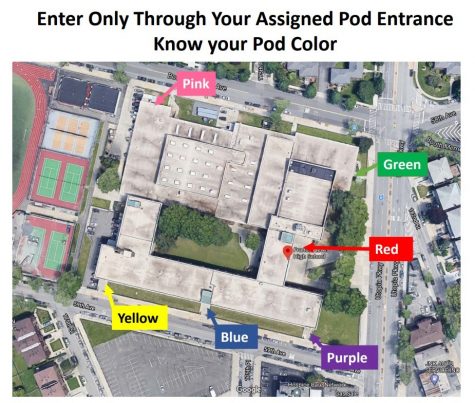 "I feel  that Dr. Marmor and the rest of the administration have done an amazing job in creating a plan that keeps the school running and all of the school community as safe as possible," English teacher Ms. Contino said. 
Like many New York City public schools, a shortage of staff within the DOE has caused a complex range of strenuous difficulties for scheduling & planning. According to Dr. Marmor, this has resulted in many high schools being unable to provide their students with AP courses and elective courses. 
"We did everything that we could do to make sure that we kept the continuity of instruction and that we kept the rigorous academic programs intact," Dr. Marmor said. "So very early in planning, we started focusing on creating meaningful and engaging remote programs."
Ms. Haimson, the executive director of 'Class Size Matters', discussed her concerns and thoughts on the DOE reopening plan. 
"I think it's (reopening plan) very incoherent and confusing and in some ways, unsustainable," Ms. Haimson said.  "I think phasing (reopening) was a better idea, to make sure that it was working, and to prioritize certain groups of students for in person learning, such as younger students, special needs students, homeless students, ENL students; those that particularly need in person support from their teachers."
Ms. Haimson discussed her opinion on how students should properly return to schools. 
"I think in-person learning should be provided whenever possible, because remote learning does not work well for most students," Ms. Haimson said.  "I think there also needs to be a rigorous testing program. It seems to me that the program they designed currently is a pretty good one, if you can get results and test & trace very quickly." 
When the DOE sent everyone home back in March, the safety and protection of all members of the school was a key priority. However, with a possible 2nd round of COVID-19 cases emerging in the city, the topic is still a major concern for everyone in the school environment.
"I am so glad that all of the safety precautions in the building seem to be working because I was so worried for my friends and colleagues who are reporting regularly," Ms. Contino said. "If I did have to return, I do feel confident that our school leaders have been doing everything in their power to protect both staff and students."
Students who chose full remote learning also shared their learning experience.
"There are a couple of problems, especially regarding the cameras needing to be on as well as how some gym teachers are conducting physical education," junior Maggie Yeh said. "As a fully remote student, online classes haven't been too bad but some teachers are overestimating how much actual time I can give for classwork and homework." 
In addition to reopening, Francis Lewis students shared their difficulties with the flow of important information available from the school.
"For wanting certain courses changed around they are not very flexible," junior Ivy Zheng said, "as well as an email that clearly stated that they would send out the classes and what day it would be on. I never received one and had to look on PupilPath after a friend told me."
When asked about the flow of information, Dr. Marmor explained the school's current situation and the process itself.
"The flow of information in our building, with 4500+ families, 350+ staff members, is very difficult," Dr. Marmor said. "Many students, no matter how many times we ask them to activate their emails, just wait until the last minute to do so. Ultimately, we have a team of people that have been working to close the gaps in the communication for the emails." 
Another common intricacy this semester is that some Francis Lewis students have multiple courses on their in-person day, causing crossovers and the need to learn remotely in school. 
"I don't think that it's fair," sophomore Daniel K. said. "If I'm going to go to school in-person and risk the health of myself and others, shouldn't I at least receive quality in-person time with my teachers?"
As part of the reopening process, all students at Francis Lewis are learning remotely, three days a week. With the constant delays of reopening since September, teachers have had less time to teach and students have less time to learn. The limit of three days per week has only added more assignments and stress for students.
"When it comes to remote learning (we need to) make sure that teachers aren't assigning a lot of homework just because they think kids are at home and have nothing else to do, because we do have other things to do," junior Melena Sarikov said. "Staring at a screen all day just because we have six assignments due on Friday is not healthy for us. At the end of the day, this is still school and we all have to do our part to create a strong learning environment."
Despite unforeseen difficulties that may come in the future, many students remain optimistic about the reopening process.
"Most of my teachers know how hard the current situation is and they're trying their best to make us feel comfortable in this new learning environment," sophomore Sophie Munoz said.  
Dr. Marmor also shared students' optimism. 
"The entire (reopening) process has been difficult, but we have a great team made up of parents, students, teachers, administrators, and we did a lot of the planning really early," Dr. Marmor said. "I believe that as we speak today, we are ready to open. I am confident that the system we have in place will allow in person learning to be meaningful and safe at the same time." 
Leave a Comment
About the Contributor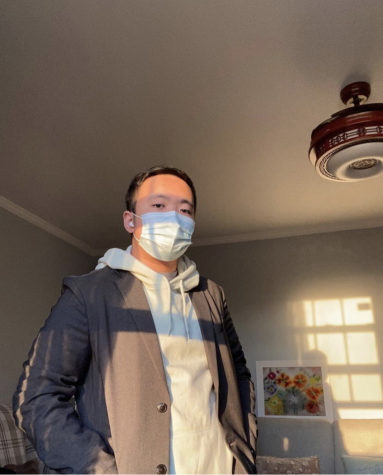 Tony Wu, Editor In Chief
Born and raised in NYC, Tony is a passion-driven community organizer and advocate in making the world a better place. He's an experienced political organizer,...