Student Athletes Return to Francis Lewis
Walls became throwing partners. Mechanics became the only focus. Imaginations became the only competition. For a year, student athletes throughout the public schools of New York City have adapted to train and practice on their own, hoping to be able to play sports for their schools again. 
The hopes of student athletes became reality on March 8th when the city of New York announced the return of PSAL sports. The return to sports will be phased in through three phases from April to June and will be categorized into three sessions based on risk level.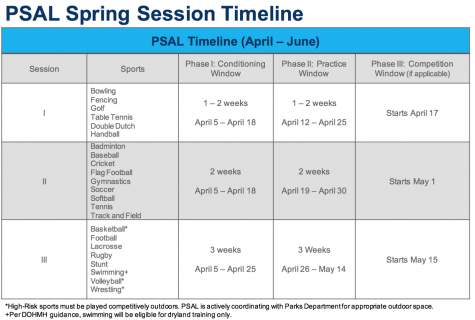 "I'm excited to get back on the field and I feel like it will be good for everyone just to socialize again and get a piece of our normal lives back," Alyssa Baez, a junior on the varsity softball team, said. "I'm a little nervous that there will be people against following the COVID guidelines while playing. That would be putting a lot of people at risk so I just hope everyone is willing to give a little to get a little."
Student athletes and coaches are required to consent to random COVID testing, wear masks at all times, check temperatures before any athletic event, and maintain distance between each other in addition to other measures, some of which may vary from sport to sport. Matthew De Leon, a sophomore who attended the boys' varsity basketball tryouts, described the protocols used for basketball.
"We were not able to play against each other physically," De Leon explained. "The most we could do was pass the ball to one another but have no contact. Majority of the skill work that is being done is mostly independent." 
Sports like basketball, wrestling, and volleyball -which are categorized as higher risk – will have to focus on individual skills while indoors and will be played outside during competition periods in order to lower transmission. Dr. Marmor, principal of Francis Lewis High School, welcomed the new protocols involved, but acknowledged that there's no calendar yet for competition. 
"There is no current information about what the competitive season will look like for any of the sports," Dr. Marmor said. "Right now our only focus is conditioning, welcoming kids back, preparing for practice, [and] making sure everybody knows how to participate safely."
If the school is notified that a student athlete or coach tested positive for COVID, the school would contact the DOE COVID Response Situation Room which is a multi-agency partnership between the Department of Education, Department of Health and Mental Health, and the Test & Trace Corps. The situation room would conduct contact tracing and tell the school exactly what to do including who needs to be quarantined, how long they need to be quarantined, if sports need to shut down and other important details. 
"I think the safety measures will be enforced and I'm hoping that everyone just does their part so we all get to play and have the best modified time possible," Baez said. "I've noticed that some people definitely take this more seriously than others but we're all able to hold each other accountable and that just feels great to be a part of a school community that is willing to take the proper precautions so we could all get to have some playing time." 
After a long year without high school sports, Dr. Marmor had an encouraging and welcoming message to all the student athletes of Francis Lewis. 
"My message to the athletes is come back," Dr. Marmor said. "Come back. Let's start engaging in activities in person. Let's follow the safety guidelines so that we can stay open and do it safely. But come back. We want you to come back."
Leave a Comment