Have you ever been craving donuts but you're sick and tired of Dunkin' Donuts and you don't know any other donut shops that serve good tasty donuts? Well, here are some other places that have donuts for you to try: Afternoon.Bayside, Duck Donuts, Donut Craft, and many others. We visited these donut places, here is our ranking from least favorite to our favorite place and what we rate it out of five.
Thank You Donuts and Corn Dogs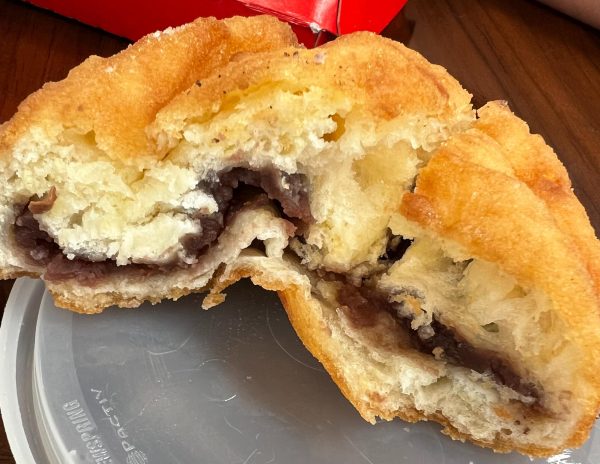 To start with, the place we preferred the least  was Thank You Donuts and Corn Dogs, in 9th place with a ranking of 2.4 out of 5.
The reason we disliked this location the most was because we all felt sick after the red bean and the blueberry donuts. Since the donuts were deep-fried in oil, it was best to eat them while hot, however, we ate them cold, which may have affected the review. If we were to go back to this location we would try it again while it's hot and fresh.  
The Dough Club
To continue our rankings, in 8th place we have The Dough Club with a ranking of 2.5 out of 5.
The reason The dough club got a 2.5 out of five ranking was because of the black sesame donut. Although the black sesame donut had a nice sesame flavor, it overpowered every other flavor of the donut, so, all you could taste was just a mouthful of sesame. However, the donut had an enjoyable texture, with both chewiness and a bit of crunch. Overall, the texture was delightful but the flavor was just too much.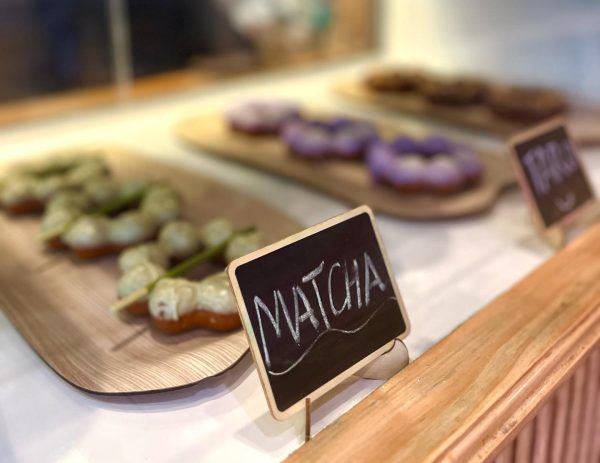 Next up we have Tsaocaa. This location is in 7th place having a ranking of 3.3 out of 5.
This location looked nice and was very calming. From the moment you walked in, it just looked peaceful, and even from the outside, it looked like it was going to have good vibes. The donuts themselves didn't have a lot of flavor, except for the taro donut, you could mostly taste the coconut flakes on top. Overall, the donuts lacked flavor, which prevented this location from being higher up on the list.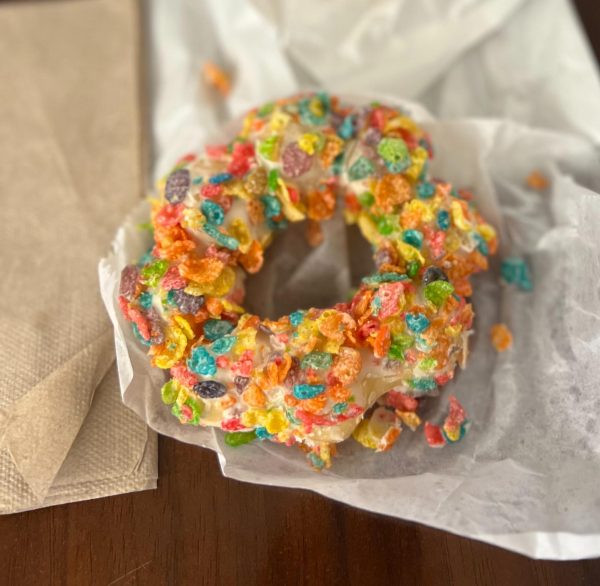 To continue our ranking we have Afternoon.Bayside. This place is in 6th place with a ranking of 3.4 out of 5. 
The donuts at Afternoon.Bayside looked extremely appetizing, but the donuts were very sugary and a bit too sweet. The milk tea donut didn't actually taste like milk tea, but overall had a pleasant flavor, so it was enjoyable. The cereal donut had a wonderful texture, with both the chewiness of the mochi donut and the crunch from the cereal, and you also get a generous amount of cereal on top of the donut.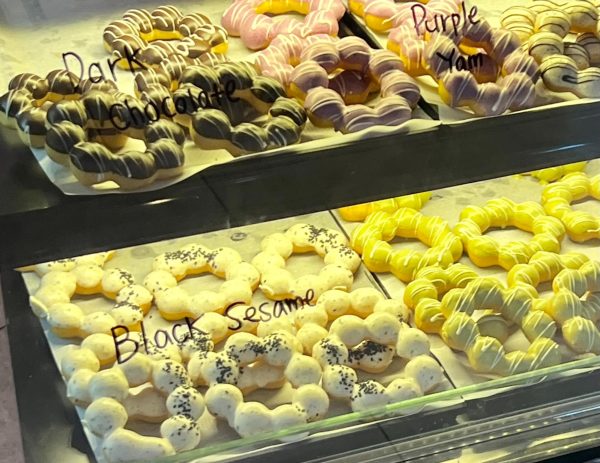 Moving onto the top 5, we have the Croffle House with a rating of 3.5 out of 5.
The Purple Sweet Potato Donut looked beautiful, with light purple frosting, and a drizzle of vanilla icing. However, you could only taste a faint sweet potato flavor in the frosting. So if you don't like sweet potato-flavored sweets or just sweet-tasting items in general, these sweet potato donuts would not be for you.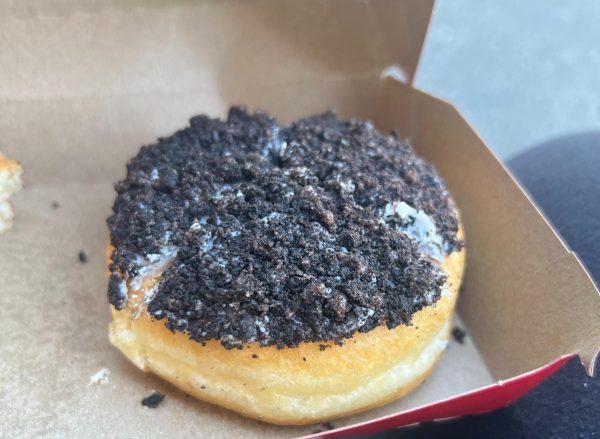 Our 4th most recommended place is Tim Hortons, with a  3.7 out of 5. 
When we got to the location something we were not expecting was for it to be inside of a gas station, or for there to be a bee inside of the donut display case. Other than that, the donuts were delicious. Although the Canadian maple donut was a bit on the sweeter side, especially with its sweet custard filling, it still packed a pleasant maple flavor. The Oreo Dream donut was absolutely delicious! It was generously coated in Oreo crumbs, and filled with a light and fluffy vanilla frosting.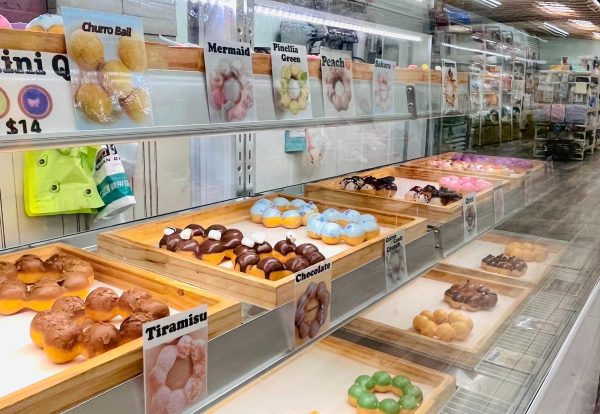 Now onto our most recommended places to go to, in the top 3, we have Donut Craft. We rated this location a 3.8 out of 5.
Donut Craft had interestingly exotic flavors like Cotton Candy Crunch, Mermaid, Sweet Peach, and many others. The two donuts that we tried were Tiramisu and Sakura. The Tiramisu donut didn't have much of a coffee flavor, instead it had a lot of cocoa powder on top of it. However, it was still delicious and tasted kind of like hot cocoa. The Sakura donut tasted like strawberries, and it looked beautiful, with its pink frosting and white chocolate flowers.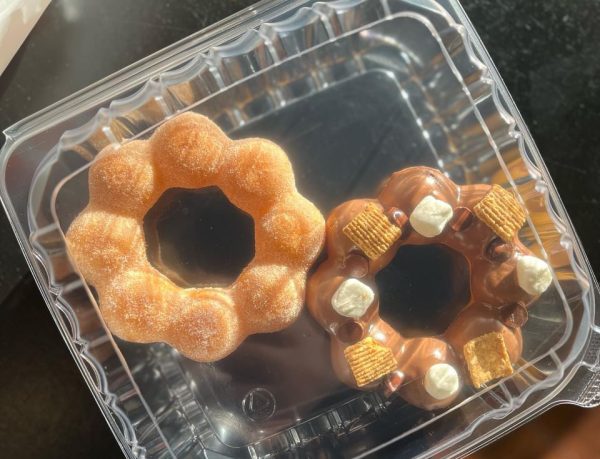 The spot that made number 2 on our most recommended list is Mochinut, having a ranking of 4.1 out of 5. 
They had all of their donuts on display, which was extremely beautiful to look at. They also had music playing and a wall filled with drawings that may have been done by the customers. The churro donut felt "dusty" and tasted really sweet, but it packed a nice cinnamon flavor. The S'mores donut had a lovely chocolate frosting that glistened in the sunlight, enveloping your mouth in the sweet and rich chocolaty taste. The donut also had graham cereal on top, which gave it a nice texture.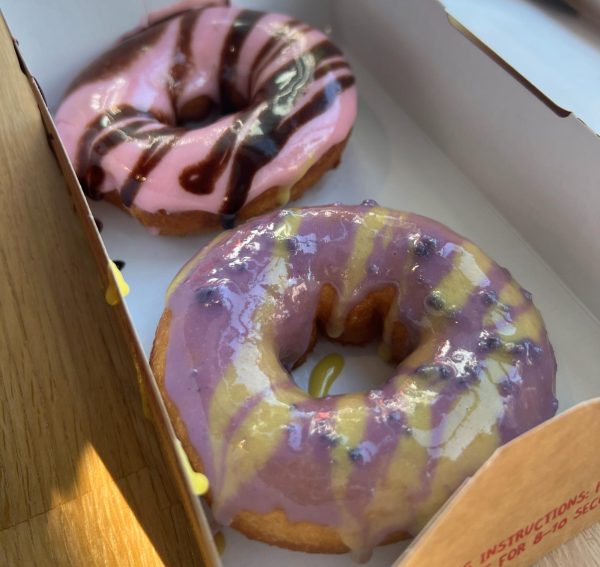 And finally, our most favorite spot that we went to. This location earned a rating of 4.4 out of 5, and is Duck Donuts.
Duck Donuts had taken our breath away from the moment we stepped into the place to the moment we took a bite out of our donuts. All the donuts were made and decorated in front of the customer after it was ordered. The establishment itself played music and was very calming, and aesthetic. Last of all, the Blueberry Lemonade and Chocolate-Covered Strawberry Donuts were fluffy, flavorful, and beautiful.
This is our ranking of all of these donut places nearby Francis Lewis High School, hopefully this article introduced you to many new options and donut places and we hope that you can go out and try all of these places. Maybe your rankings will be different than ours but that is okay.