In a school wide email titled "Immediate Steps to Combat Dangerous Social Media at Francis Lewis," Principal Dr. Marmor stated that all celebratory events – including the pep rally, senior trip, prom and more – would be canceled if certain Instagram accounts were still in effect. In addition, anyone following the accounts could potentially face suspension, as well as not have any letters of recommendation written for them. The two unofficial FLHS Instagram accounts – "flhs.confessionss" and "flhs.f1ghts" – were the accounts in question. The FLHS confessions page allowed students to submit confessions that were posted anonymously, while the FLHS fights page posted videos of past and current school fights.   
Dr. Marmor referred to these accounts as part of a "disgusting national fascination with being mean and destructive to others on social media" and that cyber bullying was responsible for the current "unsafe" virtual environment. Dr. Marmor went on to claim that these accounts were responsible for "horrifying content," consisting of "graphic and direct threats to specific children" and "bullying comments that have led to incidents of self-harm." 
"I have had enough," Dr. Marmor firmly concluded in his email.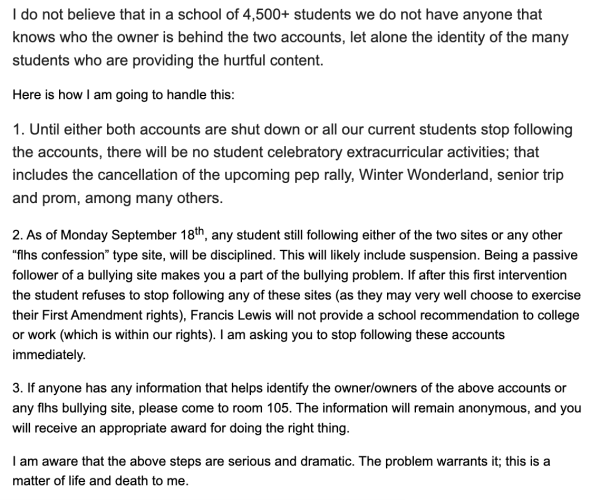 "I had to watch as a number of students were victimized and see the effects of bullying and harassment on students' wellbeing," Dr. Marmor stated in an interview with FLHS News. "The actions that I took to try to put a stop to and protect our students is precisely why I was hired to be your principal. One of the main functions of my job is to make sure that all students in this building are safe and secure and feel welcome, and that was not happening at the time I took this action." 
Aaron Kim, a junior at Francis Lewis High School, agreed that the anonymous postings on the Instagram confessions page were inappropriate for the public audience. 
"Most of the confessions made me really disgusted," Kim said. "I remember one of them was about cheating allegations, and that really got me fuming because that's personal stuff. You don't talk about that online. I just don't like the idea where you can just tell other people, 'Hey, this guy is cheating' or something. That should be personal; resolve that personally; don't bring it to the internet."
Senior Isabella Durso, a student mentioned on the FLHS confessions page, expressed that the page was "kind of harmful." As a member of the Francis Lewis cheer team, she and other members were mentioned in posts on the Instagram accounts in question. She stated that while the posts did not personally affect her much, it could hurt others who are more sensitive to these types of situations. 
"I never followed either of them [ the FLHS Instagram accounts]," Durso stated. "I was mentioned in them, yes, multiple times. Some of them weren't very nice, and some of them were mean, but honestly, it depends on the person. I think I have thicker skin, so it didn't really affect me, but I think it could probably affect people who are not really used to being called out online."
Kim believed that it was unfair of Dr. Marmor to cancel school events and "punish the entire student population" if they were not able to catch the person responsible for the two accounts in question. Other students agreed. 
"I feel like when you make decisions, you need to think about everyone, not just one person," senior Samani Madrigal said. "I feel like you need to personally punish them, not punish everyone for someone else's actions, because all that's going to do is make the person who created the accounts more self-centered, and he'll gain no discipline from it. So yeah, I disagreed with Dr. Marmor 100%."
Some seniors in particular felt they were more affected by the policy due to mostly senior events being impacted. The potential loss of senior activities was exacerbated due to the fact that the class of 2024 also lost their eighth grade senior activities due to the COVID-19 pandemic.  
"Well, I was in eighth grade during the pandemic, so I lost senior year that year too," Zarmina Hassan, a senior at Francis Lewis High School said. "We didn't get to actually graduate in person or have prom; instead, we just had a little cheap slideshow made of all of our names and everything. So if he [Dr. Marmor] had done it again this year, it would've been like eighth grade all over again, and we would've lost that too."
Another question was whether or not Dr. Marmor crossed any legal boundaries with his policy, and if there were any potential First Amendment violations. FLHS News reached out to attorney Mike Hiestand, an attorney with the Student Press Law Center, for his legal analysis on the issue.  
"I certainly empathize with where your principal is coming from," Hiestand said. "These anonymous websites have created some real and serious issues. But there are limits. There's no legal requirement that there be a prom or a pep rally, so the principal definitely has some authority to use those sorts of things as incentives to get people to say what they know. He can definitely do that."
While there's no right to a prom or pep rally, Hiestand noted that there were conflicts with First Amendment rights when it came to punishing the followers of the Instagram accounts. 
"The First Amendment protects your right to receive information, to read and to view, and so a principal that punishes students that are exercising that right, would violate the First Amendment.'" said Hiestand. "He's saying if you do exercise your First Amendment rights, he is not going to provide a recommendation [letter]. I think that's actually a form of punishment…you can't penalize people for lawfully exercising their First Amendment rights.  [Dr. Marmor] wouldn't have to write a letter of recommendation if he didn't want to, but he can't do it for an unlawful reason and he's pretty much admitted here that he'd be withholding letters of recommendation for an unlawful purpose." 
However, Dr. Marmor believes that he was simply doing his job as a principal to protect his students, and did not overstep his authority. 
"I am not a civil rights expert; I am not a constitutional law expert; I only know one thing: I know how to be a principal," Dr. Marmor expressed. "I also know that my job is to make sure that each and every one of you is safe and secure. Now, where that falls in terms of their constitutional rights, I have no idea, nor do I actually care." 
Despite the possible First Amendment violations, and students' concerns, Dr. Marmor's policy had the desired impact and the accounts in question were shut down. Upon reading Dr. Marmor's initial email, many students unfollowed the accounts and reported them repeatedly to get the accounts taken down, in hopes of getting their school events reinstated. 
"It's only because the students in our school complained to Instagram en masse that they disappeared," Dr. Marmor explained. "Yes, some of the sites, we did find out who the person was and we were able to get them to take it down, but in most of the cases it was because Instagram took it down from our students being very specific and complaining."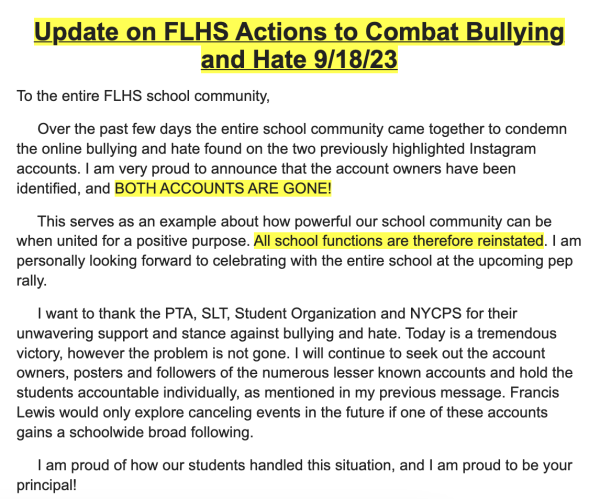 Five days after the first email, Dr. Marmor sent a follow-up email titled "Update on FLHS Actions to Combat Bullying and Hate 9/18/23." The email included statements from the Student Organization/Government, PTA Executive Board, and School Leadership Team (SLT) showing support for his policy. The email also described that both accounts have been shut down and therefore all school events will continue as planned. 
"I want be very clear, it's the school and the kids that were successful in removing these sites, not me," Dr. Marmor said. "So therefore, the entire student body of the school that came together to get rid of so far, at least five of these sites, is really who needs to be commended. I wrote it in my email, but I'm extremely, extremely proud of how well the entire school community came together."
Although Dr. Marmor's policy had the desired outcome, many students including Hassan, still felt that the canceling of all school events would have been "an overreaction in that sense because he's just never done that before and I feel like there's a lot worse that has happened at this school that he could have canceled it for, but he never did." She goes on to say that "the account has been up like for a while-it was up for years on end and it wasn't even as big of a deal this year as it was last year because no one was even really using it anymore.'" Dr. Marmor responds by stating that he had no other option. 
"If there was another way, I would've taken the other way," stated Dr. Marmor. "As long as I'm still your principal, I am going to do everything in my power to make sure that you all stay safe, and secure, and I will do whatever is necessary to make sure that happens."
Additional reporting by Ethan Castaman, Aiden Lau, Alejandro Miranda and Pinzhuo Xu.