2020 Vision: Future Voters On Their First Presidential Election
Social media discourse, protests, and countless debates quickly took place following the last presidential election in 2016. One of the main criticisms were of those who chose not to vote, or those who voted for the third party instead. Many speculate that these little details all added up and dramatically affected the election. Regardless, with the new election right around the corner, young adults are seeking to make a more educated and informed decision as active first time voters.
KNOWING THE ELECTION
Since President Trump's inauguration in 2017, several candidates have announced their campaign to challenge him. In addition to the few announcements coming from third party candidates such as Entertainer Ronnie Kroell (I – IL) who is running and Green Party Co-Founder Howie Hawkins (G – NY), who launched an exploratory committee, a number of Democrats have joined the race along with potential Republican challengers and other Democrats. As of May 2, 2019, 24 challenging candidates from the two major parties have announced their bid with one of them, Richard Ojeda (D – WV), suspending his campaign back in January. Those running include:
Senator Michael Bennet (D – CO) since May 2, 2019
Former Vice President Joe Biden (D – DE) since April 25, 2019

Senator

Cory Booker (D – NJ) since February 1, 2019.
South Bend Mayor Pete Buttigieg (D – IN) since April 15, 2019.
Former San Antonio Mayor and Secretary of HUD Julián Castro (D – TX) since January 12, 2019.
Former House Representative John Delaney (D – MD) since July 28, 2017.
House Representative Tulsi Gabbard (D – HI) since January 11, 2019.
Senator Kirsten Gillibrand (D – NY) since March 17, 2019.
Former Senator Mike Gravel (D – AK) since April 2, 2019.
Senator Kamala Harris (D – CA) since January 21, 2019.
Former Governor of Colorado John Hickenlooper (D – CO) since March 4, 2019.
Governor and Former House Representative Jay Inslee (D – WA) since March 1, 2019.
Senator Amy Klobuchar (D – MN) since February 10, 2019.
Miramar Mayor Wayne Messam (D – FL) since March 28, 2019.
House Representative Seth Moulton (D – MA) since April 22, 2019.
Former House Representative Beto O'Rourke (D – TX) since March 14, 2019.
House Representative Tim Ryan (D – OH) since April 4, 2019.
Senator Bernie Sanders (I – VT), who ran previously in the 2016 presidential race, since February 19, 2019.
House Representative Eric Swalwell (D – CA) since April 8, 2019.
Senator Elizabeth Warren (D – MA) since February 9, 2019.
Former Governor of Massachusetts Bill Weld (R – MA) since April 15, 2019.
Motivational Speaker Marianne Williamson (D – CA) since January 28, 2019.
Entrepreneur Andrew Yang

(D – NY) since November 6, 2017.
Despite how early it is until the next election, students are already taking interest in the race because of the media attention and interest in what will happen due to the events following the 2016 election. Since Donald Trump's election, students have voiced concerns about how his attitude toward the LGBT community, his 2017 "Muslim ban," and his idea to arm teachers after the Parkland shooting.
"I want to see how the issues in 2016 can be fixed for 2020," senior Thomas Cheng said. "Since there are a lot of Democratic candidates running, it's going to be interesting seeing who will win."
On March 8, Francis Lewis News presented images of people within the two major parties who are/were running for president to students, testing if they could identify the candidate. The class easily identified Booker, Warren, Harris, Gillibrand, and Sanders while one recognized Gabbard and another recognized Yang. The class couldn't identify Hickenlooper, despite having announced his run the Monday of that week, nor could they identify Ojeda. When shown an image of other candidates like Castro and Klobuchar, the students would respond in phrases including "no," "no idea," and "oh, no."
"I don't know these people," senior Paul Cascio said.
To prepare her students for the upcoming election, AP US Government teacher Ms. Bell educates them on how impactful voting in elections, whether local, state, or federal, is on daily life. She said that they usually vote in the presidential election as a first election, which is "a good start."
"I hope after knowing how the government functions, that the students see the importance of voting," Ms. Bell said. "I am also teaching students how to do research and what would be considered acceptable sources so they are not drawn in by poor websites or fake headlines that had riddled the last presidential campaign."
To see who is running, FLHS graduate and college freshman Cynthia Ng suggested that students look at BallotReady in addition to Vote411.org, but there are other ways to do research candidates through the media.
"The first thing students should do is look at their sources," Ms. Bell said. "If the source is the news, whether written in papers and the web, but also radio and television they should be able to corroborate what they have heard. Corroboration is key, and usually if news is true it will be covered in various news organizations no matter the political bias."
Each candidate's background and stance are not the only factors that come into play when determining the result of an election. The Federal Election Commission (FEC) is an independent agency that regulates and enforces campaign finance law to allow citizens to make decisions "about their political leadership and how the taxes they pay should be used."
"In order to make those decisions, they should have the maximum ability to learn about both candidates' policy plans and who they represent," FEC Press Officer Judith Ingram wrote in an email to Francis Lewis News. "To that end, U.S. campaign finance laws and Commission regulations deriving from those laws provide transparency about how candidates raise and spend campaign funds. That transparency allows not just regulators, but also potential voters to judge whether candidates and other players in the election system are respecting the law."
Supreme Court case Citizens United v FEC (2010) granted political action committees (PACs) and other groups the ability to spend unlimited amounts of money without having to disclose donors as long as the supported candidate or party is independent from it and has since allowed election spending to increase. Ingram emphasizes that the disclosure of how campaign money is spent can affect public opinion.
"Congress has mandated that candidates for federal office and other groups who spend money to influence federal elections must provide certain disclosure of where they are receiving their funds and how they are spending those funds," Ingram wrote. "Viewing these disclosure reports can be highly informative to citizens who wish to know who is supporting congressional, senatorial and presidential candidates."
Ms. Bell believes that knowledge of political science can motivate students to "effect change and engage in the world around them" as it can affect who is in charge of the government.
"As more students learn how the government and politics work they should become discerning of the information that they learn and seek to make changes in our world," Ms. Bell said.
HAVING THEIR SAY, FROM VALUES TO RHETORIC
When considering who to support in the presidential race, seniors and juniors have criteria. They said they value someone who is dependable, 100% trustworthy, has integrity and good rhetoric, and builds his/her campaign from facts transparently. For instance, candidates may talk about campaign donations, but voters are concerned about how money is raised, who the money is coming from or whether money is coming from grassroots or big corporations, and how money is being spent.
"[I value] a person who is [builds] most of their campaign from facts like Bernie Sanders," senior Evelyn Vasquez said.
Candidates gain a voter's interest by connecting with them using the people's rhetoric, as junior Igor Martiniouk explained.
"Trump gained the attention of the people, of his supporters through his rhetoric," Martiniouk said. "A lot of people who don't support him don't really understand, but he got a large number of people through dramatic language."
Looking back at 2016, Donald Trump was able to use anti-Hillary Clinton rhetoric to strengthen his image.
"During some of the [2016 election] debates with Hillary Clinton, I feel like we couldn't hear what Clinton had to say because [Donald Trump] kept talking over her," senior Amanda Ma said. "A lot of the clips I watched were just him trying to talk and he's like 'no, no, no, no, no.' He's just saying the opposite of Hillary Clinton."
In return, several presidential candidates have been using anti-Trump rhetoric to support themselves, but students don't necessarily believe it is effective.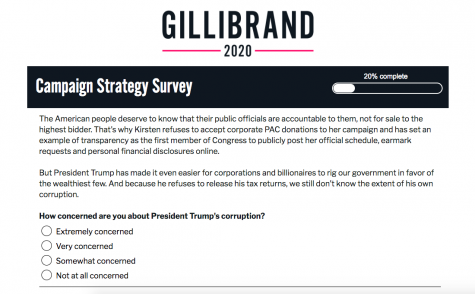 "Words are one thing, but actions are another thing," Martiniouk said. "It's been said many times. We can't just see someone being anti-Trump until they actually do things that are good for the nation. Just saying that you're against Trump is not going to do anything for the nation."
Some students don't mind the anti-Trump rhetoric but believe it shouldn't be a candidate's priority.
"Well, I'm fine with presidential candidates saying they're against Trump," Vasquez said. "I've seen in a lot of the rallies, the first thing they mention is 'oh, I'm going to be against Trump,'  but when you make that a priority, I feel like that's setting up for a disaster."
Looking back at Trump's anti-Hillary rhetoric, Ms. Bell asked her students if they think the nation has learned from observing Trump's usage of anti-Clinton rhetoric and lack of government plan.
"Yes, because some actions he took, like the government shutdown, really hurt some [Americans] – the way that he approaches [the border wall idea], having Mexico pay for the wall, having everyone suffer," junior Daniel Chang said. "[Being president] without a plan really [won't] work for a future president."
However, it is possible that people can give into anti-candidate rhetoric, as senior Alleyah Ally explains.
"People are still emotional," Ally said. "I think the 2016 election was pretty emotional. I think the 2020 election will also be very emotional, and this anti-Trump rhetoric plays a role in people's emotions. People have very strong feelings on both sides about Donald Trump, so using this is an effective argument."
AN ELECTION TO LOOK FORWARD TO
As of May 9, 2019, there are approximately 17 months until the 2020 elections. While at least 15 candidates have already announced their bid, more candidates may potentially join the race. Starbucks CEO Howard Schultz (D – NY), NYC Mayor Bill de Blasio ( D- NY), and Governor John Kasich (R – OH), who ran for president in 2016, have voiced consideration in an already tight field. This will be the first presidential election most of the current juniors,  seniors, and recent Francis Lewis graduates will be eligible to vote.
"I feel like the platform that a lot of these candidates have, I agree and advocate with," Cheng said. "It makes sense for me to have a say in who I want to lead the country."
Voting is an opportunity students said they don't want to waste.
"I think free and fair elections are just the backbone of democracy in general because voting is a privilege," Ally said. "If I have the privilege to do something like that, than I best believe that I would be taking advantage of said privilege."
Leave a Comment