Gateway Seniors Awarded QuestBridge Scholarship, Full Rides to Boston College and Brown University
She applied makeup to her face when a notification from a group chat flashed: Results were out. She typed in her password to the application portal, her fingers stumbling over her keyboard. And then she and her mother saw the message.
"There was confetti and it said, 'Congratulations,' and I started crying," said Gabriella Valencia, a senior at Francis Lewis High School. She had received a full ride to Boston College through the QuestBridge Scholarship. "We both just started crying. It was unreal."
Jose Sandoval, a senior at Francis Lewis who lives a few blocks away from Valencia, also waited for the results. He refreshed his application portal and confetti filled his screen, with news that he had received a full QuestBridge Scholarship to Brown University.
"I didn't really understand the size of what it was," Sandoval said. "It was an amazing gift and an amazing opportunity."
This year, the QuestBridge National College Match Scholarship — which matches top colleges with seniors from low-income backgrounds for full rides — recognized two students at Francis Lewis High School as match scholarship recipients. This is the first time the program recognized not one but two students from Francis Lewis High School: Gabriella Valencia and Jose Sandoval. Finalists ranked up to 12 out of 42 colleges partnered with the organization to be considered for the scholarship. QuestBridge matched Boston College with Valencia and Brown University with Sandoval.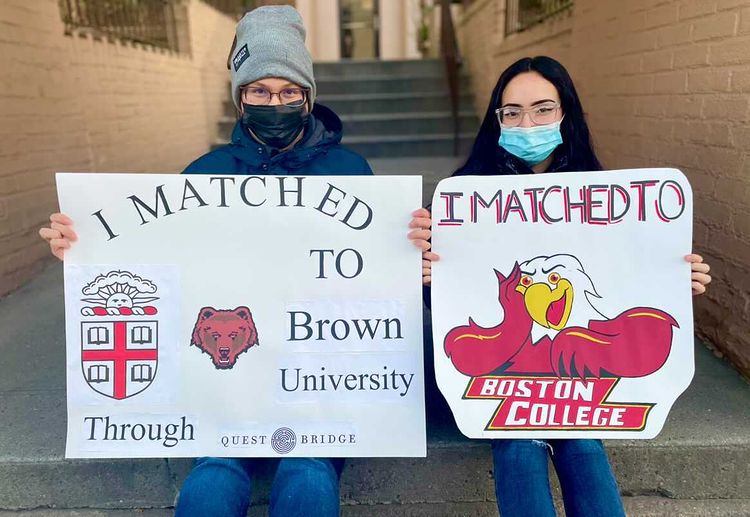 Finding out that they are the first students from Francis Lewis High School awarded the full four-year scholarship "shocked" them, Valencia said. "We didn't even know who at Francis Lewis had ever gotten it, so when we heard that, it was after we already got in and it was just really crazy to think about." 
Valencia told FLHS News that she did not plan to rank Boston College, but found out that it had a school for human development and education.
"[It] is literally what I'm completely interested in," Valencia said. "When I saw that, I was like, 'This is exactly what I want to major in.'"
Although Sandoval did not match with MIT — his top choice — upon reflection and after talking to family members, he felt Brown University was a better fit than MIT because of the open curriculum.
"I still have to figure out which classes I want to take because there's so many choices and options," Sandoval said. 
Teachers reacted to the students' acceptances to the institutions through the scholarship with joy and excitement. 
"I screamed when I saw Jose's email telling me that he got accepted to QuestBridge and Brown," said former English teacher Ms. Jackman, who texted English teacher Mrs. O'Connell a screenshot of the email. Ms. Jackman and Mrs. O'Connell taught Valencia and Sandoval English freshman and junior years. 
"I was like, 'Oh my God, I'm so excited,'" said Mrs. O'Connell, who received an email from Sandoval. "I got all emotional. It actually set me back for a second. I had to sit down and be like, 'Wow, this is incredible.'"
Minutes later, Mrs. O'Connell got an email from Valencia saying she had been matched with Boston College through QuestBridge. "I couldn't process it for a minute," she said, tearing up. "I would say that they both have left a tremendous impact on me as a teacher."
AP Psychology teacher Dr. Cohen, who Valencia said was one of her favorite teachers, wrote her a letter of recommendation and motivated her to go into psychology in the future. 
"She is dedicated, driven, determined and intelligent, which is the very embodiment of what a QuestBridge Scholarship recipient is," Dr. Cohen wrote in an email. "Gabriella is proof that being a good person, kind classmate and strong student does indeed pay off. She is so worthy of this honor and I really could not be happier for her." 
The students are part of the Gateway Honors program, a CUNY pre-college program that gives students from low-income backgrounds access to opportunities, including internships, rigorous classes and college trips. They cited their success to their teachers and their classmates in the program. 
"Gateway has helped me not necessarily in applying for college but being a valid candidate in applying for college," Sandoval said. "They've encouraged AP courses. They've given me necessary peer support, and the teachers have been excellent and have helped me gain access to programs that make my application look good."
Valencia agreed, noting that Gateway was a source of support throughout high school.
"I feel [the teachers] gave us a one-on-one feel," Valencia said. "Not many people get to see the same group of kids all the time, so I feel like that in general just made things a lot easier for me."
One of the teachers in the Gateway Program was Ms. Jackman. Learning Sandoval and Valencia became recipients of the scholarship was a "full circle moment," said Ms. Jackman.
"I taught the first Gateway class and Jose and Gabriella were members of the last Gateway class I taught at Francis Lewis," Jackman said. "I remember when no one in the school understood the program or its purpose. Some didn't see Gateway students as 'real' honors students. It is my hope that this achievement helps to shift that narrative."
The QuestBridge application is "long and hard" but "a 100 percent worth it," said Valencia, offering advice to Gateway students applying to QuestBridge.
"Put yourself out there — don't hold back," Valencia said. "Every little thing, put it down. You don't know if that's gonna be the one thing that sets you aside from somebody else."
Sandoval offered advice too, saying not only to take hard classes but also to follow passions.
"I wanted to do robotics. I wanted to do swimming. I wanted to do dance, the robotics team, the engineering program" Sandoval said. "I think it's definitely important to follow your passions."
In the fall, Valencia will study applied psychology and human development at Boston College and Sandoval will study computer engineering at Brown University. 
Mrs. O'Connell added that she hopes that they stay in touch with her. "I think that they're both capable of truly amazing things and I'm sure that they will accomplish very lofty goals," she said. "I want to hear all about it." 
Leave a Comment
About the Contributors
Ana Garces
Ana Garces is a reporter for the Journalism Academy as well as a vice president for the Medical Explorers club in Francis Lewis High School. Having started...