Francis Lewis Community Responds to Rising Anti-Asian Hate
Within the past year, the United States has seen a rise in anti-Asian violence and sentiment. On March 16, Xiaojie Tan, Daoyou Feng, Hyun Jung Grant, Soon Chung Park, Suncha Kim, Yong Ae Yue, Paul Andre Michels, and Delaina Ashley Yaun were murdered in mass shooting at spas in northeast Atlanta. Six of the victims were women and seven were of Asian descent. Noel Quintana, as Asian man, had his face slashed on the subway right before leaving the L train at its First Avenue and 14th Street stop. In total, 3800 attacks were reported along with several unreported incidents. The rise in anti-Asian violence and rhetoric has impacted the community at Francis Lewis High School as well. 
"It is honestly terrifying to know there can be chances of a hate crime to happen to myself and my family," Angel Li, a freshman at Francis Lewis High School said. "It frightens me to step outside my house or go to public places."
Students not only expressed concern for their own safety but also showed concern for family members and people within the community – especially the elderly since they are easier targets due to their immobility and limited strength. 
"Honestly it hurts me to see Asian people, especially grandmas and grandpas, getting harassed or even killed on the streets simply because some people are uneducated about the pandemic," Rosanne Wong, a senior at Francis Lewis High School said. "It's disgusting for people to think that they can get away with such crimes simply because they don't speak English as well or are too physically weak to fight back."
Joyce Lin, a junior echoed the sentiments and concerns expressed by students at Francis Lewis High School.
"As an Asian American, this has affected me just as much as it has to others," said Lin. "I have elderly family members and to see other elderly individuals attacked leaves a feeling of heavy burden because it hurts to see them be treated this way. It hurts to see anyone be treated this way for something that they did not personally do."
Lin is part of the School Culture Committee, a school organization that allows students to openly share their ideas and concerns surrounding systemic racism. The organization has been having forums to discuss the recent rise of anti-Asian violence and rhetoric. 
"We are a team that stands with each other within the school and we act as a safe space for one another," said Lin. "We tackle, discuss, and advocate for what happens in society, but we support and help each other through these difficult times."
Francis Lewis students from Coalition Z and No Place for Hate led an open forum to discuss their thoughts and experiences of the current rise in hate crimes. They created lessons talking about the history of A.A.P.I.(Asian Americans and Pacific Islanders) hate and how it is connected to present day issues. They also created questions for students to reflect on their experiences. Some of the questions included "How has the recent rise in anti A.A.P.I. hate crimes affected you?" and "What are some ways the Francis Lewis Community can be supportive of you in this time?" Students asked the school to take time from a lesson to talk and share recent events. Dr. Marmor, the principal, agreed.
"Very often if you make a singular statement in writing like an email or some kind of memo, the impact of that is very minimal." Dr. Marmor said. "So what we would like to do is something a little bit deeper and more meaningful. That's why we usually work through teachers and try to get something to the kids through the classroom. This is why you are likely to see this effort push its way through one of your English or social studies classes. It's just simply because that's the way we know we can reach everybody."
Dr. Marmor also  discussed how the rising anti-Asian rhetoric and violence impacted students and their families  in a school wide email sent out on April 1st. 
"A parent called me asking to move her child from blended learning to fully remote due to the rise in anti-Asian hate crimes," Dr. Marmor stated. "She was afraid for her child's safety. The very notion that students in our community would be afraid to travel to our school deeply saddened me."
Despite the rising anti-Asian sentiment and violence, students expressed their hopes for a more accepting society full of diversity.
"Hate and violence is never the way to solve problems." Lin asserted. "I hope we are all able to make peace by coming together to talk things out. Words mean a lot; if we can love each other by not spreading hate, we can accomplish a lot together, as a community. "
Leave a Comment
About the Contributor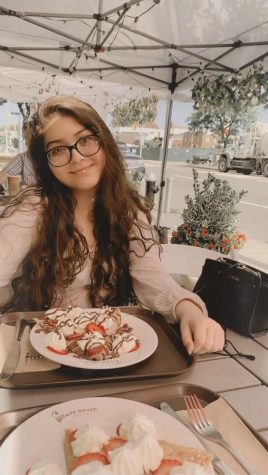 Zainab Shigri, Reporter
Moving to a whole new country can be very difficult, just as it was for me. At a young age my family made a decision to move my two siblings and I from...